Toledo Law Review Names First Black Editor-in-Chief
by Diana Case | Feb. 24, 2020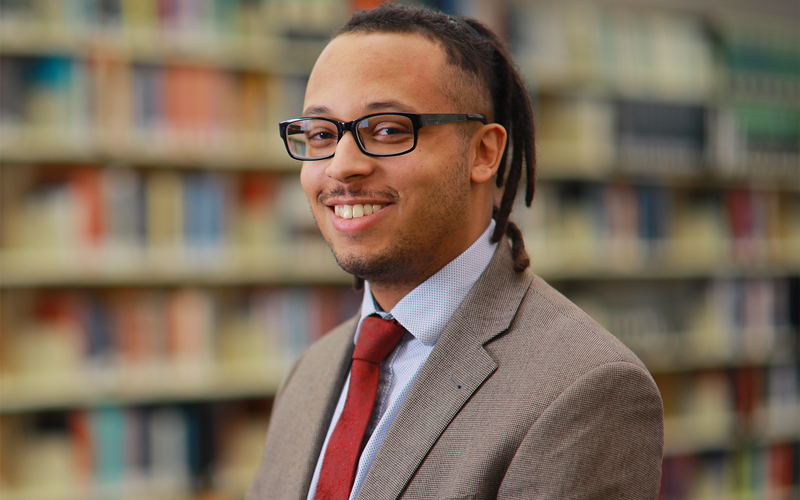 Second-year law student, Damon Williams, was named editor-in-chief of The University of Toledo Law Review. Williams makes college history as the first Black student to hold this prestigious position.
The Toledo Law Review is a student-run journal that publishes articles by law professors, judges, and other legal professionals. The journal also publishes shorter notes or comments written by students. The college began work on its first publication 52 years ago in 1968.
"I am delighted that Damon was selected as editor-in-chief of The University of Toledo Law Review," said Dean D. Benjamin Barros. "He's exceptionally bright and will be an excellent leader for the Law Review. Although we wish this milestone would have happened sooner, his selection is encouraging as it reflects progress."
Law Review members are selected as editor-in-chief after a highly-competitive, in-depth interview process. The elections committee considers academic performance, writing ability as demonstrated by their academic writing and editing throughout the year, and leadership potential. After 10 hours of interviews and deliberations, the elections committee unanimously selected Williams.
"From a technical perspective, Damon's formal yet graceful writing style and his superior academic performance made him a competitive candidate among his peers," said Lindsey Self '20, Board 51 editor-in-chief. "He demonstrates conviction in his vision for the journal but is unafraid to take calculated risks. Damon's writing and leadership demonstrate a unique balance between sensibility and practicality with inventiveness and ingenuity – a balance that is difficult to find in practice, let alone law school."
Williams was born and raised in Toledo. He earned his B.S. in criminal justice and M.S. in forensic science, each with a specialization in forensic investigation, at Bowling Green State University. In addition to making the Dean's List every semester, Williams serves as president of the Black Law Students Association. He hopes his law degree will help him facilitate the social and political changes he wants to see in the world. Although he is still figuring out his next steps, Williams is considering a federal clerkship or doctor of juridical science (S.J.D.).
"I am extremely grateful for the opportunity that I have been afforded," said Williams. "Becoming the first University of Toledo Law Review editor-in-chief with African American heritage is an amazing milestone, and I am beyond honored. At the same time, I am cognizant of the fact that this is but a step in, what I hope to be, a continuing process for The University of Toledo. I am striving to help foster subsequent diversity milestones and continued Law Review success, and I look forward to my future collaboration with community members.
"I would also add that this is much bigger than me alone. I have a fantastic executive board in Hayley Mise, Cameron Morrissey, Kate Murray, and Morgan Isenberg. Their continued excellence and support are essential to the success of Board 52. In addition, Lindsey Self has been a shining north star, guiding me toward the path to success."
---
ADDITIONAL NEWS STORIES