Emma Callihan Makes History as First Woman at Toledo Law to Receive Moyer Fellowship
by Diana Case | July 6, 2021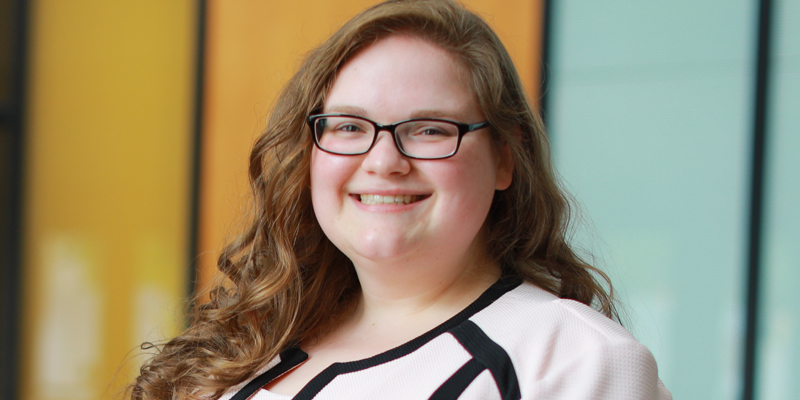 Rising second-year law student, Emma Callihan, made college history this summer as the first woman at Toledo Law to receive the Chief Justice Thomas J. Moyer Fellowship. The Ohio State Bar Association awards the annual fellowship to two exceptional first- or second-year students from Ohio law schools. Since the program's inception almost a decade ago, Callihan is one of only four Toledo Law students to receive this honor.
Callihan will use the grant to fund a research project on Ohio pipeline programs to increase diversity within the legal profession. The project will include an intensive study of racial disparities in the legal field to determine more effective ways to attract students from underserved communities, particularly students of color. The pipeline programs within the review will include High School Mock Trial, Moot Court, Project Citizen, We the People, and Youth for Justice. Professor Marilyn Preston, who teaches legal research and writing at Toledo Law, will supervise the research.
"I am thrilled that Emma received this prestigious award," said Professor Preston. "This is an amazing opportunity for her, and as her research supervisor for the fellowship, I know that Emma will bring a strong passion and commitment to it. It is a well-deserved honor, and Emma's proposal will advance the principles that the Moyer Fellowship is dedicated to promoting—that of educating our young people about social justice and law."
Over the summer, Callihan will work with the Ohio Center for Law-Related Education and the Ohio State Bar Association to analyze data from current pipeline programs to identify outreach, education, and programming gaps. She will then use the results to propose improvements that will enhance middle and high school students' exposure to civic education and legal professionals.
"I am passionate about this work because every child deserves to learn," said Callihan. "Every child, no matter their upbringing, skin color, or family status, deserves an equitable education that leads to a career where they can be successful and support themselves. By improving and expanding legal pipeline programs, we can provide students with tools for lifetime success."
Callihan is from Ypsilanti, Mich. She is the first member of her family to attend law school after graduating summa cum laude from Eastern Michigan University with a B.A. in political science and a minor in communications. Callihan is passionate about human and civil rights, fostering diverse and inclusive environments, and advocating for equitable solutions. She is an executive board member of the Women's Law Student Association and National Lawyers Guild. This summer, she will serve as a Diversity and Leadership Fellow with the Law and Leadership Institute at Toledo Law.
The Moyer Fellowship Program is sponsored by the Chief Justice Thomas J. Moyer Legacy Committee of the Ohio State Bar Association, with the support of the Ohio State Bar Foundation. The fellowship was established in 2012 to honor the late Chief Justice's memory and help sustain his dedication to the administration of justice and public understanding of the law. The committee awards annual fellowships to first- and second-year Ohio law students working on original research projects in areas championed by Chief Justice Moyer. The $5,000 award includes $1,000 in matching funds from Toledo Law.