Former Ohio Justice Andy Douglas '60 Dies at 89
by Diana Case | Oct. 1, 2021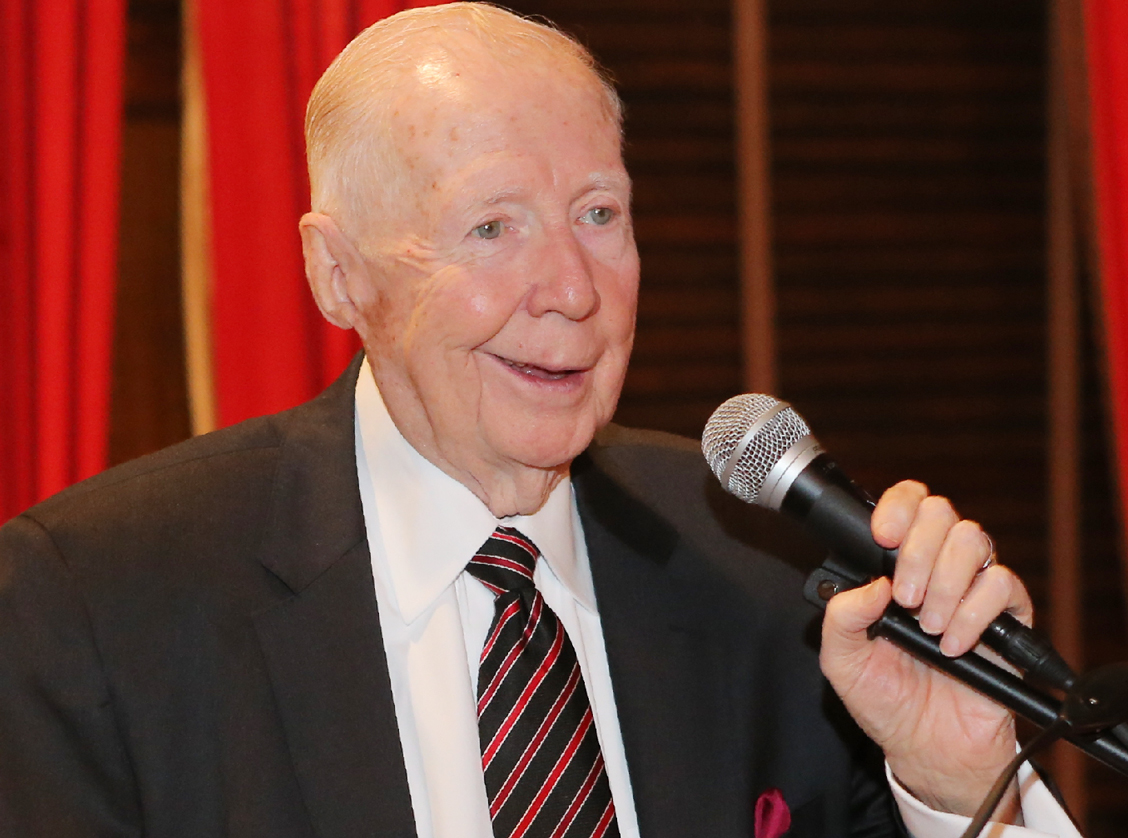 Distinguished Toledo Law graduate and former Justice Andrew Grant Douglas '60 passed away on Sept. 23, 2021, in his home in Dublin, Ohio. He was 89.
Andy, as he was best known, was born in 1932 in Toledo to Andrew and Elizabeth Douglas. From 1954-56, he served in the U.S. Army Infantry and Signal Corps, obtaining the rank of first lieutenant. Douglas earned his undergraduate and his law degrees from The University of Toledo. He was the recipient of the law school's Distinguished Alumni Award in 1991.
Douglas was dedicated to the state of Ohio, where he lived and worked until his final days. He was elected to 10 consecutive two-year terms on the Toledo City Council. After serving on the city council, he served a term on the Ohio Sixth District Court of Appeals in Toledo, followed by three six-year terms on the Ohio Supreme Court. Douglas stepped down from the state's highest court in 2002, after reaching mandatory retirement age for Ohio judges. After retiring, he returned to private practice as a partner for the Columbus law firm of Crabbe, Brown & James. Douglas also served on the board of directors of Block Communications Inc. and as executive director of the Ohio Civil Service Employees Association. At the time of his death, he was of counsel for Mazanec, Raskin & Ryder in Columbus.
Douglas will forever be part of the Toledo Law family. He was passionate about the law school and student success. Douglas was a student when Charles W. Fornoff was dean at Toledo Law and had great fondness and admiration for anything connected to Fornoff's legacy. Among them, Douglas applauded the skill showcased at the annual Fornoff Competition and delivered remarks in December 2016 at a gathering of the Fornoff Giving Society. The remarks were highlighted in the Transcript alumni magazine. In 2018, Douglas attended Toledo Law's U.S. Supreme Court Bar Swearing-In Ceremony in Washington, D.C. He had been an Ohio Supreme Court Justice but had never applied to be a member of the bar of the U.S. Supreme Court.
Douglas is survived by his wife, Sue Douglas; daughter, Cynthia Reeves; three sons Robert, Andrew "Chip," and David Douglas; eight grandchildren, and 10 great-grandchildren.
"Justice Douglas was one of the College of Law's most distinguished alumni," said Dean Ben Barros. "He had a tremendous impact on the legal community in Toledo, Ohio, and beyond. He was a warm and kind person. I enjoyed the time that I spent with him. I will miss him, and my thoughts are with Sue and their family."
The college plans to honor Douglas with a moment of silence during its Virtual Homecoming on Oct. 7. In addition, memorial contributions may be made to Toledo Law, the OhioHealth Hospice, or the Salvation Army.
Read more about Douglas' impact in The Blade article about his life and legacy, "Former Ohio Justice Andy Douglas dies at age 89." His story was also featured in the AP News article, "Andy Douglas, ex-Ohio Supreme Court justice, dies" and on the Supreme Court of Ohio & The Ohio Judicial System website.