Marcus Reed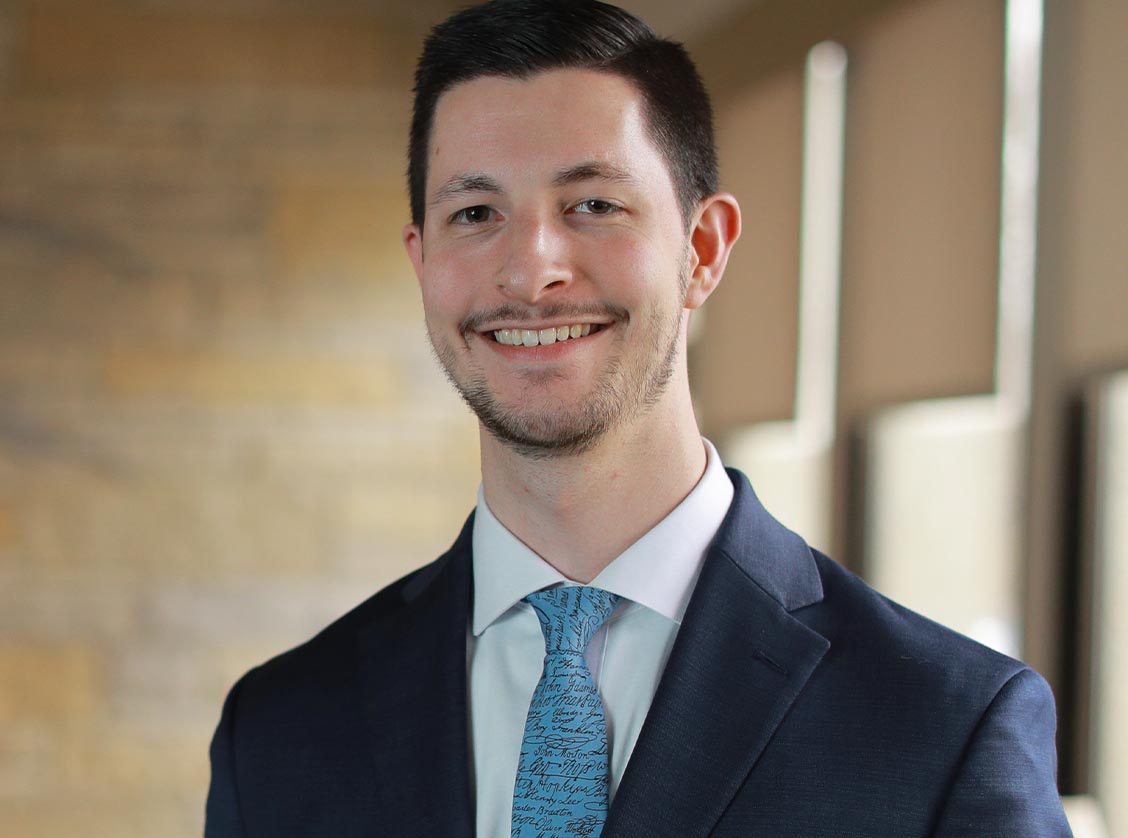 At Toledo Law, students learn from faculty that are experts in their fields and passionate about helping students succeed. Marcus Reed dreamed of practicing labor law and knew he made the right choice by choosing Toledo Law with Professor Joe Slater as his mentor.
Hometown: Canton, Ohio
Class Year at Time of Experience: 3L
Legal Interest Areas: Labor and employment law
Experiential Learning Opportunity: Public Service Externship
Employer: AFSCME Ohio Council 8
Experience Timeframe: Spring 2022
---
Q&A with Marcus Reed
What type of work did you do?
I worked directly with staff representatives and the regional director on issues ranging from collective bargaining, contract ratification, grievances, and arbitrations. Specifically, I attended numerous collective bargaining sessions with various sets of employees and employers. During negotiation sessions, I would take detailed notes so that our team was prepared to draft counter-proposals.
How did Toledo Law prepare you for this experience?
Toledo Law has a great framework for anyone interested in labor or employment law. First, students have the opportunity to learn from several professors that are among the most preeminent in the field of labor and employment law in the United States. I remember the summer before my 1L year I watched Professor Joe Slater testify in front of the U.S. House of Representatives on protecting the right of public sector employees to organize. As a student that dreamed of practicing labor law, this experience made me realize I made the right choice by choosing Toledo Law.
Throughout my time at Toledo Law, I was also lucky to have Professor Slater for several labor law classes, as my advisor for my law review note related to private sector labor law, and more importantly, as a mentor. This mentorship was invaluable and pivotal to my success. Toledo Law also offers a certificate of concentration in labor and employment law. This means students can take classes in public and private sector labor law, employment law, employment discrimination, disability law, employment drafting, and more. Public and private sector labor law prepared me beyond measure for my experience not only working with AFSCME but for my future as a labor attorney. Lastly, the externship class at Toledo Law opened the door to several opportunities that I would not have had otherwise and for that, I am grateful.
What were the benefits of participating in this experience?
During law school, we learn about how the law works, the theories behind the past and current states of the law, and general legal principles. For example, in public sector labor law, we learn that public sector employees have the right to collectively bargain with their employers. But we never learn how to talk to people to see what they truly want and how to take that information to effectively bargain on their behalf. During my time at AFSCME, I had the opportunity to apply the legal knowledge that I had learned in the classroom to actual contract negotiations to secure better wages, safe working conditions, and workplace rights for real working people. I came to law school to learn how to advocate for working people and working with AFSCME allowed me to do just that! I want to thank all the workers I met along the way that were excited for me and cheered me on in my path to becoming a labor lawyer. It was an honor meeting all of you.
How will this experience help you advance your career goals?
My experience with AFSCME was invaluable to my career as a labor attorney. As mentioned previously, I was able to apply the legal knowledge I obtained to real-world experiences. But this position also will help me in my career in two ways. First, my time with AFSCME solidified my desire to become a labor law attorney and gave me the confidence necessary to know that I can do it. Second, the position allowed me to meet many amazing people in the labor movement that will serve as lifelong mentors.
Why did you choose Toledo Law?
I chose Toledo Law for several reasons. First, Toledo Law offered a one-of-a-kind atmosphere that I had not seen at any other law school. From the moment I toured Toledo Law to now, I have had nothing but positive experiences with faculty, staff, and students. Second, I also appreciated that the class sizes were manageable which made it easy to connect with all my peers and to work closely with professors. Lastly, I chose Toledo Law because of their established labor and employment law program which would allow me to take classes that would directly benefit my career path and work with professors that were experts in the field.
What advice do you have for incoming students?
My advice for incoming students is the same advice I tell everyone – take your legal writing classes seriously! All too often students are too stressed with their core classes that they focus far less on legal writing and fail to learn how to properly write and do legal research. But if there is one class that will benefit a student the most in their classes, externships, summer jobs, and future career as a lawyer is their ability to be a proficient legal researcher and writer. Also, legal writing is a great GPA booster because it makes you a better writer on all your future exams in core classes. Further, getting good grades in legal writing and producing a great writing sample in your 1L memo or appellate brief will set you apart when applying to summer jobs and will become handy if you want to try for law review or participate in moot court your 2L year.
What are your plans after graduation?
I have accepted an honors attorney position with the Department of Labor Office of the Solicitor in Washington, D.C!
---