Lauren Schaffer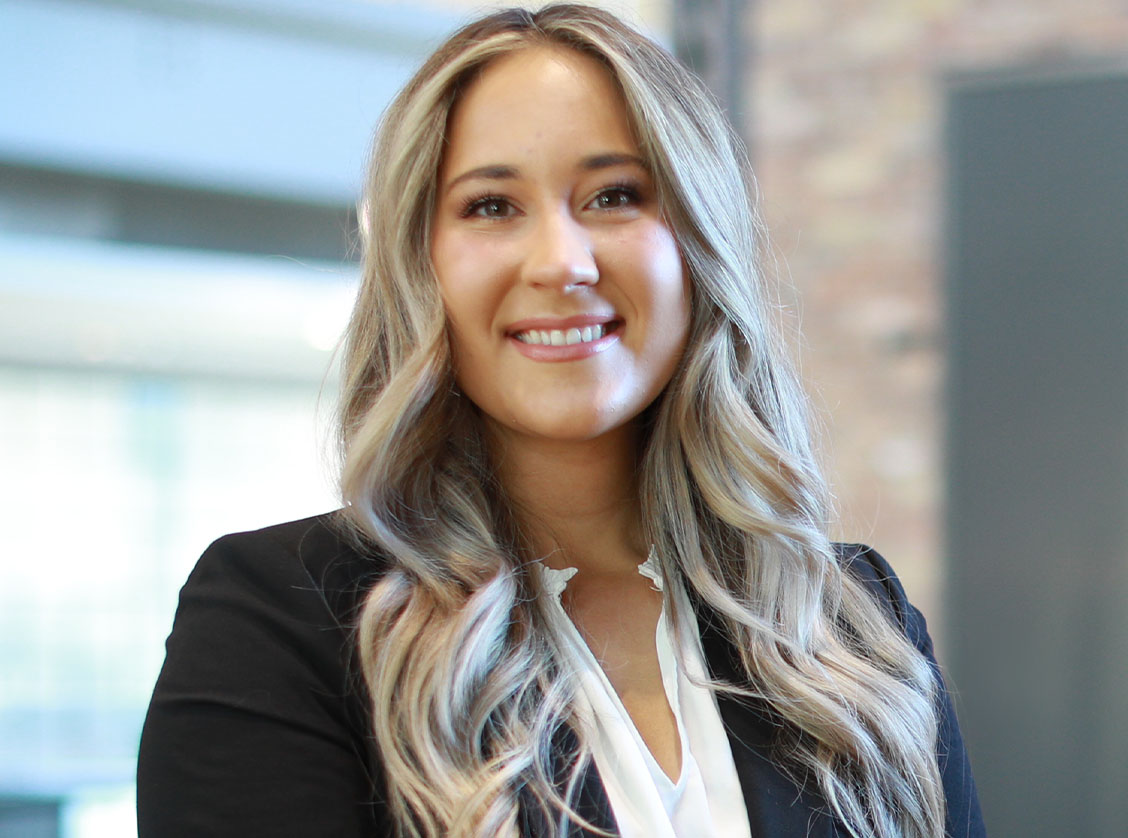 Toledo and the surrounding regions are home to many innovative and influential companies. Lauren Schaffer had the opportunity to experience the role of in-house counsel at ProMedica's headquarters in downtown Toledo.
Hometown: Vermilion, Ohio
Class Year: 3L
Class Year at Time of Experience: Business law and healthcare law
Experiential Learning Opportunity: Corporate Counsel Externship
Employer: ProMedica
Experience Timeframe: Fall 2021
---
Q&A with Lauren Schaffer
What type of work did you do?
ProMedica provided me with a wide range of learning opportunities, including a variety of hands-on experiences and meaningful assignments that are relevant to my interests and have expanded my understanding of what it's really like to practice law. I have been given the opportunity to observe mediations, participate in meetings, complete compliance-related projects, and do statutory research to help in better managing ProMedica entities in different states.
How did Toledo Law prepare you for this experience?
The variety of courses I have taken at Toledo Law helped me truly understand how entities like ProMedica function. Coming into this experience, I felt confident in my abilities to understand business structures, contracts, complex insurance agreements, statutes, policy, and litigation documents. Because of the solid foundation Toledo Law has given me, I felt comfortable with any new project I was assigned. Professor Maara Fink's externship class helped to develop my confidence and competence in this new experience by giving students a place to collaborate on our experiences and problem-solve together. Additionally, my research and writing capabilities, along with my attention to detail, were strengthened by my experiences as the technical editor on the Law Review.
What were the benefits of participating in this experience?
The benefits of working at ProMedica this semester were endless. I have learned so much and it's incredible to see that Toledo's legal community maintains such a collegial atmosphere even at the in-house counsel level. The team of attorneys and paralegals working at ProMedica are kind, professional, and extremely skilled. Further, my experience at ProMedica made it so easy for me to build my network in the area – I was constantly being introduced to professionals in the legal field at a variety of organizations. Because I plan on practicing in the Toledo area, it is important for me to develop meaningful professional relationships with other attorneys and professionals in the area. ProMedica plays such an integral part in Toledo through the way it serves the community, and my experience working with them was invaluable.
How will this experience help you advance your career goals?
My career goals include practicing at a firm doing mainly healthcare and business practice work. My assignments at ProMedica gave me more exposure and expanded my knowledge base as to how entities like ProMedica function as a complex organization. Further, it gave me firsthand experience as to how in-house counsel collaborates as a team in a different way than law firms do. My first experience with in-house counsel was an important one; it showed me that it was something I can also consider in my career at some point. Most beneficial of all was to see the level of collaboration and camaraderie between the professionals at ProMedica on many different projects.
Why did you choose Toledo Law?
I chose Toledo Law after graduating from Bowling Green State University because I wanted to stay in the area, and it was obvious Toledo had a commitment to student success. I grew up closer to Cleveland, but the collegial atmosphere of Toledo's legal community was what really pulled me in. The legal profession in Toledo is the community I've chosen to be a part of and wholeheartedly support. My fiancé is an educator at Toledo Public Schools, and we look forward to getting more involved in the community.
What advice do you have for incoming students?
Take advantage of every networking opportunity presented to you. This applies whether it is an attorney, paralegal, secretary, financial advisor, mediator, or quite literally anyone else. Your professional network one day should be diverse in every way, including professions.
What are your plans after graduation?
After graduation, I am going to take the Ohio Bar Exam. I am ecstatic to join Eastman & Smith Ltd. as I have accepted an offer to join the team as an associate attorney in 2022. I feel incredibly grateful to have had so many phenomenal legal experiences in Toledo, including my time at ProMedica. My externship has solidified my interest in doing business and healthcare work and getting to network with so many others has absolutely strengthened my drive to build a career in Toledo's legal community.
---