Amelia Wolf, 3L
Feb. 9, 2021
As many of us watched events unfold onscreen, Amelia was called in as a National Guard member to protect the Capitol in the days following the riots. She is serving her country while balancing a full class load. Read her inspirational story below.
---
Finding Passion and Purpose Through Service in National Guard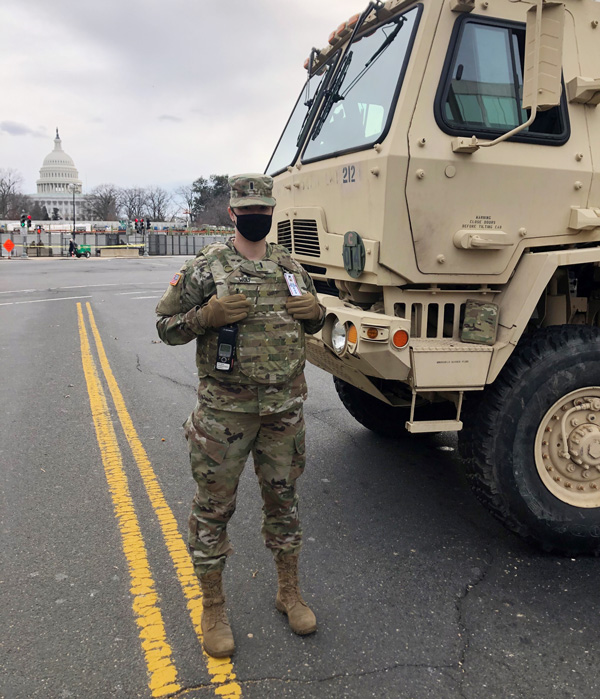 I was one of those kids everyone tells, "you're going to be a great lawyer someday," because I argued so much. I even got kicked out of class in elementary school for asserting my constitutional rights to the teacher. But as I got older, I developed an interest and passion for politics and civic engagement. It's this interest that led me to both my military and law career. In each, I have been led by a calling to serve my community and to insert myself in areas where I can make a difference.
After graduating high school, I left Toledo and moved to Washington D.C., where I completed my undergraduate and master's degrees in political science. I then worked for four years after college in the defense industry as a government relations analyst, running million-dollar political action committees (PACs) and organizing lobbying programs and grassroots voter education initiatives. I enjoyed working in politics and kept moving up the corporate ladder, so the moment never seemed right to make a jump to a new career.
But I always had the idea of joining the military and going to law school on the backburner. The longer I worked in D.C., the stronger my desire to do both grew after being surrounded by passionate lawyers and service members in the defense industry. As a civilian and non-lawyer, I felt like an enthusiastic spectator in a sport where I wanted to be on the field. After losing my grandfather, an Army veteran, in the summer of 2015, I finally felt like the moment was right and called a recruiter.
I also decided to do it all at once. I took the LSAT in October 2015, the weekend before I shipped off for basic training at Fort Jackson in South Carolina. Through the National Guard state program, I completed Officer Candidate School—a two-year marathon—and was commissioned as a transportation officer in the District of Columbia Army National Guard in 2017. I continued to work as a reserve officer and civilian government relations analyst for a year until I completed my initial Basic Officer Leadership Course to be a transportation officer.
At that time, it finally made sense for me to make the transition and apply to law school. Toledo Law was the only school that I applied to, and it was a conscious choice to come home and spend time close to my family. I finished my application and was accepted to Toledo Law, with a generous scholarship, within four days. I then called my mom and asked her if I could move back home! I began law school as a 2019 spring start student and will graduate in 2.5 years this May.
Since joining the military in June 2015, I have been a member of the District of Columbia Army National Guard, serving as a platoon leader and brigade assistant operations officer. In every role, I supported several Defense Support of Civil Authorities (DSCA) missions a year. The D.C. Guard assists the city of D.C. and federal government civilian authorities with responses to natural and human-made disasters, law enforcement support, special events, and other domestic activities. We have covered presidential inaugurations, large protests and peaceful marches organized on the National Mall, large Fourth of July celebrations, and the D.C. Metro COVID-19 response. In each of these missions, it has been exciting to be on the cusp of history by witnessing firsthand and protecting the values and rights I hold dear as a citizen and future attorney.
I have been incredibly grateful for the support Toledo Law has provided to me as a student and soldier during the last two years. I have never made it to the first week of classes due to Army conflicts. During the past year, while being mobilized full-time during the pandemic and the current mission, the school (in particular Assistant Deans Kelly Tomlinson and Rick Goheen) and my classmates made it possible for me to work with professors, record classes, and make up work to keep current in class. Additionally, the school has offered me unique opportunities. I served twice as a human rights observer for the military commissions at Guantanamo Bay Naval Base in Cuba. This experience inspired my soon-to-be-published law review article on the 9/11 Military Commission voir dire procedures. I truly believe that few other law schools and student bodies would have extended me the amount of grace and support Toledo Law has provided during this time.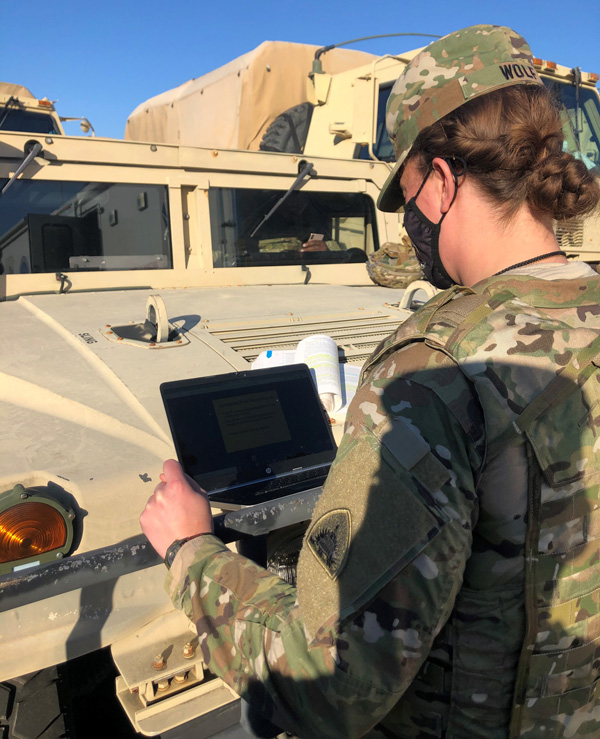 The D.C. Guard and other state units mobilized to protect the Capitol region on Jan. 4, 2021. A few days later, I joined the team to lead a platoon of soldiers in blocking points around the Capitol, acting as part of a quick reaction force (QRF) to augment civilian police forces if protests or insurrection were to break out. For most of this period, I have been working at a furious operational planning pace. Because I have amazing supervisors and soldiers who carry the load, I have been able to work from my Humvee, keep up with my reading, and attend most of my online synchronous classes. Like any student who has other people who depend on them, whether it is children, parents, or soldiers, I think my success has been in remaining organized and motivated to accomplish every task set before me. I will admit that comes at the sacrifice of much sleep, but I am grateful to have this opportunity to participate in the two things I love, the Army and the law.
And after law school, I will be able to combine my passions as an active duty Army judge advocate (JAG). This past summer, I was one of only three Toledo Law students accepted for a selective Army internship program. I felt like I had finally found my "tribe" while serving in the Fort Drum Office of the Staff Judge Advocate in New York. Before Thanksgiving, I was selected for active duty, and I am very excited to join the JAG Corps next year, following my successful passage of the Ohio bar exam.
While I have been in D.C. this year, I connected with Nick Wittenberg '11, who works for the EPA and is currently detailed to the White House. He has been a great mentor, connecting me with other prominent members of the D.C. legal community and encouraging me. Networking opportunities like being a Guantanamo Observer also have allowed me to meet many current and former judge advocates and attorneys in the national security field, which solidified my choice to pursue a JAG appointment.
---
UPDATE: On April 14, 2021, UToledo News featured Amelia Wolf in a story titled "Joining U.S. Army JAG Combines Graduate's Passions for Military and Law." The story was included as part of a series celebrating success stories of the Class of 2021.
---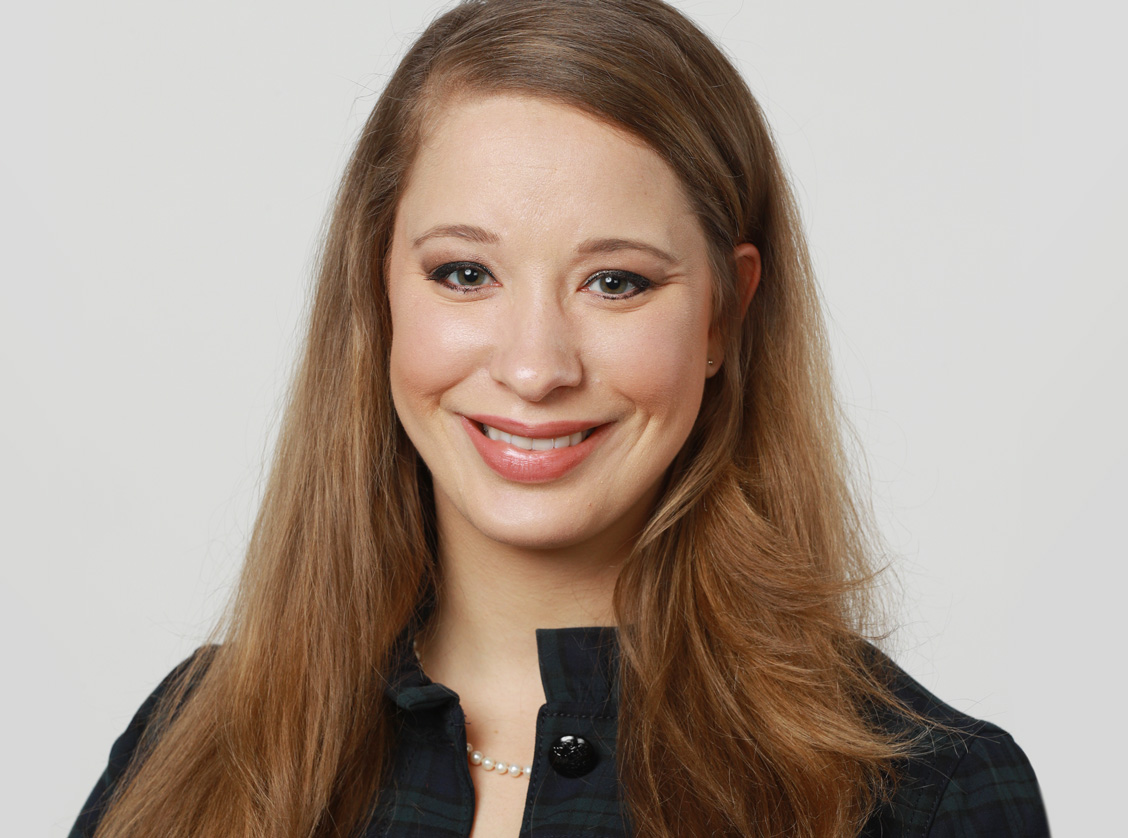 About the Author
Amelia Wolf is a third-year law student at The University of Toledo College of Law and a first lieutenant in the District of Columbia Army National Guard. Before attending law school, Amelia worked in government affairs for several top defense companies. She received her B.A. in political science and her M.A. in political management from George Washington University in Washington, D.C. Amelia grew up in Toledo and graduated from St. Ursula Academy. She has two small dogs, Ainsley and Walker, and enjoys spending time working out in her garage gym and reading mysteries. She looks forward to resuming international travel and going to brunch with friends when the pandemic ends.