WHAT ARE THE BIOINFORMATICS PROGRAM DEGREES?
The program has four degree options: 
MASTERS IN BIOMEDICAL SCIENCE, CONCENTRATION IN BIOINFORMATICS
This degree program is designed for those interested in research careers, whether academic, commercial, or governmental. Graduates often go on to earn PhD, MD, or MBA degrees.
Involves four core courses in bioinformatics, plus additional courses in molecular biology, electives, and a research project leading to a thesis. Short commercial internships may be taken as an elective.
DUAL DEGREE: BS IN BIOLOGY / MSBS IN BIOINFORMATICS
The dual degree "pipeline" program is designed for first year college students interested in the biological sciences at the University of Toledo.
It is a great opportunity to earn both the bachelor's degree in biology and the master's degree in bioinformatics in 5.5 years, saving both time and costs.
If you are an Ohio resident who applies as a entering first-year student, currently in high school, you may qualify for the Choose Ohio First Scholarship. This scholarship fully 

covers the tuition costs of the undergraduate terms for its awardees. 
PROFESSIONAL SCIENCE MASTERS IN BIOMARKERS & DIAGNOSTICS
This degree program is designed for those interested in careers that focus on biomedical testing and interpretation of genome sequences.
Involves four core courses in bioinformatics, plus additional courses in molecular biology and business, and a guaranteed internship with a relevant company.
CERTIFICATE IN BIOINFORMATICS & BIOMARKERS
Provides essential training in the use of computer-based methods for analysis of biomedical data, including identification and evaluation of biomarkers.
Designed to supplement training for current PhD students, postdoctoral fellows, medical residents, or those currently employed in jobs where such training would be useful. Law students interested in relevant areas of intellectual property law also find this training useful.
---
What IS Our Mission?
The Bioinformatics program's mission is to improve the human condition through:
effective multi-disciplinary and inter-professional interactions
excellence in biomedical research and education`
distinctive entrepreneurship to bring innovations to the community 
The program's goals are to achieve:
regional leadership in bioinformatics, genomics, and proteomics
distinction in biomarker discovery
effectiveness in bringing research discoveries into clinical use
---
What IS Bioinformatics?
Bioinformatics, also called computational biology, is the development and use of computer-based methods to analyze very large datasets. These analyses can help identify genes associated with specific diseases or can identify new drug targets for treating specific diseases.
The Bioinformatics program is most interested in macromolecular biomarkers, including DNA (genetic polymorphisms or differences in methylation status), RNA (transcript levels or splicing variants), and protein (polypeptide levels or modification status).
NIH Biomarkers Definition: "A characteristic that is objectively measured and evaluated as an indicator of normal biological processes, pathogenic processes, or pharmacologic responses to a therapeutic intervention."
World Health Organization definition of Biomarkers: "Any substance, structure, or process that can be measured in the body or its products and influence or predict the incidence of outcome or disease."
---
Bioinformatics NEWS
2019 MSBS Bioinformatics Students Attend Lab Coat Ceremony
The Bioinformatics program accepted six students into the MSBS program for the Fall of 2019. They received their white lab coats on Thursday, September 5th, 2019. They are pictured below with Program Director, Dr. Bob Blumenthal.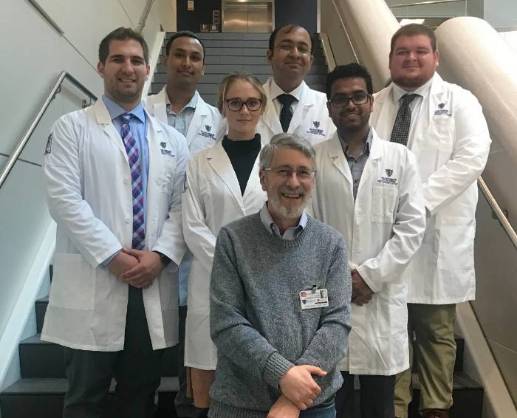 Pictured at the ceremony: (from back left) Ishan Manandhar, Ali Imami, John Dillon; (from front left) Hunter Eby, Kaitlyn Zigulis, Sachin Aryal
Students attend Great Lakes Bioinformatics Conference in Wisconsin
Twelve students from the Bioinformatics Program, along with Dr. Bob Blumenthal, Distinguished University Professor of Medical Microbiology & Immunology and director of the Program in Bioinformatics, recently attended the Great Lakes Bioinformatics Conference in Madison, Wis.
Six of the following students gave poster presentations at the meeting (advisor's name in parentheses):
Ammar Eljack (Dr. Sadik Khuder): Potential genetic biomarkers for dilated cardiomyopathy
Deepti Gurung (Dr. Bob Blumenthal): Evolution of Recombination: RecBCD and AddAB in Bacteria 
Prabhjot Kaur (Dr. Sadik Khuder): Identifying Biomarkers in Idiopathic Pulmonary Disease 
Oluwatobi Lasisi (Dr. Sadik Khuder): Identifying Biomarkers in Sjogren's Syndrome
Scott Miruzzi (Dr. Rob McCullumsmith): Integration of Nuclear Receptor Coregulator Binding Array and RNA-Seq Datasets to Identify Novel Pathways Associated with Bilirubin's Activity as an Endogenous Hormone
Rajan Paudel (Dr. Alexei Fedorov): Evolution of Nucleotide Composition of the Mid-Range Inhomogeneous (MRI) Sequences in the Human Genome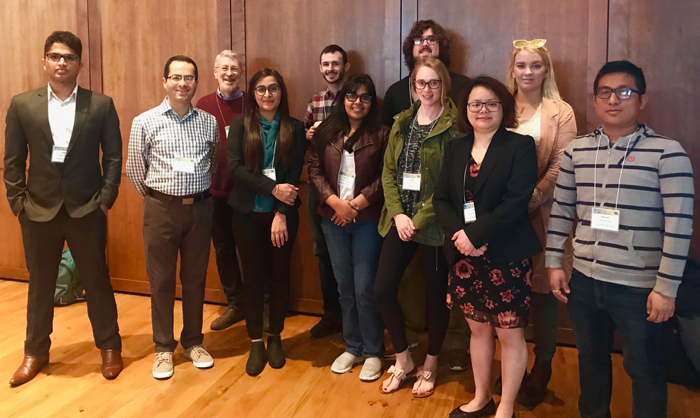 Pictured at the conference, from left: Rajan Paudel, Ahmad Alimadadi, Dr. Bob Blumenthal, Prabhjot Kaur, Scott Miruzzi, Joyeeta Dutta, Alex McCartney, Kaitlin Zigulis, Deepti Gurung, Kathryn Helminiak, and Bhuwan Rai.