Research in Cardiovascular Medicine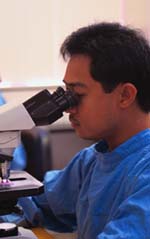 The mission of The University of Toledo is to improve the human condition. We do this through the creation of new knowledge (research), the dissemination of knowledge (education), and the application of knowledge (patient care) to increase the length and quality of human lives.

At The University of Toledo, we are actively involved in several clinical reseach projects to fulfill this mission. We are committed to the patients, students and physicians we serve, to provide the best patient care, education, and research possible in the treatment and prevention of cardiovascular disease.
Learn more about faculty-specific research
---
Water Research
The University of Toledo is leading multidisciplinary research in assessing the health implications of harmful algal blooms and working to help Great Lakes communities safeguard clean drinking water sources. UToledo researchers in Cardiovascular Medicine, David Kennedy, PhD and Steven Haller, PhD, are investigating the effect of algal toxins in persons with pre-existing liver disease and reconsidering levels of exposure considered to be safe.
---
IRB-approved open studies include:
ARTISAN
iCAST™ RX De Novo Stent Placement for the Treatment of Atherosclerotic Renal Artery Stenosis with ≥ 80% visual stenosis and have resistant hypertension with ≥ 155mmHg while on ≥ 3 anti-hypertensive medications from at least 3 distinct classes of drugs.
BIOFLEX
Devices undergoing investigation in this study are the Astron and Astron Pulsar stents and together they are referred to as the Astron stent family. The stents are made of a metal alloy composed of nickel and titanium.  The stents are coated with two elements, silicon and carbon, both commonly found in other types of medical devices.  The Astron stent will be used by your doctor if you have plaque buildup in your iliac artery, located in your upper leg.  The Astron Pulsar stent will be used by your doctor if you have plaque buildup in your femoral artery, located in your thigh or proximal popliteal artery, located just above your knee.  All of these arteries are responsible for supplying blood to your legs.
CABANA
Atrial fibrillation is an abnormal, rapid heart rhythm coming from the upper chambers of the heart [atria] and is the most common type of heart rhythm disorder or arrhythmia. The purpose of the study is to to compare drug therapy and catheter ablation in patients with atrial fibrillation. This study will help decide which treatment approach is best or when one or the other therapy is preferred.  The CABANA study will also compare the cost of care for the two treatment approaches and determine the effect these therapies have on quality of life.  
LEVANT 2
Balloon catheters are commonly used to expand narrowed blood vessels. These devices are made up of a small balloon attached to the end of a thin tube. Lutonix has developed a balloon catheter that is very similar in shape and size to other balloon catheters except that the balloon is coated with a drug called paclitaxel. The Moxy Drug Coated Balloon is an investigational device. The purpose of this research study is to investigate if the treatment of narrowed leg blood vessels with the Moxy Drug Coated Balloon is safe and beneficial.
PROMISE
The purpose of the study is to compare different, routinely-performed heart tests, such as exercise electrocardiogram (ECG), stress echocardiogram (echo), or stress nuclear test, and coronary computed tomography angiography (CTA), in identifying heart disease and reducing future heart problems.
TRUE AFH
The object is to evaluate the effectiveness of continuous intravenous ularitide infusion on the clinical status of patients with Acute Decompensated Heart Failure (ADHF).
For more information about our cardiovascular research, please contact The Project Research Center at 419-383-4049.