The University of Toledo Medical Center and Affiliated Hospitals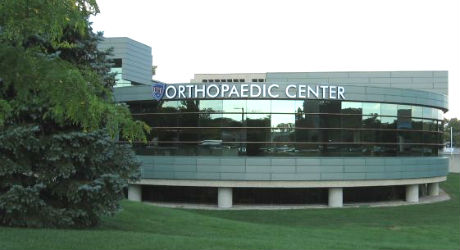 The Orthopedic Center at The University of Toledo Medical Center provides patients with the highest-quality care by offering the convenience of an all-inclusive orthopaedic experience.
The UToledo Orthopedic Center offers:
28 exam rooms
Full-time diagnostics including X-RAY, CT, MRI, and DEXA imaging
Cast, splint, and procedure rooms
In-house outpatient physical and occupational therapy with custom splinting, prosthetics, and multidisciplinary PM&R services
An educational conference center
In addition to having a complete on-site orthopaedic clinic which sees over 40,000 patients annually, the University of Toledo Medical Center includes the George Issac Minimally Invasive Surgery Center and 319-bed in-patient hospital situated on a beautiful wooded 350-acre site in suburban Toledo. UTMC extends its services into many communities in Northwest Ohio and touches millions of lives each year.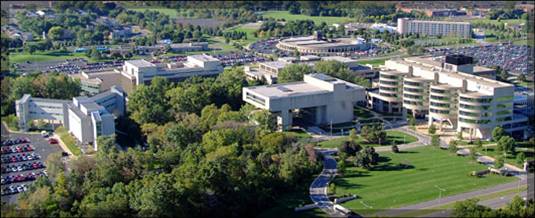 Affiliations
Promedica Toledo Hospital
Located just a few miles from UTMC, Toledo Hospital is a Level 1 trauma center with 859 beds, including the brand-new Generations of Care Tower that opened in 2019 with a dedicated orthopedic floor outfitted with cutting-edge patient care equipment and dedicated staff.  Two full-time operating suites and a host of mid-level providers support this thriving trauma service and allow residents to spend maximum amounts of time operating.
Wildwood Orthopaedic & Spine Hospital
Named for the adjacent, beautiful 493-acre metro park, Wildwood Orthopaedic and Spine Hospital contains a six-suite outpatient surgery center, 42 observation beds, and over a dozen orthopedic surgeons.  Here, residents are exposed to a multitude of sup-specialties, including a lively outpatient total joints practice.  The Wildwood Athletic Club provides our community with a wellness center complete with outpatient physical therapy, personal training, nutrition counseling, and more.
Shriners hospital for children, lexington
Shriners Hospitals for Children® in Lexington, Kentucky has been a leader in pediatric orthopaedic care since 1922. In fact, they have the largest full-time staff of pediatric orthopaedic surgeons in the U.S. With the recent opening of the new center, adjacent to the University of Kentucky Albert B. Chandler Hospital, the downtown site is now equipped with an outpatient surgery center, physical & occupational therapy, prosthetic creation & fitting, and a full-time research lab with a state-of-the-art motion analysis center.