Visiting Lecture in Medical Humanities
On. Oct. 26: "Narrative Power in Health: Inquiry, Equity, and Care"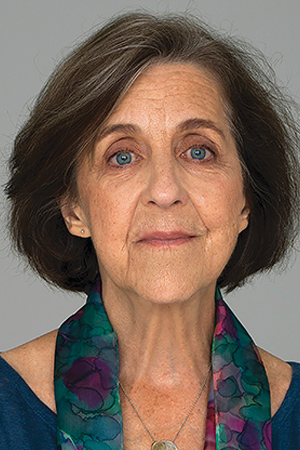 Rita Charon, M.D., Ph.D.
Dr. Rita Charon, general internist and literary scholar and one of the founders of the field of narrative medicine, will present "Narrative Power in Health: Inquiry, Equity, and Care" as part of 14th Annual S. Amjad Hussain, M.D. Visiting Lecture in Medical Humanities.

The lecture will take place Thursday, Oct. 26, at 5:30 p.m. in Health Education Building (HEB), Room 110. A reception will begin at 5 p.m.

Dr. Charon is the Bernard Schoenberg Professor of Social Medicine, the founding chair of the Department of Medical Humanities and Ethics, and Professor of Medicine at the Columbia University Vagelos College of Physicians & Surgeons. She is the Executive Director of Columbia Narrative Medicine. At CUIMC, she directs the Apgar Academy for Medical Educators, Columbia Commons Interprofessional Education, and the Narrative and Social Medicine Track of the Scholarly Projects. She completed the M.D. at Harvard and the Ph.D. in English at Columbia.
Her research investigates narrative medicine training, reflective practice, health care justice, and health care team effectiveness and has been supported by the NIH, the NEH, and many private foundations. She was selected by the National Endowment for the Humanities to deliver the Jefferson Lecture in 2018, the highest academic distinction awarded by the NEH. She has authored, co-authored, or co-edited four books on narrative medicine. She lectures and teaches internationally and is published in leading medical and literary journals.  
The lecture was created in honor of Dr. Hussain, an award-winning writer and photographer, an internationally known explorer, a teacher-researcher and a distinguished thoracic and cardiovascular surgeon. Dr. Hussain holds emeritus professorships in thoracic and cardiovascular surgery, as well as humanities at The University of Toledo.
---
2022 Lecture
Dr. Mohammed A. Fadlalla, Academic Internal Medicine Hospitalist at the University of Cincinnati College of Medicine, present "A Doctor's Humanitarian Journey" as part of 13th Annual S. Amjad Hussain, M.D. Visiting Lecture in Medical Humanities. The lecture was held Monday, Dec. 12.