Faculty Emeritus: Andrew Jorgensen, Ph.D.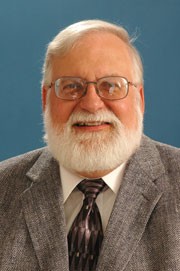 Associate Professor Emeritus
Email: andy.jorgensen@utoledo.edu
Office: BO 1096F
Phone: (419) 530-4579
Fax: (419) 530-4033

Professional Background:
B.S. 1970, Quincy College
Ph.D. 1976, University of Illinois at Chicago
Visiting Assistant Professor 1976-77, University of
Illinois at Urbana Champaign
Assistant Professor, 1977-81, Associate Professor   
1981-85, University of Southern Indiana
Visiting Researcher, 1983-84, Ecole Polytechnique, France
Assistant Professor, 1985-88, Allegheny College
Washington Fellow, Council of Scientific Society Presidents, 1994-95
Councilor for Toledo Section, American Chemical Society, 2001-2018
Senior Fellow, National Council for Science and the Environment, 2008-Present
Editorial Board Member, Encyclopedia of Earth, 2008-present
American Chemical Society Fellow, 2012-present
Visiting Professor, Leuphana University, Lueneburg Germany, 2014
Research Interests:
Chemical Education
Climate Change Education
Presentations:
Brief Summary of Causes, Consequences and Solutions to Climate Change
Publications:
"A Comparison of Carbon Dioxide Emissions from Electric Vehicles to Emissions from Internal Combustion Vehicles" Dan Berger, Andy Jorgensen, Journal of Chemical Education, DOI 10.1021/acs.jchemed.5b00125, July, 2015
"Sustainability, Not Just Another Addition To Our Syllabus" Andy Jorgensen. Chapter in Sustainability in the Chemistry Curriculum, Middlecamp and Jorgensen, Co-Editors.  American Chemical Society Symposium Series, December, 2011, p.71-80.
Links:
American Chemical Society
National Council for Science and the Environment
Encyclopedia of Earth
Climate Change Education Project
Videos:
Global Climate Disruption Presentation, January 23, 2018
Global Climate Change Presentation, September 16, 2013
NSF Videos on Climate Change