Bachelor of Arts in Environmental Studies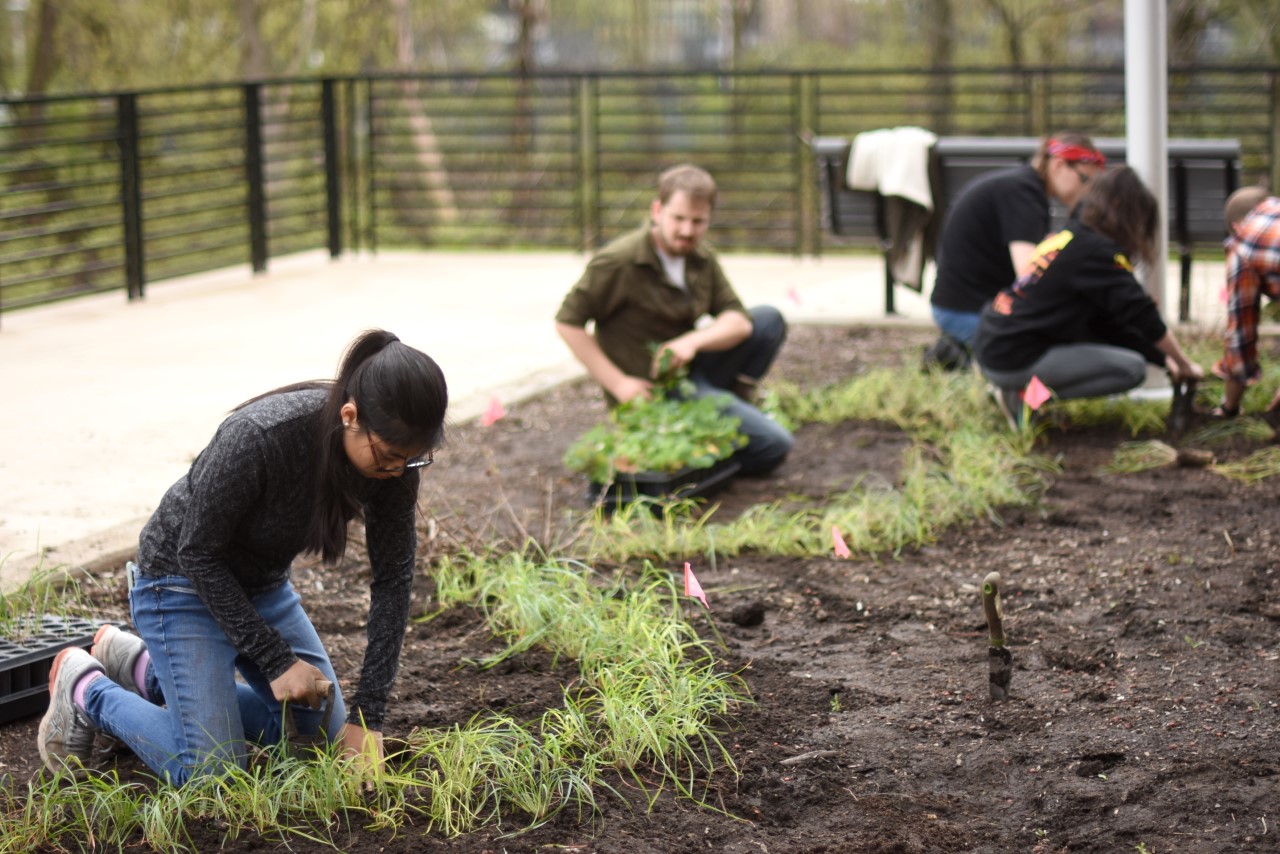 If you want to work with people to solve environmental problems - and not spend all your time in a research lab - the Environmental Studies degree program at UToledo is for you!
Undergraduates in Environmental Studies examine science, but they focus more on social sciences and humanities - everything from environmental politics and geography to economics. They take fewer advanced math and science courses than UToledo's environmental science majors.
Toledo is an urban, port city with diverse ecosystems. It's a perfect natural laboratory that allows UToledo's Environmental Studies students to travel throughout the region and study how humans interact with the environment!
What to expect when you graduate?
The B.A. in Environmental Studies from UToledo will give you the social science, humanities and science background you need for a successful career, and serves as excellent preparation for graduate-level training in professional programs. Jobs in the field are growing faster than the national average.
Students have varied career opportunities and are hired by environmental consulting companies; private conservation organizations; industries monitoring environmental quality; federal, state and local organizations such as the U.S. Environmental Protection Agency; and others that value environmental expertise.
---
University Core and General Requirements:
General Degree Requirements
Sample 4-year Plan of Study and Course Checklist
---
B.A. in Environmental STUDIES Requirements:
Detailed Course Requirements in the UToledo catalog
The completion of the Environmental Studies Major requires a minor approved by your advisor. Common minors include Geography and Planning and Communications. 
For prior calendar year requirements, view past UToledo Catalogs

Admission Requirementsfor Direct-From-High-School and First-Time Freshman
---
AREAS OF CONCENTRATION
The area of concentration for the Environmental Studies (ENST) degree can be selected from all non-natural science departments within the University. This requirement is fulfilled by taking at least 21 hours of course work in the concentration of choice. ENST students should consult with faculty members in their area of concentration, as well as their ENST academic advisor, for advice in selecting appropriate courses.
Environmental Studies Areas of Concentrations:
Internship
All students majoring in Environmental Studies are required to participate in a 100-hr. environment-related internship (EEES 4940 for 1 credit hour) with a government agency, university laboratory, private corporation, non-profit organization or other approved sponsor. Please see the Department of Environmental Sciences Internship webpage for details.
I. Political Science: American Government (21 credits)

In addition to the courses listed above, students electing this area of concentration take:
a) 

One of the following

:
PSC 1200
American National Government  
3
PSC 1400
Current Issues in U.S. Public Policy
3
b) 

All of the following

:
PSC 3260
Government and the Economy
3
PSC 3420
Principles of Public Administration
3
PSC 3500
Principles of Law (or PSC 3510 Constitutional Law)
3
PSC 4250
Intergovernmental Relations        
3
c)

One of the following

:
PSC 4230
 The Presidency
3
PSC 4280
US Congress 
3
d)

And one of the following

:
PSC 4330
Health Care Policy
3
PSC 4350
Health Care Delivery Systems      
3
 

II. Political Science: International Issues (21 credits)

In addition to the courses listed above, students electing this area of concentration take:
 a)

One of the following

:
PSC 1200
American National Government
3
PSC 1400
Current Issues in U.S. Public Policy
3
b)

All of the following

:
PSC 2700
Principles of International Relations
3
PSC 3730
American Foreign Policy
3
PSC 4610
Comparative Government
3
PSC 4710
Theories of International Politics
3
c)

And two the following

:
PSC 2610
Government of Great Britain
3
PSC 2620
Government of Continental Europe
3
PSC 4630
Government of Europe
3
 

III. Theater & Film Studies (21 credits)

In addition to the courses listed above, students electing this area of concentration take:
a)

All of the following

:
FILM 2340
Critical Approaches to Cinema Studies
3
THR 2200
Perspectives on Theater
3
b)

Choose 7-10 credits from

:
FILM 3420
Third Cinema
3
FILM 3370
Documentary film 
3
FILM 3390
History of Video Art
4
FILM 3980
Cinema Studies Topics II
3-4
FILM 4370
Cinema Studies Seminar
3-4
c)

And choose 6-9 credits from

:
THR 3110
World Theater I
3
THR 3120
World Theater II
3
THR 4110
Contemporary American Drama
3
THR 4900 
Special Topics: Theatre & Drama
3
 

IV. Women & Gender Studies (21 credits)

In addition to the courses listed above, students electing this area of concentration take all of the following:
WGST 1150
Proseminar I
1 
WGST 2150
Proseminar II 
1
WGST 2980
Special Topics: Women and the Environment
3
WGST 3010
Issues in Women's Studies
3
WGST 4870
Feminisms
3
WGST 4890
Research and Methodologies in WGST
3
WGST 4980
Advanced Topics: Ecofeminism
3
WGST 4940
Internship in WGST
3
WGST 4990
Independent Study in WGST
1
 

V. Geography & Planning (21 credits)

In addition to the courses listed above, students electing this area of concentration should take six of the following courses (please be aware that some of these courses have prerequisites):
GEPL 3050
Geography of U.S. and Canada
3 
GEPL 3420
Quantitative Methods and Mapping
4
GEPL 3440
Population Geography
3
GEPL 3610
Conservation and Resources
3
GEPL 3890
Geographic Research & Natural Disasters
3
GEPL 4060
Geography of Great Lakes
3
GEPL 4110
Geographic Information Systems (the two GIS courses are highly recommended)
4
GEPL 4180
Geographic Information Systems Applications
4
GEPL 4210
Land Use Planning
3
GEPL 4490
Remote Sensing of the Environment
4
GEPL 4500
Digital Image Analysis
4
GEPL 4520
Analytical & Computer Cartography
4
GEPL 4530
Principles of Urban Planning
3
GEPL 4540
Weather and Climate
3
GEPL 4550
Community Economic Development
3
GEPL 4570
Land Development and Planning
4
GEPL 4650
Physical Geography
3
GEPL 4710
Urban Environments
3
 

VI. Economics

In addition to the courses listed above, students electing this area of concentration take:
a)

All of the following

:
ECON 1150
Principles of Macroeconomics
3
ECON 1200
Principles of Microeconomics
3
ECON 3150
Intermediate Macroeconomic Theory
3
ECON 3200
Intermediate Microeconomic Theory
3
MATH 1180
Mathematics for Liberal Arts
 
b) Three additional courses at the 3000-4000 level excluding ECON 4910 & 4920

 

VII. Peace and Justice Studies

In addition to the courses listed above, students electing this area of concentration should take the following courses:
a) All of the following:
PJS 1000

Introduction to Peace and Justice Studies
3
PJS 2000
Nonviolence and Conflict Transformation: Theory and Practice
3
PJS 2500
Peace Education: Facilitating Learning for Chance in Schools and Beyond
3
PJS 3000
Peace Lab: 21st Century Issues and Practices in Peace and Justice
3
PJS 4000
Senior Capstone Seminar
3
b) Choose 6 credits from:
COMM 2870
Communication Theory
3
COMM 2890
Crisis and Conflict in Organizations
3
SOC 2640
Race, Class and Gender
3
ARTH 3759
Art and Disease
3
ANTH 3330
Food, Health and Society
3
PHIL 3750
Social and Political Philosophy
3
TSOC 2000
Diversity in Contemporary Society
3
WGST
Feminist Political Theory