Starfish Home
Starfish is a communication and student retention tool used to connect students to resources on campus and allow instructors to alert students of their academic success in the course. We strive to ensure students are actively engaged with university staff and faculty throughout their academic journey at UToledo. 
---
Access Starfish
Faculty & Staff: MyUT Portal >> Employee Tab >> Academic Resources Section >> Starfish Early Alert & Connect Link 
Students: MyUT Portal >> Students Tab >> My Other Resources Section >> Starfish Early Alert & Connect Link 
Don't have a Starfish account? Contact us at starfish@utoledo.edu or 419.530.1275
---
The Starfish Story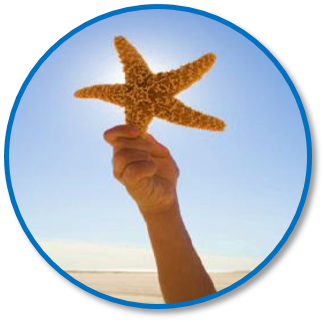 A man saw a boy collecting starfish and gently throwing them into the ocean.
The boy explained, "The tide is going out. If I don't throw them back, they'll die."
The man said, "But look, there are miles and miles of beach and hundreds of starfish!"
The boy picked up another starfish, threw it into the surf, smiled at the man, and said:
"I made a difference for that one."
- Adapted from a story by Loren Eiseley 
---
Starfish is FERPA Compliant, ADA Compliant, and HIPPA Compliant. Starfish users are responsible for following The University of Toledo's policy, state laws, and federal laws regarding student record privacy protection. FERPA and Confidentiality details here.