Starfish Retention Solutions 
Starfish Retention SolutionsTM is an early alert and connection tool used to support student academic success and retention at The University of Toledo. Success Coaches, Advisers, Faculty, and Staff utilize the various features of the application in order engage students during their academic journey to graduation.
---
THE STARFISH STORY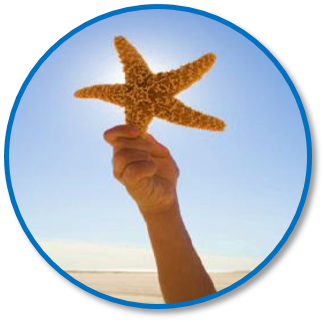 A man saw a boy collecting starfish and gently throwing them into the ocean.
The boy explained, "The tide is going out. If I don't throw them back, they'll die."
The man said, "But look, there are miles and miles of beach and hundreds of starfish!"
The boy picked up another starfish, threw it into the surf, smiled at the man, and said:
"I made a difference for that one."
- Adapted from a story by Loren Eiseley 
---
Starfish EARLY ALERT 
Increase communication to students regarding their academic progress.
Identifies at-risk students through the use of Progress Surveys & Tracking Items. 
Allows for proactive intervention to help get the student back on track. 
Notifications sent directly to the student's Rocket's email account in the form of Flag, Referral, or Kudos. 

Flag: Alerts students of a concern with their academic progress in the classroom & other university-wide concerns.
Referral: Connects students to a student service or event such as visiting the tutoring center or attending a workshop.
Kudos: Positive reinforcement to encourage students towards academic success.  
---
STARFISH CONNECT
Equips faculty and staff with the ability to document outreach efforts and interactions with a student. 
Provides a centralized student folder allowing users, with permission, to view pertinent student information in the form of Attributes (FERPA Compliant). 
Offers the ability to communicate to individual students or groups of students, even through the use of Attribute filters
Allows students to identify their Success Network, a personalized list of individuals connected to the student, and identify important resources through a Service Catalog. 

Members Include: Success Coach, Instructors, Advisers, Residence Hall Director, & Student Athlete Academic Support Services (SAAS).
Contact information provided for each success network member or service catalog support service (email, phone, & location).
---
Starfish Retention Solutions is FERPA Compliant, ADA Compliant, and HIPPA Compliant. Starfish users are responsible for following UT's policy and state and federal law regarding protecting the privacy of student records. FERPA rules.