Faculty Resources
---
Click here for information and resources for the transition to teaching your course remotely. 
---
The University Teaching Center provides syllabus resources that have been designed to assist UT faculty with the development of their course syllabi and are intended to provide recommendations based on best practices and to highlight sections to meet university, state and/or federal requirements.
Click here for Assistance with your syllabus
---
Active learning is defined as the activities that students do to construct knowledge and understanding. The activities vary, but they require students to do higher order thinking. Despite it not always being noted, metacognition - students thinking about their own learning - is the key to active learning and it creates the link between activities and learning.  Click the button below to learn more about Active Learning and how it can benefit your students.
Learn More about Active Learning
---
Active learning occurs when an instructor engages with students and facilitates their engagement with each other to learn course content, solve problems, collaborate on creations, discuss readings and write and receive feedback from both the instructor and peers. Click the button below to see our collection of resources, videos demonstrating active learning in action and learn more about the active learning classrooms available at the University of Toledo.
Learn More about Active Learning Classrooms
---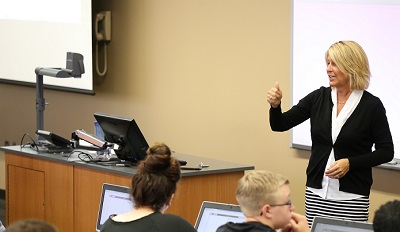 The goal of Classroom Support Services is to provide prompt, quality technical support, consultation and training for the classroom arena on both the Main and Health Science Campuses.

Contact them for an orientation to the media in your assigned classroom or with your needs or questions regarding classroom media. They will assist faculty promptly, or make every effort to connect you with the appropriate person or department.
Contact:
Michael E. Haar, Assistant Director of Classroom Support Services
Carlson Library CL-0500A
Phone: 419.530.2656 (Monitored 24/7)
michael.haar@utoledo.edu
---
TEACHING OBSERVATION SERVICES
Due to the COVID-19 Pandemic, the Teaching Observation Services have been suspended.  Our Teaching Observation options serve as  excellent resources to faculty members by providing valuable feedback to supplement student evaluations and peer reviews.
---
Visual literacy will be available campus-wide to be included in any UToledo course. The curriculum modules will provide opportunities for UToledo students across all majors to master the ability to "speak visual" through targeted curriculum modules incorporated into their existing course offerings. The modules available can be used as homework or in-class assignments to support the development of fluency in visual language.
Review the student infographic critique activity
Review the instructor infographic critique activity
---
The American Association of Colleges and Universities (AAC&U), based on the research of George Kuh (
High-Impact Educational Practices: What They Are, Who Has Access to Them, and Why They Matter, AAC&U, 2008)
, has identified ten top institutional practices in Higher Education that most likely to lead to lasting learning and ongoing engagement of students.
Learn More about high-impact practices
---
We choose to teach college students because we are committed to the proposition that  education can indeed be liberating. How we teach the students who enter our classrooms can make the difference between students who realize their potential and those who leave us discouraged about their possibilities. These resources, organized by topic, offer frameworks and strategies faculty can use to make their classrooms vibrant learning spaces for every student who walks through the door. 
Learn more about student-centered teaching practices
---
Faculty iPad Loans
The UTC is now able to offer iPads for short-term loan to UT faculty. We hope that borrowers will explore the features and pre-loaded apps that will help them promote active learning in the classroom.
---
Mid-Term Grading
Early Graded Feedback as a Tool for Student Success
Providing students with early, formative feedback on their progress in your class is one of the most effective tools for improving successful course completion. This feedback also provides key data by which Advisors and Success Coaches can identify and intervene with students who may be struggling academically, which is important for improving retention and decreasing equity gaps in student success. In this session, instructors will learn tools for providing early graded feedback to students that are practical and time-effective for instructors and also provide meaningful feedback to improve student outcomes in your class.
Learn more about early graded feedback
---