Active Learning Classrooms
Active learning occurs when an instructor engages with students and facilitates their engagement with each other to learn course content, solve problems, collaborate on creations, discuss readings, and write and receive feedback from both the instructor and peers. Thirty years of research provide pretty compelling evidence that active learning improves student outcomes. See our collection of resources for that research and videos demonstrating active learning in action.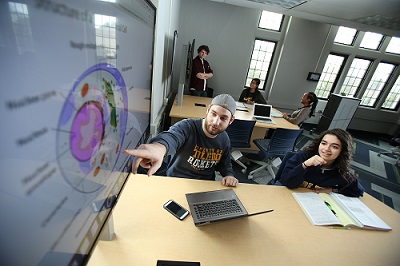 While active learning is a strategy an instructor can enact anywhere, UToledo provides some classrooms designed specifically to facilitate that approach to teaching. Active learning classrooms are designed to allow students to collaborate with each other, share work in progress, get rapid feedback on that work, and provide instructors with access to all parts of the classroom. Our active learning classrooms are equipped with cluster seating, white boards, electrical outlets, multiple monitors, and technology-rich teaching podiums.
 Some of our active learning classrooms are general purpose classrooms and are equipped, maintained and managed by Classroom Support Services. They can be reserved by faculty from any college. These include (click room numbers for photos):
Reserve a General Purpose Active Learning Classroom
Please be aware that these rooms often book semesters in advance, so reserve early.
Other UT active learning classrooms are equipped, maintained and managed by colleges. They can be reserved through those colleges.
These include (click room numbers for photos):
---
Following are several resources that the UTC has reviewed and found useful for thinking about and using the active learning classrooms at the University of Toledo.
McGill University provides multiple short videos with professors and students discussing how they use active learning classrooms.
Active learning classrooms require different planning and teaching strategies than traditional classrooms. Steelcase Education offers a few basic steps to get started.
_