Cosmetic Science and Formulation Design Outreach Team
As the cosmetic and personal care industry continues to grow, it is the goal of the University of Toledo Cosmetic Science and Formulation Design Outreach Team to make our program well-known both locally and nationally by showcasing all the amazing and unique qualities we offer. In 2022, we established our team that consists of passionate and enthusiastic cosmetic science students who are ready to engage with elementary and high school students. We teach participants about product formulation, create products with them, demonstrate cool science experiments, and explain the science behind everyday products. We are happy to offer both in-person and virtual sessions to groups of various sizes to spread awareness of the science of beauty.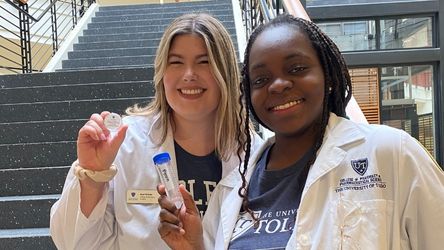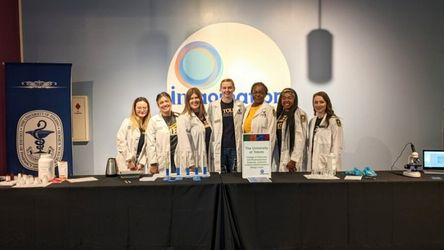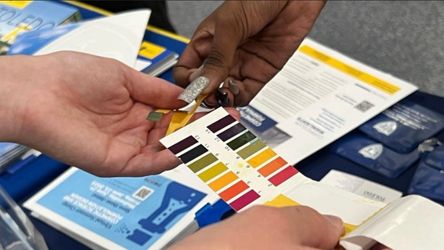 If you would like to schedule a session with us, or have questions about our program, please contact program director, Dr. Gabriella Baki.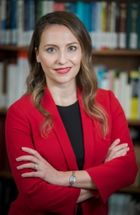 Gabriella Baki, Ph.D., Pharm.D., M.A.
Associate Professor
Director of the B.S.P.S. Cosmetic Science and Formulation Design Program
Members of the outreach team
2022 Members
Ava Perkins
Danielle Campbell
Donna Cherry
Khadijah Oyefusi
Raihaanah Safee
Helene Seaver
Anna Gerken
Tracy Hervies
Anh Le
Madison Naegele
Kylie Sahloff
Marena Salazar-Rodriguez
2022-2023 Members
Ava Perkins
Josette Pflaumer
Nhi Dang
Kelsey Kurek
Kirstin Meiring
Marena Salazar-Rodriguez
Sydney Goetz
Lainey Redmon
Casey Posner
Levi Whipple
Anna Gerken
Salawat Bireir
Regan Sattler
Mary Ellen Schmidt
Danielle Campbell
Tracy Hervies
Lauren Curtis
Charlotte Derosa
Kate Deronne
Greta Fobare
Ellasen Robinette
Kylie Sahloff
Zoey Abernathy
Meet Ava Perkins
Ava Perkins founded the Outreach Team in January of 2022. Since it's inception, Ava has coordinated 24 events and trained 34 members to teach prospective students about the Cosmetic Science and Formulation Design program, as well as how to make 4 different cosmetic formulations, and demonstrate 3 chemistry activities. She is an ambassador for our Beauty of Science Summer Camp, a college peer mentor, a Pharmacy Student Council member, participant in the KLAR Leadership Academy, an undergraduate teaching assistant, a member of the college Curriculum Committee, the public relations chair for the UToledo Cosmetic Chemists Society, and the social media coordinator for the Cosmetic Science and Formulation Design program social media channels.