---
Center for Drug Design and Development (CD3)

CD3 is an established component of the research and teaching infrastructure within The University of Toledo College of Pharmacy and Pharmaceutical Sciences with a direct line to the UToledo administration through the Office of Research.

In addition to its network within Main Campus (MC) and the Health Science Campus (HSC), the CD3 has developed extensive ties with two neighboring medical research centers: The Toledo Hospital (TTH), and St. Vincent Mercy Medical Center (SVMMC). The CD3 is also in close contact with BioOhio and with Bowling Green State University (BGSU).

The CD3 operates under the guidance of a director who reports to the Dean of the College of Pharmacy and Pharmaceutical Sciences, with all college faculty regarded as core members and with all other UToledo and external investigators and faculty considered as affiliate members. Active participants, however, represent the heartbeat of the CD3 and they are members from any relationship who are directly involved in ongoing CD3-related contracts, collaborations, or CD3-designated portfolio projects and general research activities.
---
Capabilities
The CD3 has an established network of expert resources and capabilities which generally span the entire spectrum from the discovery of fundamental research concepts and initiation of new therapeutic paradigms, all the way to and including the submission of IND activities and related clinical investigations. Any component or mix of components from this network can be brought to bear on problems which may be of interest to the private sector.

For example, besides basic research activities, collaborations could involve specific 'needs analyses' and contract arrangements geared toward advancement of distinct technologies through development stages where a small company might lack sufficient expertise or capability. Likewise, for larger companies having considerable resources already engaged in multi-project scenarios, interactions might involve exploration of high-risk research projects and potential spin-off areas without the need to jeopardize internal corporate resources. Alternatively, broad and specific interactions with either large or small entities might be envisioned to simply tap the intellectual diversity afforded by the CD3 network in order to gain a different perspective at any step during drug design and development.
---
CONTACT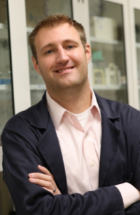 Dr. Isaac Schiefer
Director
419.383.1935