"Honors in the News" - Archives
 
Honors Students to Participate in Service Learning Over Spring Break
3/1/2017
Instead of heading to Miami Beach or the Bahamas for spring break, 20 Jesup Scott Honors College students will travel to Nicaragua and Guatemala to work with "dump dwellers."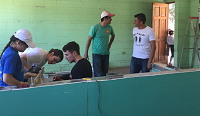 UT Undergrad Discovers Elusive Companion Star
2/28/2017
Nick Dulaney, a UT Honors student, was determined to solve a galactic mystery. Why is there an unexpected, wavy edge on a disc around a bright, rapidly rotating star located 162 light years away from Earth?

UT Hosts "7 Countries, 7 Stories" Open-Mic Night
2/13/2017 | (Page 1)
UT hosted an event to promote community-building through shared stories reflecting on heritage and identity - one co-sponsored by the Honors College and coordinated by Honors students such as Hedyeh Elahinia.
Speaker to Discuss the Value of Promises Feb. 16
2/8/2017
The day Alex Sheen buried his father, he also started an international movement - one that pushes us to honor the promises we make. Mr. Sheen is the second speaker during this year's Jesup Scott Honors College Distinguished Lecture Series.


UT Alumna Leads Public Art Project At Toledo Prison
1/19/2017
UT Honors College alumna and community art coordinator, Emily Numbers, helped develop an art installation at Toledo Correctional Institution to draw attention to criminal justice reform.

'Shark Tank' Investor, FUBU Founder to Speak at UT Oct. 18
10/12/2016
The man affectionately known as "The People's Shark" - Daymond John - who launched a $6 billion global company from his mother's basement will visit UT to talk about entrepreneurship and the road to success as part of the Jesup Scott Honors College Distinguished Lecture Series.



UT Gives Back to Community Through Big Event
8/29/2016 | (Page 1)
Joseph Leech, UT engineering and Honors student was the director of this year's event Big Event, which saw hundreds of UT student, faculty and staff volunteers spread out across the community and spent the day raking, pulling weeds, painting, picking up garbage, washing windows and more at parks, residential homes, businesses and UT's campuses.
Studying in Cuba: Island's True Beauty Remains to Be Seen
6/22/2016 | (Page 7)
Samuel Duling, an Honors student double-majoring majoring in political science and economics, describes his recent academic trip to Cuba. "Although I thought the Cuba I saw was beautiful, I have the utmost confidence that the island's true beauty has yet to be seen..."

New Dean Named to Lead Honors College
6/8/2016
A chemical ecologist passionate about engaging students in experiential learning will join The University of Toledo to lead the Jesup Scott Honors College. Learn more about Dean Heidi Appel and her plans for the Honors College here!