Student of the Week Profiles

 sabrina khuder
Though a lifelong Toledo resident, Sabrina Khuder had some difficulty finding her place when she arrived on campus three years ago. In that time, she has found a niche in her major and as an Honors Student Ambassador, vowing to pay it forward to young children in the community. As a student leader involved in Students Organized for Syria and a Biology major focusing in pre-med,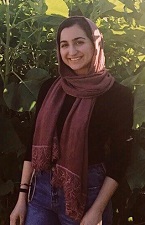 Sabrina is well on her way to achieving that goal.
What led you to your major?
My older sister went to UTMC and seeing her pursue that directed me to medicine! She showed me how interesting the profession can be. I loved Biology courses in high school, and as I came to college, the field continued to grow on me. I cannot imagine a better major in the world now! Learning about the human body allows you to understand how life in general works, and that fascinates me.
What career path do you anticipate?
My hope is medical school, and I would love to work with children. I have volunteered with service organizations around UT, and the experience working with those children was amazing. I also volunteered with the Perceptual Motor Development Program on the Health Sciences Campus working with children impacted by special needs. Children are really fun to be around, so getting to work with them would make for a fun and light environment.
You're involved with "S.O.S." Tell us more about this organization.
"S.O.S." stands for Students Organized for Syria – we do a lot of outreach for the Syrian refugee community around Toledo. A lot of children come to the program needing help with general education, and on Tuesdays and Thursdays, we tutor these young students. You don't need to know how to speak Arabic, just have a heart to want to help kids! We also hold meetings to help educate the community about the Middle East as well as help them to understand what is truly happening around that area today. During the Big Event last year, S.O.S. took many of the children gardening. That combined with other events held in our organization really helps to connect Toledo with the Syrian community.
What impact do you hope you've made in the Toledo community?
Ireally hope that I have been able to help and mentor other students. When I came to UT, I didn't really know anyone, and I had difficulty trying to navigate my way through my first year. Hopefully I've been able to tell others about the great things happening in the area and promote their talent, as well as inform them about some of the mistakes I've made so that they can avoid them. One group that has really helped me do this are the Honors Student Ambassadors, of which I am a part. I have been able to reach out to undergrads pursuing the same academic paths, and in doing so I have been able to get my input through to many individuals on and off campus!

If you would like to help tutor Syrian refugee children in Toledo, e-mail honors@utoledo.edu to be connected with S.O.S.
---
 JeNNA LYBARGER
One of the hallmarks of Honors students is interdisciplinarity – an inability to be boxed into nice little categories slotting them into a single field of study. Honors sophomore Jenna Lybarger, for example, hopes to combine her passion for technical work and creative expression to pursue a career in prosthetics. After all, this is a Bioengineering major who dabbles in creative writing and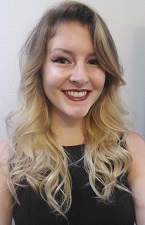 horticultural philanthropy!
How did you come to choose Bioengineering?
Since the beginning of high school, I have been looking for something to combine my appreciation of math and the sciences with my passion for creativity and art. I figured it would probably be in the engineering field, so I did some research and found that working with prosthetics and Bioengineering could allow me to do that.
Do you definitely want to work in prosthetics?
Not necessarily. Now that I've taken classes, I also think I would be interested in working at the cellular level. With the co-ops facilitated by UT's College of Engineering I'll have to do in coming semesters, it will help me figure out exactly where I want to be.
Are you looking at any co-op destinations in particular?
I am interested in working with K2M in Virginia which designs implants. I'm also interested in neurology and the skeletal system, but I hope I can get into that company next year.
What Honors faculty members and staff have helped you along the way?
I'm a Presidential Scholar so I've really enjoyed the time I've got to spend with Dean Appel. My Success Coach Eric Gullufsen has really helped me, too – right from the beginning of my freshman year. He's also the faculty advisor for the organization that I started!
What organization is that?
It's called Zoetic Zinnias. We grow, gather, and sell flowers to help raise funds and awareness for the prevention of human trafficking. I first began it during my freshman year of high school, but I was happy to bring it to UT since Toledo is such a hub for trafficking. Because this is our second year on campus, we are really starting to grow! New members are joining and we're starting to establish partnerships with different groups on campus. I'm hoping we can get an official meeting room soon to grow even more.
---
 Jessica swedik
While some Environmental Sciences majors study soil composition or water quality in the Great Lakes, Jessica Swedik's tastes are a bit more…exotic. Bugs. For her Honors thesis, Jessica is investigating how temperature influences enzymes produced by millipedes. When not working with these creepy critters, she is probably taking care of her pet tarantulas. Suffice it to say, her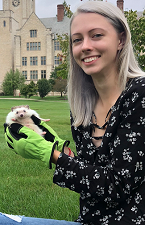 special interest in the field of entomology has led to some interesting experiences over the years.
What attracted you to your major?
Originally I was going to be a Chemistry major, but a high school teacher changed my mind. She warned us that if you don't get perfect scores on your A.P. exams, you're going to fail in the profession – which isn't true at all. But I was frightened, so I switched to EEES. I have always had an interest in the sciences, but not as much Biology. Although, I really enjoy how Environmental Sciences allows me to focus on ecology. As I got into the program, I felt I'd really fit into the entomology side of the field – studying bugs. Looking into it, I realized Chemistry is still important and I picked up that again as minor.
What do you plan to do after your undergraduate career?
I'm applying to graduate school, but there's not many entomology programs out there. Since, I love spiders, so I've been sending letters of inquiry to every arachnology program there is. There's only about twelve.  I don't know where it's going to take me, but wherever I go, I go!
So…why do you like spiders so much?
I don't know! The only two things I was afraid of as a kid were the dark and spiders. One day I just told myself, I can't be afraid of these things, and I started looking at spiders more closely. I decided they were kind of cute, and by the time I was in 8th grade, I started really liking them. In high school, I kept a spider as a pet, and she lived a little over a year. I always wanted a tarantula, and when I moved out, I could finally get one. Now it's becoming a bit of an obsession.
Um…obsession?
You know how some people are obsessed with dogs? Like how when they see a cute dog, they start crying? When I see a spider, I'll get overwhelmed like that.
What do you consider to be a cute spider?
All of them! They're all cute! There are some that are cuter than others, but no spider is ugly. Dwarf tarantulas are my favorite – they don't get bigger than the size of a quarter. But I don't have any of those as pets yet.
Have you studied abroad for research?
I studied abroad in Trinidad for an ecology class. We stayed at different research centers in the country and took hikes to explore the ecology. I got to find tarantulas in the field, which was great because it was the first time I saw wild ones. It definitely encouraged me to go on more trips, just to experience different cultures. It's eye-opening to see how different people live around the world. I'm planning more trips after I graduate just to adventure!
---
 LIZ KONOPKA

History major, Liz Konopka, is making history of her own in The Medallion this week as our 50th Student of the Week profile! A resident storyteller for the Honors College, we recognize her love of recounting tales of countless historical figures to the many she meets. As both a JSHC Student Ambassador and a resident advisor in MacKinnon Hall, Liz has plenty of Honors students to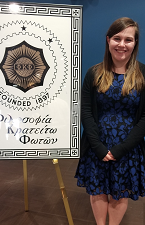 enlighten – something she considers an important part of her UT experience. Now, fresh off of an internship at the Henry Ford Museum, Liz examines how she can delve further into her education.
What would you like to do with your History degree?
I would like to work in a museum, but I'm not sure in what department. I'm thinking more the curatorial aspects, so getting to choose what artifacts go into the exhibits and then writing out the narratives to go along with that.
How does a History student decide on an Honors thesis?
Dr. Chelsea Griffis is my thesis advisor, so she's helping me focus on a topic right now, since I have no clue what I'm doing. I've narrowed it down to women in post-war America, around the 1940s and 1950s. I'm interested in the transition from women primarily being wives and mothers in the home to serving in the workforce as World War II begins. Then, when the war ends and male soldiers returned home saying "Hey, get back to the kitchen," some women said "I don't want to." They are found fulfillment in a career and wanted to keep pursuing it. That shift is really compelling.
So you strive to shine a light on the contributions of women to our history?
Yes! I'm not a Women's and Gender Studies minor, but sometimes I feel like I should be. It's important to tell our side of history, because a lot of female accomplishments have been glossed over. There's always the focus the contributions of men, whereas women rarely earn more than a footnote. Especially in older records, you don't even get a full name for a wife – the couple is referred to as "John Doe and Mrs. Doe." It's important to recognize you're missing out on half of the population here, so you're missing out on half of the story. It's just George Washington and his wife Martha, and that's the only mention you get of her. George is recognized for his achievements in the American Revolution and the presidency, but people gloss over the fact that Martha spent every winter with the troops in the camps! Social norms often dictated where the wives could and couldn't go, and though we talk about the ones that stood out and broke the rules, those are the only ones we discuss. Cleopatra receives attention as a monarch because she broke the rules, but there are women in everyday life accomplishing great feats without any recognition for it.
Is there a specific career goal you have?
I want to work at the Smithsonian. I would also like to work in the Museum of American History as the curator of the Arts & Entertainment exhibit – that's the person in charge of the Kermit the Frog puppet and the ruby slippers from The Wizard of Oz. I found out recently that the guy currently in that position is only in his thirties, so things aren't looking promising…but that's where I want to be!
---
 KELSEY O'BRIEN

"Bon Voyage" is a familiar term to senior Kelsey O'Brien, who has not gone a single year at UT without traveling abroad. A Psychology major with a minor in Spanish, Kelsey has used her travels to deepen her studies and collegiate experience. Whether teaching Spanish in El Salvador or pursuing her Honors thesis in Ghana, she has used every opportunity to become a citizen of the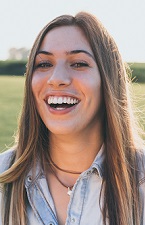 world.
What do you want to do after graduation?
I'm applying for a Fulbright Scholar Award to teach English in Colombia – because I had such a life-altering experience in El Salvador. Outside of that, I'm honestly not sure what I would do. And I think that's fine! There's such a push for students needing to know what they want to do when they leave. Some do, and I'm envious of those people. I have a direction – I love culture and people, but I'm not set on one thing. I think an academic professor teaching cross-culturally would be a good fit. I love the idea of the Fulbright Student Program. It's an effort to bring the world together while there's so much chaos and divide. But I'm applying to graduate schools as well to study cross-cultural psychology.
Did you know Spanish before going abroad?
I studied Spanish in high school because I thought it would be easier than French. I went to El Salvador with Clean Water for the World my freshman year and wasn't able to use the language. I decided to go back to the country to teach English, but that when I'd return I needed to learn the language. I returned to the country with high school-level knowledge and came back home with a bit more fluency. The first time you tell a joke in another language, it feels like the world opens up in a whole new way! In the future, I'd love to tie that into my psychology background.
What's a good way for students to practice their Spanish?
I started a conversation club called Conversación and Café. We meet at Black Kite Coffee & Pies on Saturdays at 2:30 pm. It's one hour of just Spanish conversation, so if you don't know a word, you have to figure out how to say it. All levels of Spanish are welcome!
Where else have you studied abroad?
My El Salvador trip was the first time I traveled outside of the country. It was only for a week, but it was a life-changing experience. I studied abroad the following year in Ghana. When going abroad, it's best to plan a year ahead. So as soon as I got back from El Salvador, I went straight to the UT Study Abroad Office. Ghana was a gut decision, and I was not prepared when I got there, but it was still a tremendous experience. Staying in Ghana as long as I did, I not only got to know the country really well, but I was also able to travel to the neighboring countries of Togo and Benin. I love studying abroad because the more places you go, the more you are a citizen of the world.
You returned to Ghana last year on a shorter trip. What was that for?
I received the Alan and Susan Lapp Scholarship through the Honors College as well as money from CISP to help me return to Ghana for my Honors thesis. I decided I should personally go because we were handling about 200 paper surveys and I didn't want to make our collaborators there do all of that work. I helped with data entry and made sure we had copies of the surveys to verify the data, so being there to handle that myself was ideal.
---
 Max Wylie

The UT Honors experience can be far more fulfilling than an ordinary college career. Max Wylie is a testament to this, a senior who has been involved in the JSHC since his freshman year. Now the President of The Voice of Honors and working on his Honors thesis, the Mathematics and Economics double-major looks back on his time with the JSHC.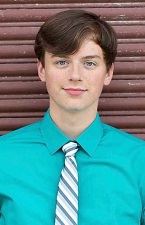 What kind of experience has the JSHC provided?
Anytime I've taken an Honors course, it's been a lot of fun – especially if you get a professor who cares deeply about discussion like Dr. Page Armstrong. I took HON 1020 with her and her classes gave students that experience, which you can often only get in Honors courses, where you're sitting as group of people just talking. I love that! I haven't had an experience like that outside of my Honors classes. Though Dr. A left UT last year, the JSHC has amassed an eclectic, intelligent, and kind group of faculty. My favorite experiences are just the off-the-wall, random discussions with them. You'll run into someone in the hallway or go to office hours, start shooting the breeze for a couple minutes, and it turns into some great advice or an insightful discussion. I've thoroughly enjoyed my experiences with the faculty here.
 
What made Dr. Armstrong's classes stand out from others you've experienced?
Dr. Armstrong has a very strong personality, and I am drawn to strong personalities. As much as I gel with someone who is more introverted and quiet like myself, I tend to gravitate toward people who are outgoing in their kindness and intelligence. Dr. A had a way of conducting her class that placed an emphasis on people as well as material. She struck me immediately as a lifelong learner, someone who learns as much from her students as her students learn from her!
 
What stood out to you about Dr. Armstrong as a mentor outside of class?
She was our faculty advisor for The Voice of Honors, so I got to know her in two realms at the same time. It was interesting to see how she didn't change between those two contexts. Oftentimes, you'll see a different side or face of a person if they're in an advisory role, which was totally not the case with her. She was a genuine person through and through, no matter what space she occupied. We lucked out in that we had a very similar sense of humor, worldviews, and personal philosophies, so there was kind of an immediate connection.
 
Can you tell us more about The Voice of Honors?
We are a social, cultural, and intellectual organization for JSHC students to discover and engage with one another through discussions, service, and social gatherings. We're an eclectic bunch, and there's no commitment to join. We're most famous for our "Conversations in Real Time" series, where we bring in professionals from the Toledo community or past JSHC graduates to talk about their lives and careers. Those events are always fun because they'll start out really formal and devolve into personal and piercing questions to get to really know the person. We also participate in campus events like the UT Homecoming Parade, where we enter a decorated car into the competition. We've had a good track record of winning! And then there is our annual "Fullbite" pancake-eating contest... Suffice to say, The Voice does it all!
---
 justin Mendoza

Justin Mendoza is already a standout Honors student among this year's incoming class. A graduate of Whitmer High School, Justin is one of a select few who received the prestigious Justin MendozaPresidential Scholarship. Though very early into his college career, this Bioengineering major on a Pre-med track is already looking forward to the many opportunities UT and the JSHC will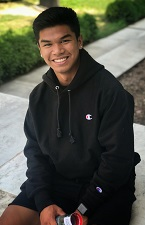 provide in the coming years.
 
What made you decide on UT?
I visited campus a lot but instantly felt it was a good fit. The mission of the College of Engineering also really stood out to me: catering to their students' success and ensuring they're ready to enter the workforce or go on to graduate school.
 
What are you expecting out of your major?
Honestly, I really don't know! Medical school is the first plan, but bioengineering is my second interest. If I don't end up going to medical school, I know I can pursue a career in biomedical engineering and be satisfied with my work. I feel like it's the newest form of engineering – mechanical and civil have been around awhile. Now we're getting into people making prosthetics, toothpaste, and everything in between. I think it's cool how engineering can be brought into medicine and make the world a better place.
 
What are you looking for in your Honors experience?
When I went to Jesup Jam, I got the chance to meet Dean Appel and Dr. Scott Molitor, the College Honors Director in Engineering, and they both showed us the great opportunities we have in the Honors College. You can go on trips to Guatemala or Nicaragua, pursue undergraduate research opportunities, and take courses designed specifically for Honors students. The "Community Engagement" course, where you try to solve a problem that is actually affecting people in the local community, really stood out to me. I think Honors opens a lot of doors to pursue what you're passionate about and dive more deeply into stuff that interests you.
 
What would you say has had the biggest impact on you coming into college?
My parents have been the biggest role models for me. A lot of the qualities they have aren't necessarily things they taught me, just stuff I learned watching them and trying to mimic what they do. I was born in the Philippines, so we emigrated here. Both my mom and dad have worked multiple jobs at the same time and sacrificed everything for my siblings and myself. It's been awesome to see them proud of me for working hard and see things come full circle!