Student of the Week Profiles
Taylor Dallas
While many students wait until they are established in their program before studying abroad, Taylor Dallas dove headfirst into the opportunity. "Through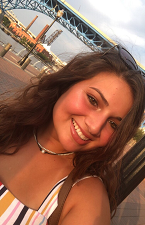 the Honors College, I was lucky enough to travel to Guatemala on a service learning trip last year," the Pre-Pharmacy sophomore said. "It was the most impactful experience I have ever had, allowing me to directly aid others in the world."
Taylor selected The University of Toledo for its accelerated Pharmacy program, enhanced by the ability of Honors students to take intellectually stimulating courses covering subjects not typically included in her major.
The difficulty of maintaining this level of performance can get to any student, though. After making the President's list her freshman year, she realized she would need to tweak her study habits to continue excelling. She was unsure of where to begin, but through the Honors College, she connected with older students familiar with the demanding classes in her program. Taylor gained lifelong friendships with like-minded people in the JSHC that have helped her grow not only as a student, but also as a person.
Favorite Honors experience: "While I was in Guatemala, I was able to experience a completely different way of life and that exposure has changed how I view privilege and the ability of people to make a tangible difference in the world."
---
Kelsey Gillmor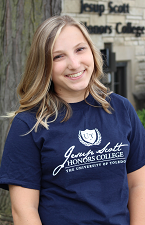 As an early conditional admit to The University of Toledo's Speech-Language Pathology graduate program, despite just starting her junior year, Kelsey Gillmor clearly does not stray away from a challenge. The insight and critical thinking skills she has gained through the Jesup Scott Honors College have prepared her well for this momentous next step. "I chose UToledo not only because both of my parents are alumni, but also because I fell in love with the welcoming atmosphere, devoted staff, and distinguished Honors curriculum – making my decision to attend UToledo and the JSHC easy." As an Honors student, Kelsey cherished studying abroad in Jamaica last Spring. "It was a rewarding week of fulfilling service and personal growth," she said.
Favorite Thing about Honors: "I loved having the opportunity to enrich my freshman year by taking HON 1010 and HON 1020! The JSHC has introduced me to so many great people who play such a significant role in my life as a student."
---
Max Nye
Juggling campus involvement and a full class schedule is something to which sophomore Max Nye is no stranger. A Bioengineering major from Richfield,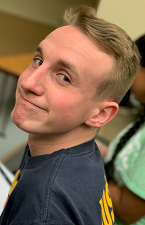 Ohio, Max is currently serving as the president of The Voice of Honors and is a resident advisor on campus – which he celebrates as his two greatest accomplishments at UToledo.
"I chose UToledo because its Engineering programs are phenomenal," Max said. "I joined the Honors College because I wanted a more personal experience within my classes and throughout my college career." Wasting no time in doing so, he enrolled in an Honors section of BIOE 1000 in his first semester. "The Honors students were asked to complete a design project where we developed and presented an idea to fix an issue. My group chose to craft an adjustable sleeve for cups that allow the elderly who lack strength to handle them on their own," Max explained. "That course sparked my excitement for the future where I could pursue solutions to better the world around us."
Favorite thing about Honors: "The ability to get to know the Honors faculty outside the classroom."
---
Taylor Burchfield
Welcome back to campus, Honors Rockets! My name is Taylor Burchfield and I will be the face behind the Honors social media accounts (follow us!) this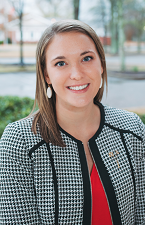 year as well as the author of these student profiles. I am a senior majoring in Communication Studies with minors in Marketing and Professional Sales. I am from a small town near Cincinnati, Ohio, and was originally a part of the Honors Communication Team during my freshman and sophomore years. I gained unparalleled, real-world experience in that role and am so excited to be back with the JSHC to finish out my college career!

Outside of working within communications and marketing, my passion on campus is Greek Life. I am a proud member of Chi Omega and am currently serving as its chapter president here at UToledo. I am also a member of the Order of Omega, Gamma Sigma Alpha, and Mortar Board National College Senior Honor Society. My chapter and Greek Life have given me countless opportunities to expand my leadership abilities and have provided me with friendships and role models to last a lifetime.

In the coming weeks, we will share in this section the stories of Honors students that embody the best of UToledo. I am looking forward to a wonderful year and hope I get the chance to meet many of you reading this!