Law Students Teach Social Media Safety to Local Middle School Students
April 19, 2017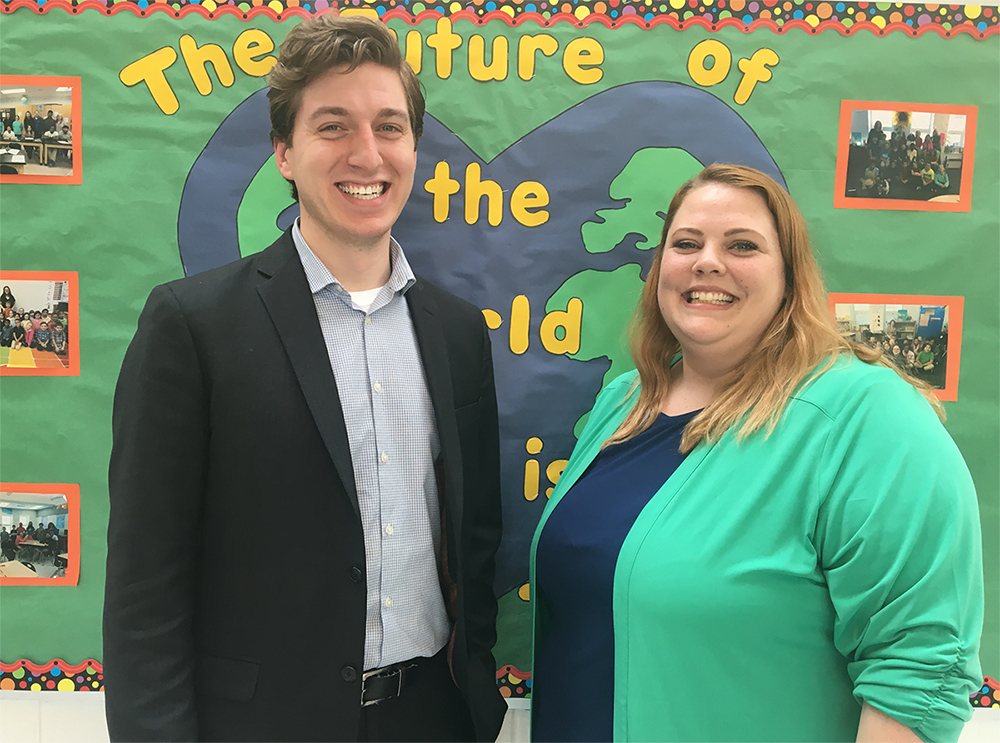 Toledo Law students Adam Borgman '18 and Nancy Magginis '18 presented on social media safety to middle school students in grades 5-8 at Longfellow Elementary School in Toledo on April 8, 2017.  Specifically, they focused on cyberbullying, privacy, and the do's and don'ts of online activity.  The presentations were part of a community outreach initiative to educate teens and pre-teens about safe social media use.
"The Longfellow students were pretty savvy about the risks of posting too much information online, but they seemed surprised to learn how serious the consequences of cyberbullying can be," said Agnieszka McPeak, the Toledo Law professor who supervised Borgman and Maginnis.
McPeak spoke to Longfellow parents last month about social media trends and potential liability for both children and parents arising from online conduct.  "A lot of my scholarly research involves the legal boundaries of social media use, which naturally flows into tips for avoiding legal or other problems," continued McPeak.
As part of this initiative, Borgman and Magginis researched Ohio law on cyberbullying and other topics, crafted the age-appropriate presentations, and met with four groups of students.  "It was rewarding to see the students so engaged in the presentation," remarked Borgman.  "Although the fifth graders' social media concerns were vastly different than the eighth graders' concerns, all of the students seemed shocked by the severity of the punishments for cyberbullying."
Maginnis, herself an alumna of Longfellow Elementary, stated, "It was such a great experience presenting to the Longfellow students, especially because I sat in their shoes not so long ago.  I really enjoyed teaching students about how social media can help them in their future, especially with the college admissions process." 
Hoping to build off of the work Borgman and Magginis have done, McPeak would like to offer similar presentations in other schools.  "We're seeing interest in social media education from other local schools, and it's a great opportunity for Toledo Law students to do good work in the community, learn more about law and technology issues, and gain public speaking experience," McPeak said.