Daniel Kall Wins UT Outstanding Staff Award
April 27, 2018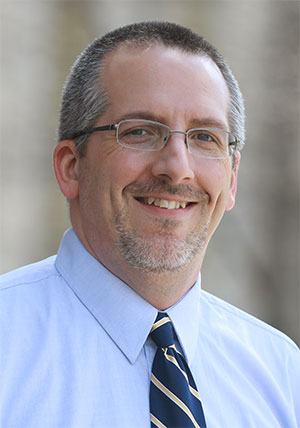 Daniel Kall, registrar at The University of Toledo College of Law, received the university's Outstanding Staff Award at the awards reception on April 26, 2018. The award honors employees with exceptional leadership who have made a significant impact on the university through outstanding dedication and commitment to the university's core values.
Only five award recipients are selected each year. Nominators cited Kall's outstanding service to students and faculty, as well as his reputation for creating a welcoming environment at the college.
"I nominated Dan Kall because he has, time and again, provided outstanding service to students and faculty and striven to create a helpful environment here at the Registrar Office to ensure that students have a great learning experience while at the College of Law," said Megan Rospert, analyst/advisor at the college. "He always endeavors to create an engaging environment where students feel comfortable to come with their questions and concerns. He has a reputation for being so helpful that students come to our office and ask for him by name."
Kall has worked at the university for more than 22 years. He currently serves as registrar at the College of Law, where he manages student and course records. He is a member of the Ohio Association of Collegiate Registrars and Admissions Officers (AACRAO) and the UT Professional Staff Association (PSA). Kall earned a bachelor of science degree in computer science and engineering and a master of arts degree in liberal studies from The University of Toledo.
"Our students, and our alumni applying for licensure as attorneys, are so lucky to have staff members like Dan working on their behalf," said Geoffrey Rapp, Associate Dean for Academic Affairs. "Dan gives each student 100% of his attention to detail, his good judgment, and his compassion."