Professor Benjamin Davis Receives the ArbitralWomen Champion for Change Award
November 26, 2018
The University of Toledo College of Law congratulates Professor Benjamin G. Davis, who is the recipient of the Champion for Change award presented at the ArbitralWomen Diversity Dividend Conference gala dinner on Nov. 8, 2018, in New York City. The conference was jointly sponsored by ArbitralWomen, American Arbitration Association, Equal Representation in Arbitration, and the New York International Arbitration Center.
The Champion for Change award is presented annually to colleagues who advocate for gender equality and diversity in the field of international arbitration. The organization cited Davis' work as American legal counsel at the International Chamber of Commerce (ICC), where he actively sought to promote women to higher positions. Davis is one of only seven men selected for this honor since 2010. 
"It was a pleasure to award Professor Benjamin G. Davis the ArbitralWomen 2018 Champion for Change Award in recognition of his long history of supporting diversity," said Dana MacGrath, president of ArbitralWomen.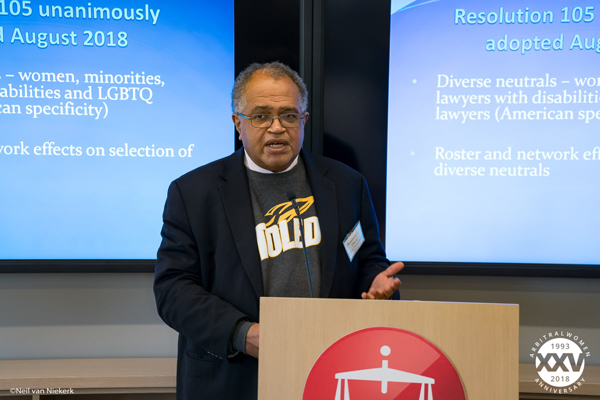 Professor Davis teaches at Toledo Law in the areas of contracts, alternative dispute resolution, arbitration, public international law, and international business transactions. Davis served as chair for the American Bar Association (ABA) Section of Dispute Resolution. He created the Guantanamo Military Commission Human Rights Observer Program at The University of Toledo and received the University's Outstanding Teacher Award in 2016. Davis earned his bachelor's degree from Harvard College and joint graduate degree (JD/MBA) from Harvard Law School and Harvard Business School. 
"I am deeply honored by ArbitralWomen bestowing this award on me," said Professor Davis. "When I started in international commercial arbitration back in 1986, I quickly realized that I was a beneficiary of gender discrimination. I greatly appreciate this recognition of my modest efforts to change that. I thank my wife, Odette Lagace, for her support over these many years."
ArbitralWomen (AW) was founded in 1993 as an international, non-governmental organization to bring together women international dispute resolution practitioners. The AW network is comprised of approximately 1,000 members from over 40 countries.
Read more about the conference and award in the January 2019 ArbitralWomen newsletter.