Symposia
Annual University of Toledo Internal Medicine Research and Clinical Resident Symposium
PETER WHITE AWARD FOR EXCELLENCE IN SCHOLASTICS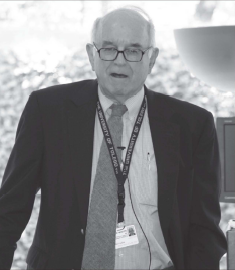 Dr. White obtained his college degree from Yale, M.D. degree from the University of Pennsylvania, also completed his residency in medicine and fellowship in Hematology-Oncology. In 1969, he joined MCO (Medical College Ohio) as an associate professor of medicine and was one of the founders of Internal Medicine department.  Dr. White has numerous contributions to the literature and to the community.  Dr. White is still active in teaching our residents and students.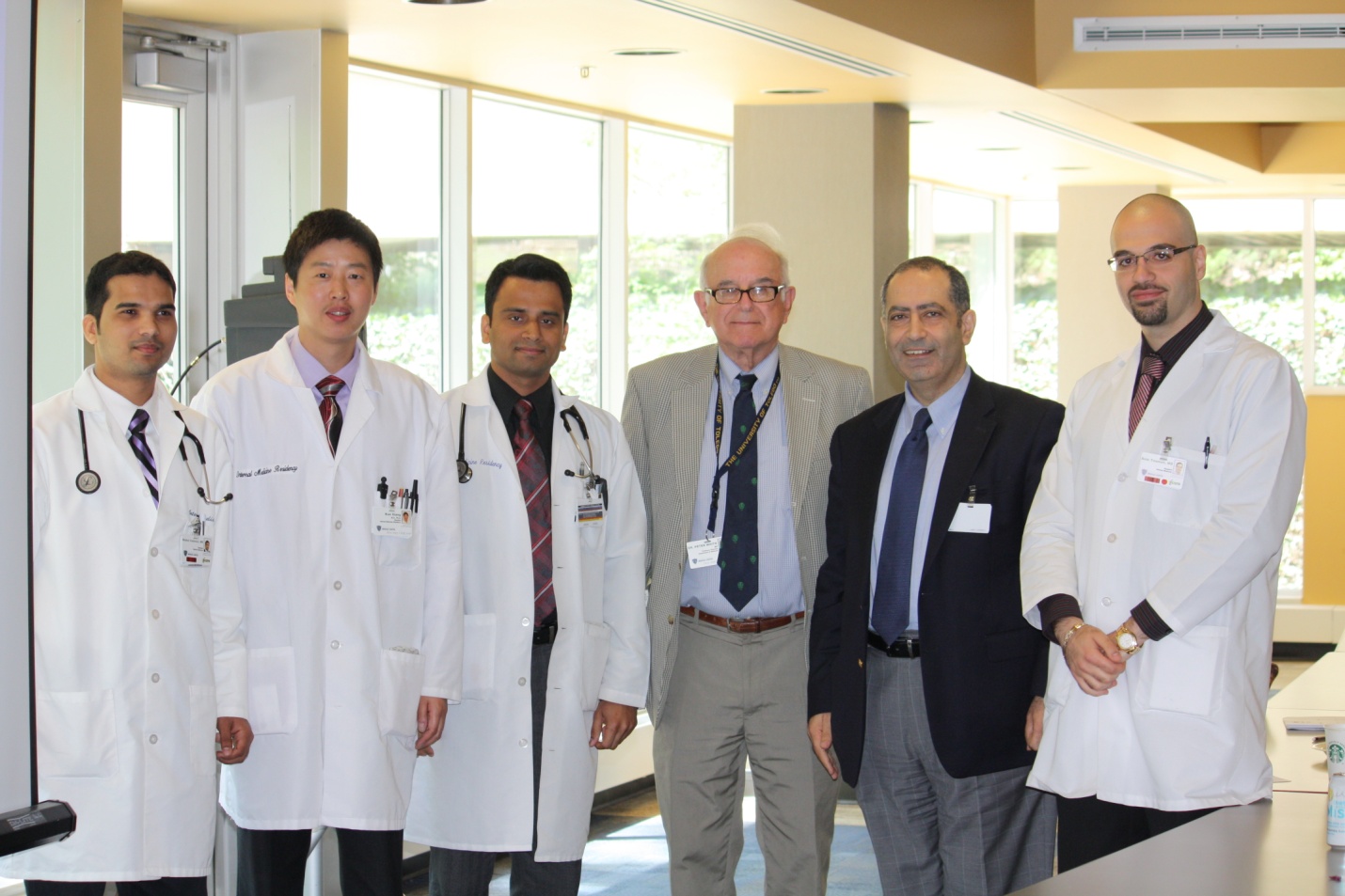 Dr. White with the winners of the symposium. From left to right: Shahul Valavoor, MD, Kevin Xiang, MD,
Raja Thotakura, MD, Peter White, MD, Ragheb Assaly, MD, Anis Toumeh, MD.
First Place: 
Raja Thotakura, MD: "Incidence of Serrated Polyps in Colorectal Cancer Screening: A Retrospective Review"

Second Place:
Shahul Valavoor, MD: "PPI induced hypomagnesemia, hypocalcemia and hypokalemia"

Anis Toumeh, MD: "More than a lymph node or a thyroid nodule"
Third Place:
Kevin Xiang: "To Assess the Cost Effectiveness and Cost Reimbursement of Inpatient Stress Test after Effective Risk Stratification of Patients Admitted with Acute Chest Pain".

 Other Presentations:
Soha Alfares, MD:  Fecal Transplantation in a Case of Refractory Clostridium difficile.
Faraz Khan Luni, MD: Apical Aneurysm in Hypertrophic Cardiomyopathy : Interpreting the Image.
Ahlam Alsomali, MD: Atypical presentation of cryptosporidium in an immunocompetent patient.
Zubair Ashraf, MD: An interesting case of glomerulonephritis.
Ammar Alkayyali, MD:  Motor variant of Guillian-Barre syndrome.
ANNUAL WILLIAM SODEMAN PRACTICE BASED LEARNING AND IMPROVEMENT (PBLI) SYMPOSIUM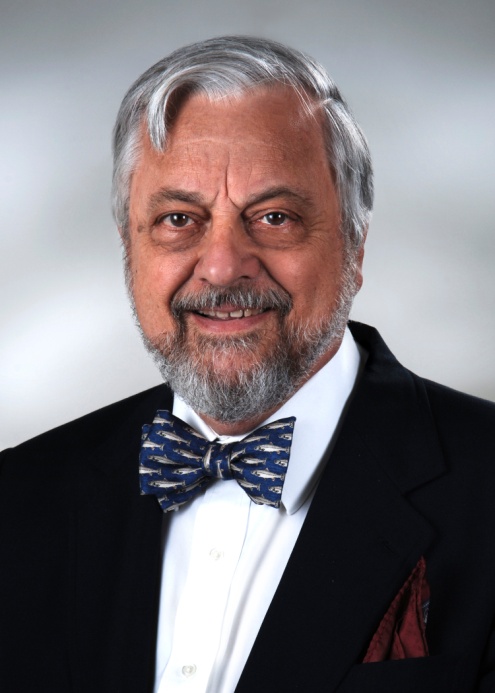 Dr. William Sodeman, Professor Emeritus, Department of medicine, obtained his MD degree from the University of Pennsylvania. He trained in Internal Medicine residency and fellowship in Gastroenterology & Hepatology from the University of Michigan. Dr. Sodeman has umpteen publications to his name and is active with resident teaching and training. This award is presented each year to the best Practice Based Learning presented in the annual symposium.
First Place:  
Ankush Moza, MD, Hamzeh Almasri, MD, Mashhood Kakroo, MD, Quratulain Chaudhry, MD, Yousef Al Ahwel, MD and Ammar Alkayyali,  MD:
"The perception of teaching US medical students targeted to UT residents."
Raja Thotakura MD, David Gachoka MD, Syed Hasan MD and Ehsan Rafiq, MD: "The Sepsis Protocol" 
Second Place: 
Hala Aboulkhair, MD, Mohammed Taleb, MD and Safia Ahmad, MD: "Self Extubations in MICU"
Other Projects:
Zeeshan Tariq, MD and Ahlam Alsomali, MD: "Analysis of Verbal Orders Given by Internal Medicine Residents"
Kevin Xiang, MD and Soha Alfares, MD: "Dictation Times and Rates of Readmission" 
Hani Shalabi, MD and Michael Hake, MD: "The Changes Made in the Pain Management in the GIM Clinic After Introduction of Pain Template"
Abhimanyu Ghose, MD and Yacin Zawam, MD: "All the Patients Admitted With GI Bleed Both Upper and Lower from June 2010 to July 2011
and Stratify by Age/Gender/Alcohol/NSAID use/management"
 
THOMAS WALSH FELLOW AWARD IN TEACHING EXCELLENCE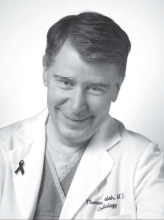 Dr. Walsh had his undergraduate training in chemistry at Youngstown and Cincinnati Universities. He graduated as an M.D from Medical College of Ohio in 1978 and completed his residency as well as cardiology fellowship training at MCO. Dr. Walsh joined MCO faculty in 1983 until 2006 when he died after a tragic accident. Dr. Walsh was a distinguished teacher, scientist and a human being. His devotion to his fellows and to his patients was exemplary.
Each year this award is presented to the top three, best case/research presented at the Annual Internal Medicine Thomas Walsh, M.D. Fellow Symposium.
Thomas Walsh Fellow Symposium 2012
First Place: 
Mohammed Taleb, M.D. from Cardiology Fellowship for his presentation: "The Diagnostic accuracy of Doppler echocardiography in assessment of pulmonary artery systolic pressure." 
Second Place:
Fadi Safi, M.D. from Pulmonary/Critical Care Fellowship for his presentation: "Chest masses and Infiltrates, what's the diagnosis? What's the intervention? "
Third Place:
Maisa Nazzal, M.D. from Nephrology for her presentation: "Loin Pain Hematuria syndrome."