The University of Toledo in Ohio is the only university in the country to offer an undergraduate program in Cosmetic Science and Formulation design. UToledo's Cosmetic Science graduates are in high demand in the cosmetic science and personal care job markets.
Students graduate with a Bachelor of Science in Pharmaceutical Sciences in Cosmetic Science and Formulation Design.
Cosmetic Science majors study the art, science and business of cosmetics and complete an internship. They learn to develop, formulate and produce cosmetics and personal care products. They study regulations and how to assess products' safety, performance and quality.
Top Reasons to Study Cosmetic Science and Formulation Design at UToledo
Acquire the skills employers want.

UToledo Cosmetic Science students spend a lot of their time in the lab doing

hands-on formulation training.

Expand your opportunities.

Select a minor

in business administration, marketing, professional sales or even sustainability.

Study in state-of-the-art facilities.

UToledo is

one of the most technologically advanced medical campuses in the U.S.

Build community.

Become involved with the UToledo Cosmetic Chemist Society. Members help educate people about cosmetic science and our undergraduate major.

Internships.

All students

 

participate in an internship

 

before they graduate. Interns have worked in areas like formulation, research and development, and marketing
Meet Ava Perkins
'23, Bachelor of Science in Pharmaceutical Sciences
"Before attending college, I had always been interested in makeup, but I also loved chemistry and pharmacy. After a quick Google search, I discovered The University of Toledo's Cosmetic Science and Formulation Design Program and loved how it perfectly blended all three of my interests."
Read More
What jobs can I get with a cosmetic science and formulation design degree?
Formulation Chemist
Quality Control Chemist
Research and Development Chemist
Regulatory Scientist
Technical Marketing Manager
Companies who hire our Cosmetic Science and Formulation Design graduates:
Amway
Azelis
Bath & Body Works
Estée Lauder
Johnson & Johnson
Kao Corporations
KDC/One
MANA Products
Mary Kay
Pfizer
Hands-On Learning Opportunities
At UToledo, we take you beyond the textbooks and the four walls of a classroom. These real-world experiences are what help our graduates gain professional skills and land jobs.
Internships
Research
Study Abroad
Rocket Kids Semester
On-campus and Part-time Jobs
Student Organizations
Tuition and Scholarships
Most new students don't pay full price. 94% of new UToledo students receive scholarships or other state and federal aid.
Keep in mind: Your cost will vary by college, program and a host of other options. This is the average amount full-time students pay per year.
---
How to pay for collegeInternational Student - How to Pay for College
Choose Ohio First scholarship
Ohio residents who have been accepted into this STEM program are eligible for the Choose Ohio First scholarship — a four-year, renewable scholarship.
Honors College
The Jesup Scott Honors College at The University of Toledo offer our best and brightest the resources and opportunities needed to unlock your fullest potential. Whether you aspire following graduation to cure disease, innovate technology, advance statecraft, redefine markets, or express creatively, together we can fuel vibrant and promising tomorrows.
Honors students come from a variety of countries, backgrounds and cultures. While we may bond over a tough class, our differences make us blossom.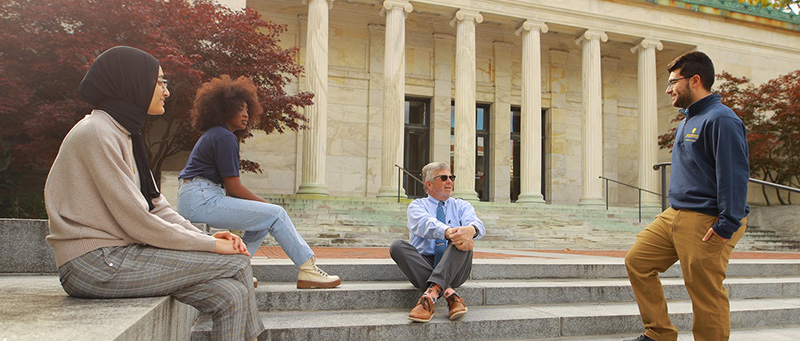 Benefits of Honors
The Honors College is a community of academically gifted students from all majors on campus. Students take unique Honors classes taught by dedicated Honors faculty and complete an Honors thesis or capstone project in their major, earning the Honors medallion at graduation within their normal program of study. Honors students are challenged to think more deeply and broadly about what they learn. With special academic, cultural, and professional development opportunities, their education extends beyond the classroom.
Honors students can also choose exclusive housing in the Honors Academic Village or the historic McKinnon, Scott and Tucker Halls.
Explore more about what the Honors College can offer you as a budding professional, inquisitive scholar, and engaged person.