Policy, Economics, Law and Public Education Subcommittee
Dr. Patrick Lawrence, Committee Lead

Professor and Associate Dean, College of Arts & Letters

Dr. Lawrence recently led a restoration project of the Ottawa River that flows through campus.  He has extensive experience regarding numerous Great Lakes environmental and related planning issues, including water quality, watershed management, land use change, wetland conservation, coastal planning, Great Lakes water levels, parks and protected areas and related public policy. His research focuses on community decision-making to address environmental planning issues through the use of policy development, planning and management approaches, and the application of remote sensing and GIS.
Committee Charge
A study of existing policies, permits and operating procedures for CAFOs and CAFFs within the Maumee watershed with the aim of improving the understanding of their potential role in nutrient loading into Lake Erie and the control of such loading.
Considering the implications of declaring the Maumee watershed as a "distressed watershed" under OAC ch. 1501 by reviewing the use of this status as previously applied to the Grand Lake St. Mary's and the resulting actions and impacts that the declaration had and lessons learned that could be applied to the Maumee watershed.
Examine the implications of existing and proposed regulations on the use and application of fertilizers and manure applied to crop farmland, including the implementation of best management practices and nutrient management plans.
Assess the legal tools available and that have been applied in local municipalities regarding the use of green infrastructure for storm water and the application of lawn fertilizers. 
Conduct cost-benefit analysis of the options available to address the reduction of HABs and proposed water treatment methods in order to determine the relative value and economic efficiency of these options.  
Presentation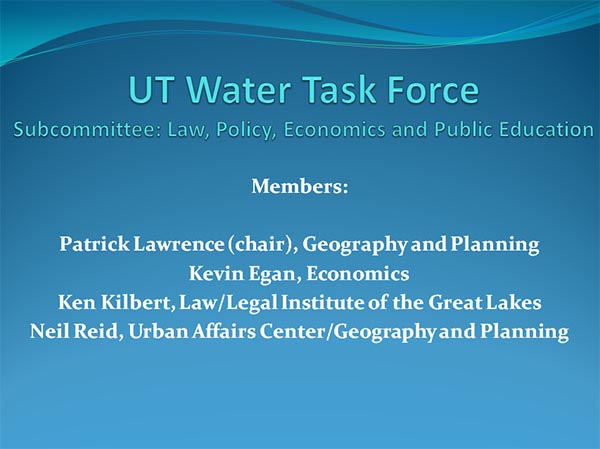 Law, Policy, Economics and Public Education Presentation