Why UToledo Engineering is right for you
The College of Engineering attracts top-notch students with our outstanding undergraduate and graduate programs in all the major fields of engineering.
Our graduates are highly sought after by employers, from small companies to Fortune 500 firms. They know our students are well-prepared and ready to contribute from day one.
Plus, UToledo's beautiful, green campus is a perfect combination — big enough to offer plenty of opportunities and small enough that you can be a leader and make friends easily.
Schedule Your Visit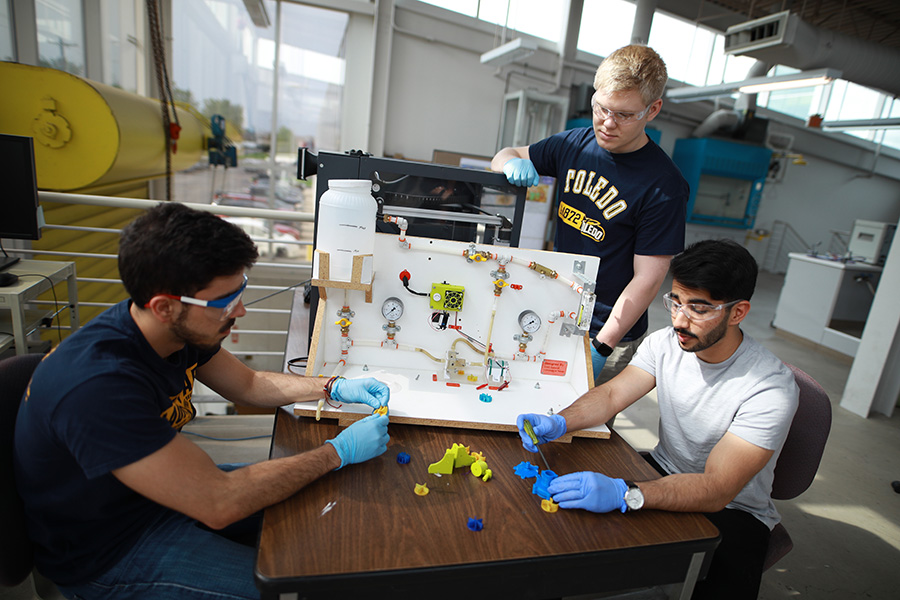 Top
Graduate engineering programs
and online graduate programs
(U.S. News & World Report)
1 of 8
U.S. engineering colleges
to require co-ops
0 Debt
Thanks to paid co-op, 88% of our Fall 2022 graduates reported graduating with 0 student debt
$68,095
Average annual full-time
starting salary for
UToledo engineering graduates
Practice your skills with three paid co-ops, research opportunities and freshman and capstone design experiences
Learn to think like an entrepreneur and become more valuable to future employers. Take advantage of our business incubator, design showcases and events to pitch ideas.
We offer advisors in every department, free tutors and many other resources to help you succeed.
World-class
faculty and research
Research alongside faculty in cutting-edge labs. Faculty members teach your classes (not TAs or GAs). They are as invested in your success as you are.
The Shah Center for Engineering Career Development helps with resumes, mock interviews and all you need to find co-ops and full-time employment.
Many students pay the bulk of their tuition with co-op earnings and graduate with minimal or no debt. Grad students are funded through stipends, scholarships and assistantships.
Many of our graduates find jobs before they graduate, often with their co-op employers.
Opportunities
to give back
Improve lives by working on research and projects with faculty and industry leaders.
Dyontae Johnson
Class of 2022, Mechanical Engineering Technology– pursuing a career in the NFL
"It definitely was a challenge coming out of high school and going into college. It was the relationships I built with those in the engineering program that have carried me to where I am now. When you're in such a complex field you need to build those relationships and network with teachers, tutors and other students in order to balance it out and make it as easy as possible."
Justin Mendoza
Class of 2022, bioengineering and Bacc2MD pre-med student | Toledo, Ohio
"When I visited UToledo, I thought the bioengineering program was ahead of its time and would allow me to pursue my passion for medicine. I applied and got into the Bacc2MD program, which guarantees me a medical school interview without taking the MCAT. It was a no-brainer. I wanted to give myself the greatest chance to become the physician that I want to be."
Megan Davidson
Class of 2019, chemical engineering | Hired by Cooper Tire and Rubber Company in Findlay, Ohio, before she graduated
"For my chemical engineering orientation class, I helped devise and build a water purification unit. After my orientation course, I became involved in Walk for Water to raise money for building and installing more purification units around the world. I traveled to El Salvador to install a unit in a health center and provide maintenance for previously installed systems. My work helping improve the lives of people in need is more important to me than any academic achievement."
LIVING IN TOLEDO, OHIO
— A SAFE, AFFORDABLE CITY
The University of Toledo is located in Toledo, Ohio, on the western shore of Lake Erie. Nicknamed The Glass City, Toledo has the cultural amenities of a big city and the close-knit feel of a small town. We are within hours of most major Midwestern cities.
About UToledo
Questions about UToledo Engineering?
Undergraduate Students
Contact Matt Franchetti
Associate Dean of Undergraduate Studies
matthew.franchetti@utoledo.edu
419.530.8047
Graduate Students
Contact Dr. Patricia Relue
Sr. Associate Dean, Graduate Programs
EngGradStudies@utoledo.edu
419.530.7391