Hitachi S-4800 High Resolution Scanning Electron Microscope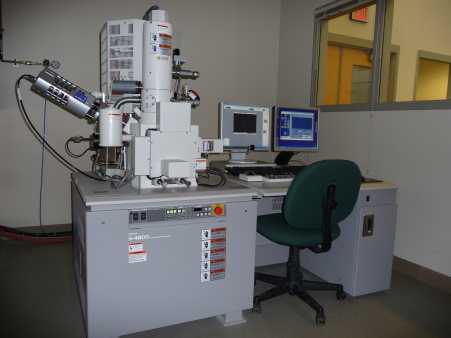 The S-4800 is a cold field emission high resolution scanning electron microscope with many advanced features. The features include:
A guaranteed resolution of 2.0 nm at 1kV for low voltage applications.
An objective lens design with "Super ExB Filter" technology. The Super ExB Filter collects and separates the various components of pure SE, compositional SE and BSE electron signals.
A specimen stage for large sample applications with 110mm x 110mm stage movement and computer controlled 5 axes motorization with graphical interface software.
This instrument also allows separate access to each of its lenses and electrodes. This flexibility allows for the development of additional detectors and other improvements for semi-quantitative scanning electron microscopy.
Technical Specifications
| | |
| --- | --- |
| Electron optics | Cold field emission electron source |
| Accelerating voltage | 0.5 - 30 kV (variable at 0.1kV/step) |
| Magnification range | x20 ˜ x800,000 |
| Electron optics | 4 opening, selectable and alignable outside the vacuum (Heater built-in) |
| Imaging mode | Secondary electron detector |
| Specimen stage | X = 0˜110mm, Y = 0˜110mm, T= -5 +70°, Z = 1.5˜40mm, rotation = 360° |