JED Campus
The University of Toledo has partnered with The JED Foundation (JED), a leading nonprofit organization dedicated to promoting emotional health and preventing suicide among young adults. JED Campus is a signature program of The JED Foundation (JED) designed to guide schools through a collaborative process of comprehensive systems, program and policy development with customized support to build upon existing student mental health, substance use and suicide prevention efforts.
JED Campus utilizes a model that focuses on four main areas:
Enhancing protective/preventive factors and resilience (life skills and connectedness)
Early intervention (identifying those at risk and increasing help seeking)
Availability and access to clinical services
Environmental safety and means restriction
Over the course of several years, JED Campus provides UToledo with a framework, assessment tools, feedback reports, ongoing technical assistance, and a comprehensive strategic approach.
Strategic Planning
Promote social connectedness
Identify students at risk
Increase help-seeking behavior
Provide mental health and substance abuse services
Follow crisis management procedures
Restrict access to potentially lethal means
Develop life skills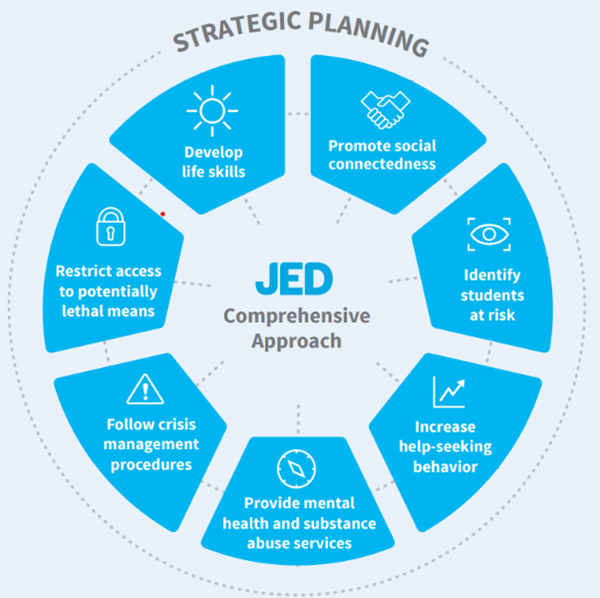 Why is JED Needed
Thirty percent of people aged 18-24 live with a mental health condition, such as anxiety or depression (SAMHSA, 2019).
Suicide is the second leading cause of death in teens and young adults (CDC, 2021).
26% of 18-24 year olds reported recently having serious thoughts of suicide (CDC, 2019, CDC, 2020).
Among current college students, 27% have had a positive suicidal screening, 24% have serious psychological distress, and 53% suffer from loneliness. Twenty-nine percent have been diagnosed with anxiety, and 24% have been diagnosed with depression (NCHA, 2021).
UToledo Timeline
Feb. 2021
Oct. 2021
Nov. 2021
March 2022
Oct. 2022
Nov. 2022
Dec. 2022
Jan. 2023-Present
UToledo signed the agreement with the JED Foundation
Initial JED Campus Team meeting
Completed Baseline Assessment to identify current policies, programs, etc.
Hosted Campus Visit and Student Focus Groups
Completed Healthy Minds Study
Received Strategic Plan suggestions from JED
Identified sub-committees to oversee six priority areas
Sub-committees are establishing goals, objectives, and strategy
UToledo JED Campus Team
UToledo established a multi-dimensional team of dedicated faculty and staff to steer the JED Campus project. The team represents a variety of areas and populations across campus.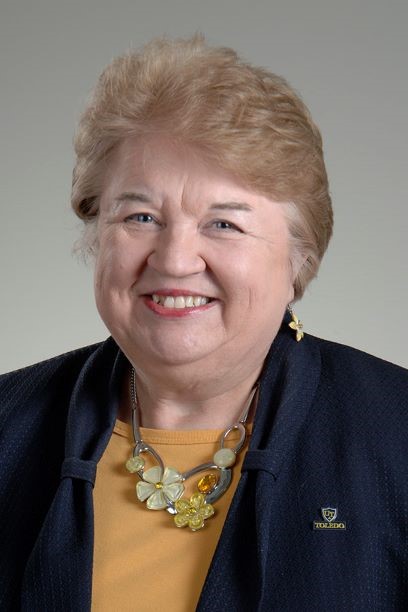 Dr. Linda Lewandowski
Executive Director for University Campus Health Services
Vice Provost for Health Affairs for Interprofessional & Community Partnerships
Dean and Professor, College of Nursing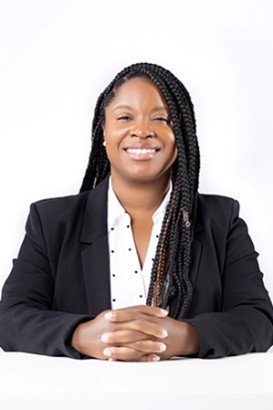 Dr. La Tasha Sullivan
Director, Counseling Center,
JED Campus Co-Chair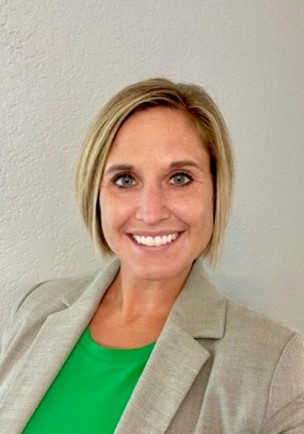 Andrea Masters, MPH
Associate Director, University Wellness and Health Promotion, JED Campus Co-Chair
JED Campus Team Members
Dr. Scott Molitor
Dr. Julie Fischer-Kinney
Shelly Drouillard
Tyrel Linkhorn
Jen Sorgenfrei
Amanda Jones
Kurt Soltman
Dawn Woolford
Gina Roberts
Dr. Jyothi Pappula
Vicki Riddick
Sara Wisniewski, J.D.
Jeff Newton
Brian Jones
Alex Zernechel
Alex Lewin
Diane Miller, J.D.
Dr. John Laux
Dr. Lisa Pescara-Kovach
Dr. Amy Riese
Emily Skibski
Dr. Sammy Spann
Sara Clark
Demond Pryor
Rodney Theis
Dr. Kasumi Yamazaki
Holly Eichner
Dr. Joseph Gamble
Brad Pierson
Jennifer Lewis
Malaika Bell
Colleen Palmer
Interim Vice Provost for Academic Affairs, Acting Dean of the College of Graduate Studies
Assistant Provost for Student Success and Retention
Director, Career Services
Communication Specialist
Director, University Marketing
Associate Director, Counseling Center
 Assistant Director, Accessibility and Disability Resources
Instructor, College of Nursing
Associate Vice Provost, Enrollment Management
Director of Student Health, Family Medicine
Director, University Wellness and Health Promotion
Senior Associate General Counsel
Associate Vice President of Public Safety
Sr. Associate Athletic Director for Health and Wellness
Associate Director, Student Involvement and Greek Life
Director, Student Conduct and Community Standards
Chief of Staff, VP Government Relations
Associate Dean, Interim Chair and Professor
Professor, Educational Psychology
Assistant Professor, Associate Residency Program Director & Director of Student Mental Health  
Director, New Student Orientation
Vice President of Student Affairs, Dean of Students
Executive Director of Student Experience and Belonging
Executive Director of Student Engagement and Success
Director of Public Safety, Chief of Police
Director, Japanese Program and Associate Professor of Japanese
Associate Lecturer, School of Exercise Rehab Sciences
Assistant Professor, English
Assistant Athletic Director, Sports Medicine
Wellness Coach, Student Tutoring Program
Director, Diversity, Equity and Inclusion
Student Government President
Priority Area Sub-committees
UToledo established six working sub-committees to oversee each priority area. Each sub-committee is lead by two co-chairs.
Develop Life Skills: Dr. Julie Fischer-Kinney and Emily Skibski
Promote Social Connectedness: Kurt Soltman and Andrea Masters
Mental Health Training: Vicki Riddick and Dr. Cassie Haas
Substance Misuse/Recovery Support: Alex Lewin and Amanda Jones
Postvention Protocols and Emergency Response: Dr. LaTasha Sullivan and Amanda Jones
Promote Means Safety: Chief Rodney Theis and Dr. LaTasha Sullivan
What can you do?
NO NEED TO BE AN EXPERT. JUST BE A FRIEND. These tips should make starting a conversation about mental health a lot less awkward.
Keep it casual. Relax: think of it as a chill chat, not a therapy session.
Listen up. Let them take the lead.
Avoid offering advice or trying to fix their problems.
Let them know it's OK to feel the way they do.
Make yourself available. Be the friend they can rely on.
Ask open-ended questions. Help them to talk, not just say "yes" or "no".
Let them open up at their own speed.
Don't demand answers or force them to say anything they're not ready to.
Encourage them to talk to an expert.
Tell them you won't ever judge them.
Let them know that this won't change how you feel about them.
Ask them if they have seen a doctor.


Source: https://seizetheawkward.org/
Contact Info: