'Feminist Judgments' Volume Edited by Professor Nicole Buonocore Porter Examines Impact of Feminist Perspective on Employment Discrimination Cases
Nov. 19, 2020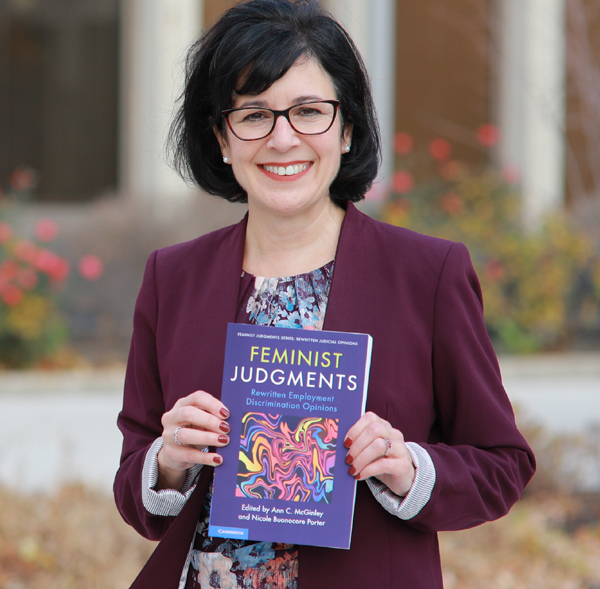 Professor Nicole Buonocore Porter edited the newly released book, "Feminist Judgments: Rewritten Employment Discrimination Opinions" (Cambridge University Press), with Ann McGinley of the University of Nevada, Las Vegas Boyd School of Law.
The collection is a volume of the "Feminist Judgments" book series dedicated to rewriting federal court opinions from a feminist perspective. The book represents a significant reimagining of employment discrimination law by featuring 15 cases in which a feminist analysis would have altered the outcome or the courts' reasoning. The cases explore a range of gender narratives, including the gender pay gap, pregnancy discrimination, harassment, and retaliation.
The collection demonstrates the impact of perspective on statutory interpretation by examining the effects of gender inequalities, stereotypes, and implicit bias on court decisions. Before each case, a detailed commentary explains how the rewritten opinion differs from the original and how the case would have changed the law.
Porter was drawn to this project because it combined two areas of academic interest — employment discrimination law and feminist legal theory. She also believed that thinking about what could have been in employment discrimination law would be a useful exercise that would enhance both her teaching and scholarship. Creating a body of reimagined employment discrimination law through these 15 cases allowed her (and she hopes others) to think about the workplace in new and exciting ways.
"Given the Supreme Court's move to the right, it might seem futile to theorize about a different and more inclusive body of employment discrimination opinions," said Porter. "But our hope is that this book could inspire advocacy that might lead to reform at the federal statutory level, or (and perhaps more likely), it could inspire state legislatures and courts to approach their employment discrimination law from a more inclusive, egalitarian perspective."
Porter is a leading expert in disability law and employment discrimination. She is the co-author of two casebooks and the co-editor of one treatise. Porter writes about the employment rights of women and individuals with disabilities, concentrating on exploring ways that the law can avoid marginalizing both groups of employees. She also serves on the national executive committee of the prestigious Labor Law Group.
Porter is honored year-after-year for outstanding scholarship. COSELL presented her with the Paul Stephen Miller Memorial Award last month in recognition of outstanding academic and public contributions to labor and employment law scholarship. Earlier this year, she received the college's Faculty Scholarship Award for her article, "Cumulative Hardship." In 2018, she won the University's Outstanding Faculty Research and Scholarship Award, which recognizes exceptional research, scholarship, and creativity.
"This new book edited by Professor Porter takes a creative approach to analyzing the law of employment discrimination," said Geoffrey Rapp, senior associate dean for academic affairs and Harold A. Anderson Professor of Law and Values. "Instead of simply noting the flaws and gendered reasoning in leading employment discrimination cases, the book's chapters paint a picture of what might have been if the judges writing those opinions had been more tuned in to the law's imperfections and their own biases."
At Toledo Law, Porter teaches courses in disability law, employment discrimination, higher education law, criminal law, contracts, and feminist legal theory. She served as associate dean for faculty research and development from 2018-19 and as associate dean for academic affairs from 2010-12. She earned her B.A. from Michigan State University and her J.D., magna cum laude, from the University of Michigan Law School.