Professor Nicole Buonocore Porter Receives Paul Stephen Miller Memorial Award
by Diana Case | Oct. 16, 2020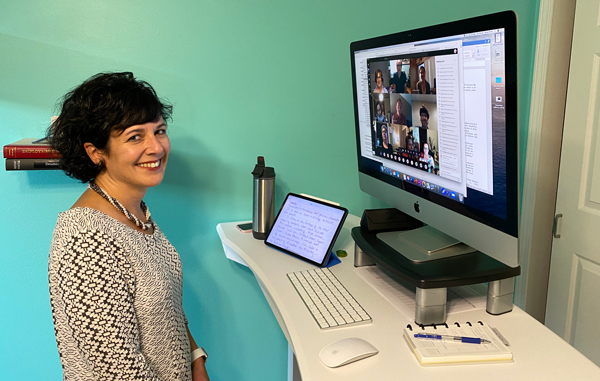 The University of Toledo College of Law congratulates Professor Nicole Buonocore Porter, who recently received the Paul Stephen Miller Memorial Award. This prestigious award is presented annually to a scholar who has demonstrated outstanding academic and public contributions to the field of labor and employment law. The virtual presentation took place at the Colloquium on Scholarship in Employment and Labor Law (COSELL) on Oct. 9, 2020.
Porter is a leading expert in disability law and employment discrimination. At Toledo Law, she teaches course work in disability law, employment discrimination, higher education law, criminal law, contracts, and feminist legal theory. She also serves on the national executive committee of the Labor Law Group.
COSELL created the award in memory of Paul Steven Miller, an international disability rights scholar and advocate. Miller was the Henry M. Jackson Professor of Law at the University of Washington School of Law. He served as a commissioner of the U.S. Equal Employment Opportunity Commission, and later, as a special assistant to President Barack Obama.
"Professor Porter is a national leader in disability and employment law," said D. Benjamin Barros, dean of the College of Law. "It is wonderful and appropriate that she receive this award in memory of Professor Miller, who was a noted disability law expert."
Porter is a prolific legal scholar, highly regarded for her forward-thinking research. In the last few years, she co-authored two casebooks on discrimination law and employment discrimination law. She served as an executive editor of a recently released ABA-BNA employment discrimination treatise. Porter also co-edited the collection, "Feminist Judgments: Rewritten Employment Discrimination Opinions" (Cambridge University Press, 2020), which rewrites federal court opinions from a feminist perspective.
Earlier this year, Porter was quoted in a federal circuit opinion. The Court cited an article in which she argues that older women are subject to unique discrimination based on the intersection of sex and age.
Porter earned her B.A. from Michigan State University and her J.D., magna cum laude, from the University of Michigan Law School.