Professor Eric Chaffee Elected to The American Law Institute
by Diana Case | Jan. 19, 2021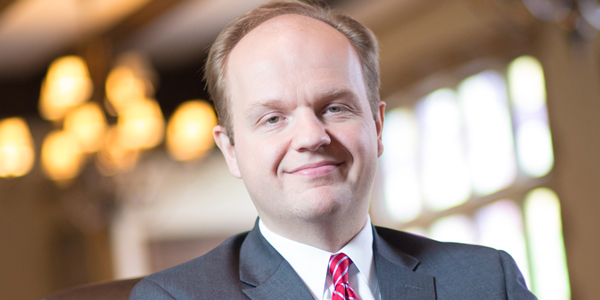 Eric Chaffee, Distinguished University Professor at The University of Toledo College of Law, was recently elected as a new member of The American Law Institute (ALI). This is a prestigious designation, as election to the ALI is one of the highest honors available to members of the legal profession.
ALI is the leading independent organization in the United States producing scholarly work to clarify, modernize, and improve the law. The institute elects members who reflect the excellence and diversity of today's legal profession.
Elected membership is limited to approximately 3,000 eminent judges, lawyers, and law professors around the world. Members are selected based on demonstrated exceptional professional achievement, outstanding personal character, and an avid interest in law reform.
"Election as a member of The American Law Institute is among the highest honors that a legal academic can achieve," said Dean D. Benjamin Barros. "Professor Chaffee is an outstanding scholar, and this honor is well deserved. I am glad that the ALI will have Professor Chaffee involved as they pursue their important work."
Professor Chaffee joined the Toledo Law faculty in 2013, where he teaches courses relating to business law, contract law, tax law, and trusts & estates. He serves as the faculty advisor for the moot court and J.D./M.B.A. joint degree programs. He is co-author of both the leading treatise on securities regulation in cyberspace and textbook on international securities regulation.
Chaffee has served as chair of the American Association of Law Schools (AALS) Section on Securities Regulation and the Section on Scholarship. He is also co-founder of the National Business Law Scholars Conference, considered the nation's premier business law academic conference, where he currently sits on the executive committee.
"When I first learned of The American Law Institute in law school, I wanted to be of part of its work," said Chaffee. "I am grateful to be elected to its membership, and I am excited to become a part of its efforts to clarify and improve the law."
Chaffee has won various awards for his teaching, including the Outstanding Professor Award for Dedication to Legal Education and the Beth Eisler First Year Teaching Award. In 2018, he received the college's Faculty Scholarship Award for his article, "The Origins of Corporate Social Responsibility," published in the University of Cincinnati Law Review.
Chaffee earned his B.A., summa cum laude, in English and philosophy from The Ohio State University and his J.D. from the University of Pennsylvania Carey Law School.