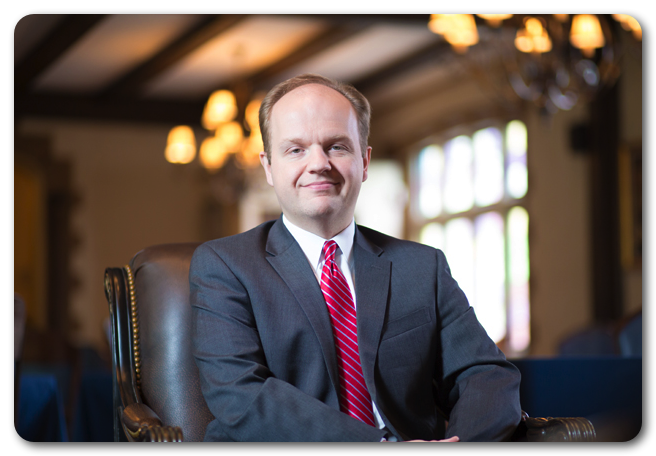 Eric Chaffee teaches courses relating to business law, contract law, tax law, and trusts & estates. He has won a variety of awards for his teaching.
A prolific writer, Professor Chaffee's scholarship focuses on business and tax law with an emphasis on securities regulation, cyberlaw, compliance, and business ethics. He is an author of the leading treatise on securities regulation in cyberspace.  He is also an author of the leading textbook on international securities regulation.  His work has been accepted for publication in numerous law reviews, including the Boston College Law Review, Ohio State Law Journal, UC Davis Law Review, and Washington and Lee Law Review. He has published articles in specialty journals at various institutions, including Stanford Law School, New York University School of Law, University of Pennsylvania Law School, and University of Michigan Law School.
Professor Chaffee is regularly invited to speak at symposia, conferences, workshops, and other events across the United States and abroad. He has presented at a variety of prestigious institutions, including Harvard Law School, University of Chicago Law School, and Georgetown University Law Center. In addition, he has lectured at institutions throughout Europe and China.
Professor Chaffee is actively involved in various legal academic professional organizations. He is currently serving as chair of the Section on Securities Regulation of the American Association of Law Schools, and he has previously served as the chair of the Section on Scholarship of that institution. He is a past president of the Central States Law School Association. He is also a co-founder of the National Business Law Scholars Conference (an annual event that draws dozens of business law scholars from across the country and around the globe to present their work), and he currently sits on the executive committee of that organization.
Before entering the legal academy, Professor Chaffee was an attorney with Jones Day, where he handled civil and criminal matters for numerous Fortune 500 companies. As a law student, he also spent time working at Legal Aid in both Philadelphia and Ohio. Throughout his career, Professor Chaffee has worked with tax-exempt nonprofit organizations, including serving on several boards and advising various institutions on legal issues.
Professor Chaffee earned his law degree from the University of Pennsylvania Law School and his undergraduate degree from The Ohio State University.
Selected Recent Publications
Books
The Corporation Defined: Collaborative Theory and the Corporate Form (Cambridge University Press, forthcoming 2021).
Securities Regulation in Cyberspace (4th ed. 2018) (with Howard M. Friedman) (loose-leaf treatise with annual updates).

Global Issues in Securities Law (2013) (with Frank Gevurtz & Marc Steinberg).
Articles
Collaboration Theory and Corporate Tax Avoidance, 76 Wash. & Lee L. Rev. (2019).
Corporate Tax Avoidance and Honoring the Fiduciary Duties Owed to the Corporation and Its Stockholders, 59 Boston College L. Rev. 1425 (2017) (with Karie Davis-Nozemack).
A Call for Legislative Reform: Expanding the Extraterritorial Application of the Private Rights of Action Under Federal Securities Law While Limiting the Scope of the Relief Available, 22 Stanford J.L. Bus. & Fin. 1 (2017).
The Supreme Court as Museum Curator: Securities Regulation and the Roberts Court, 67 Case W. Res. L. Rev. 847 (2017) (invited symposium).
Securities Regulation in Virtual Space, 74 Wash. & Lee L. Rev. 1387 (2017).
The Origins of Corporate Social Responsibility, 85 U. Cincinnati L. Rev. 353 (2017) (invited symposium).
Collaboration Theory: A Theory of the Charitable Tax Exempt Nonprofit Corporation, 49 U.C. Davis L. Rev. 1719 (2016).
An Interdisciplinary Analysis of the Use of Ethical Intuition in Legal Compliance Decision Making for Business Entities, 74 Maryland L. Rev. 497 (2015).
The Death and Rebirth of Codes of Legal Ethics:  The Role of Neuroscientific Evidence of Irrational Ethical Decision-Making in Regulating the Practice of Law, 28 Georgetown J. Legal Ethics 323 (2015).
An Oak is an Oak Is an Oak Is an Oak:  The Disappointing Entrenchment in Halliburton Co. v. Erica P. John Fund, Inc. of the Implied Private Right of Action Under Section 10(b) and Rule 10b-5, 9 N.Y.U.  J.L. & Liberty 92 (2015) (invited).
Answering the Call to Reinvent Legal Education: The Need to Incorporate Practical Business and Transactional Skills Training into the Curricula of America's Law Schools, 20 Stanford J.L. Bus. & Fin. 121 (2015).
The Role of the Foreign Corrupt Practices Act and Other Transnational Anti-Corruption Laws in Preventing or Lessening Future Financial Crises, 73 Ohio St. L.J. 1283 (2013) (invited symposium).
Regulating On-line Peer-to-Peer Lending in the Aftermath of Dodd-Frank: In Search of an Evolving Regulatory Regime for an Evolving Industry, 69 Wash. & Lee L. Rev. 485 (2012) (with Geoffrey C. Rapp).