Congratulations, 2020 Graduates
We're proud to celebrate the 250 graduating students from the College of Nursing at The University of Toledo's Spring 2020 Commencement. Congratulations on your achievements and go Rockets!
Celebrate Commencement
Leading the Region in Nursing Education
Expert faculty guidance, cutting-edge curricula, advanced clinical simulations and a patient-centered philosophy are key to student success. At the UToledo College of Nursing, we prepare nurses to lead in the modern healthcare field and make an impact in their communities. Whether attending our 100% online RN-B.S.N. program or studying for a B.S.N., M.S.N., D.N.P. or graduate certificate, our students gain critical experience and exposure. Together, we're improving health care in the region and the world.
COVID-19 Updates Student Services Pass/No Credit Grade Option
ADVANCED CLINICAL AND SIMULATION EXPERIENCE
With a cutting-edge, advanced interprofessional clinical simulation center, we know practice makes perfect. Students in our programs thrive on exposure; they're more prepared because of it. Our 15,000-square-foot Lloyd A. Jacobs Interprofessional Immersive Simulation Center (IISC) boasts everything from virtual reality medical visualization to advanced surgical simulation suites. Students learn in a protected space with real-time faculty feedback.
EXPERT FACULTY AND HOSPITAL PARTNERSHIPS
We're proud to be a regional leader in nursing education — established nearly 50 years ago and continuing to advance the field to this day. Our dedicated faculty and professional partnerships help make this success possible. Experienced faculty connect with nursing students, giving ongoing support as they transition into careers. Regional health care partners, including The University of Toledo Medical Center and ProMedica, provide clinical and career opportunities to our students and graduates. Each experience and partnership provides valuable real-world opportunities.
Meet Hunter Perrin
'20, Bachelor of Science in Nursing
"Every single experience here at The University of Toledo has been great. The one thing I love about this place is that there's a lot of opportunities if you're willing to seek them out and put in the effort. I'm not sure I would have gotten that anywhere else."
Read More
Get started with The University of Toledo
Find your program and schedule a visit — take the first step toward your nursing career.


UTOLEDO OFFERS GUARANTEED ADMISSION FOR FRESHMAN
Starting fall 2020, we will offer guaranteed admission for freshmen into our competitive Bachelor of Science in Nursing Program for select, well-prepared applicants. Applicants with a high school GPA of 3.7 or higher and an ACT composite score of at least 24 or 1160 SAT will be directly enrolled in our B.S.N. program as long as a UToledo GPA of 3.5 is maintained.
Our application process also considers a range of personal attributes, such as community service and leadership skills, participation in extracurricular activities, and demonstrated responsibility. Consideration also will be given to those with military experience, first-generation college students, and those who would contribute to the cultural, gender, age, economic, racial, or geographic diversity of the healthcare workforce.
Want to start a career in nursing?
We offer two pre-licensure programs.
Learn how to apply

---
ALREADY AN RN BUT WANT TO FURTHER YOUR EDUCATION AND IMPROVE PATIENT OUTCOMES?
We offer Ohio's First Competency-Based RN-B.S.N. program
100% online RN-B.S.N. program — a flexible plan of study designed with the working professional in mind. Earn your B.S.N. in one year.
---
Ready for advanced practice?
UToledo is the leader in advanced practice nursing in northwest Ohio. We offer graduate certificates, M.S.N. and D.N.P. degrees in a number of practice areas, including:
Adult-Gerontology Primary Care Nurse Practitioner
Family Nurse Practitioner
Primary Care Pediatric Nurse Practitioner
Psychiatric Mental Health Nurse Practitioner
Learn how to apply and learn about graduate funding!
Already a member of Rocket nursing?
We're so glad to have you! Find common resources below:
---
UToledo College of Nursing and ProMedica Nursing Launch of Nursing Now Northwest Ohio
Nursing Now is a global campaign to improve healthcare by raising the status and profile of nursing.
---
Professional Licensure Information
The University of Toledo (UToledo) programs leading to licensure and/or advanced practice certification/endorsement, whether delivered online or face-to-face, satisfy the academic requirements for those credentials set forth by the State of Ohio.
Requirements for licensure and/or advanced practice certification/endorsement eligibility vary from one profession to another and from state to state. 
For students who wish to practice in a state other than Ohio, please contact the program director/advisor to discuss if you will need to satisfy additional requirements in that state. The following national site contains state board directories.
CCNE Accreditation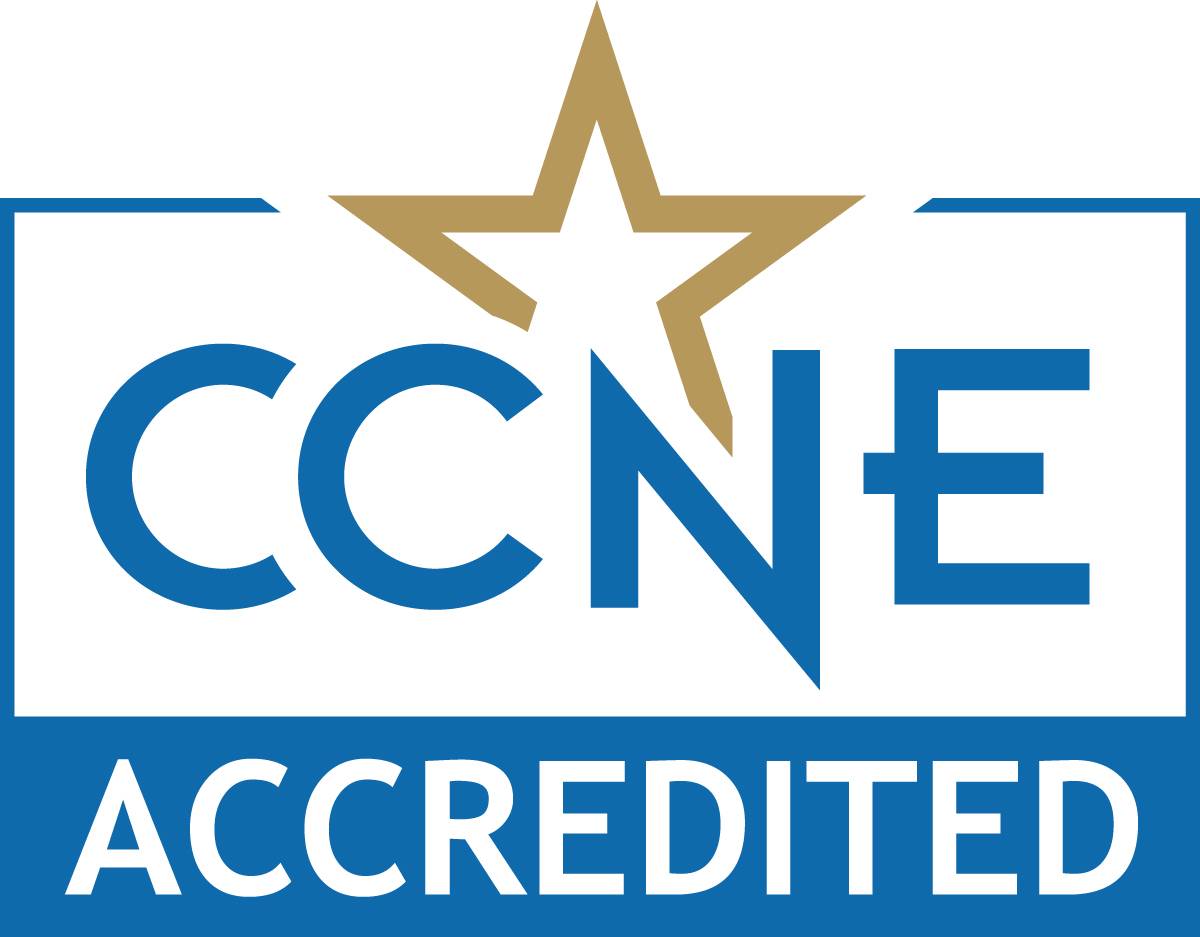 The baccalaureate degree program in nursing, master's degree program in nursing, Doctor of Nursing Practice program and post-graduate APRN certificate program at the University of Toledo is accredited by the Commission on Collegiate Nursing Education (http://www.ccneaccreditation.org).
The baccalaureate degree program in nursing at the University of Toledo Consortium (Consortium of the University of Toledo and Bowling Green State University) is accredited by the Commission on Collegiate Nursing Education (http://www.ccneaccreditation.org).