UT Police Community Relations Anonymous Survey
We invite our community members to participate in the 'UT Police Community Relations Anonymous Survey.' This survey will help us to better serve members of our community by hearing your input and suggestions. Please click on the image below to take the anonymous survey: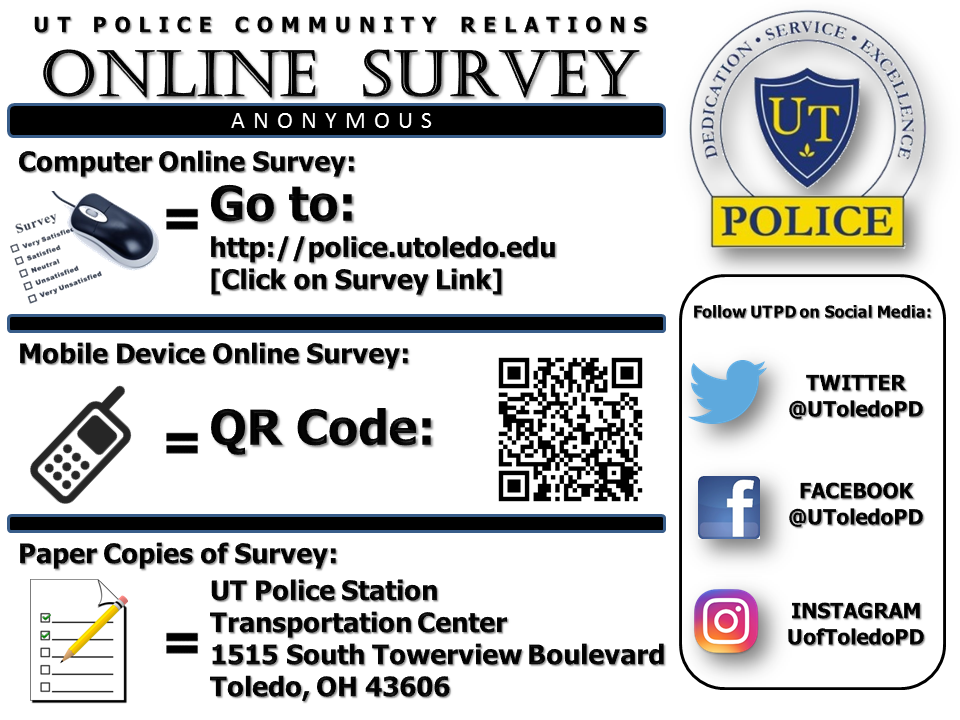 Welcome to The University of Toledo Police Homepage
Welcome to The University of Toledo Police Department (UTPD) website. We have designed the website to deliver the latest safety and security information to our students, faculty, staff, and visitors. Please spend some time educating yourself on safe choices and best practices and let us know how we are doing. Thanks for visiting our website and for other UTPD safety information please visit us on our Facebook site and follow us on Twitter.
---
Latest News


UTPD Announces an Online Complaint or Compliment Reporting Process
By Deputy Chief of Police Rodney Theis
A well-constructed complaint and compliment process is an integral tool in community-police relations. There is a significant impact when a community knows and understands its concerns can be legitimately addressed in a proper setting.
Further, officers can be better served when they can refer aggrieved individuals to a trusted process. Neither officers nor community members benefit from attempts to have concerns addressed and redressed during a traffic stop or in the midst of an incident. It may prove beneficial for law enforcement agencies to reach out to community members in an effort to publicize, promote and develop processes that are mutually beneficial to all.
As a result, UTPD has implemented an online reporting form to serve as a mechanism for citizens to report a complaint or compliment.
CLICK HERE
to review an overview of this process and the reporting form.
Active Shooter Preparedness Web Site (DHS): 
CLICK HERE
Options for Consideration - Active Shooter Training Video (DHS)
CLICK HERE
Active Shooter Preparedness Pocket Card (DHS)
CLICK HERE
---