Internal Medicine Clerkship
The University of Toledo College of Medicine and Life Sciences and the Department of Medicine Chairman, faculty and staff welcome you to the Internal Medicine Clerkship. We look forward to working with you as you begin this exciting and challenging phase of your medical education. The information provided within will review various aspects of the Internal Medicine Clerkship.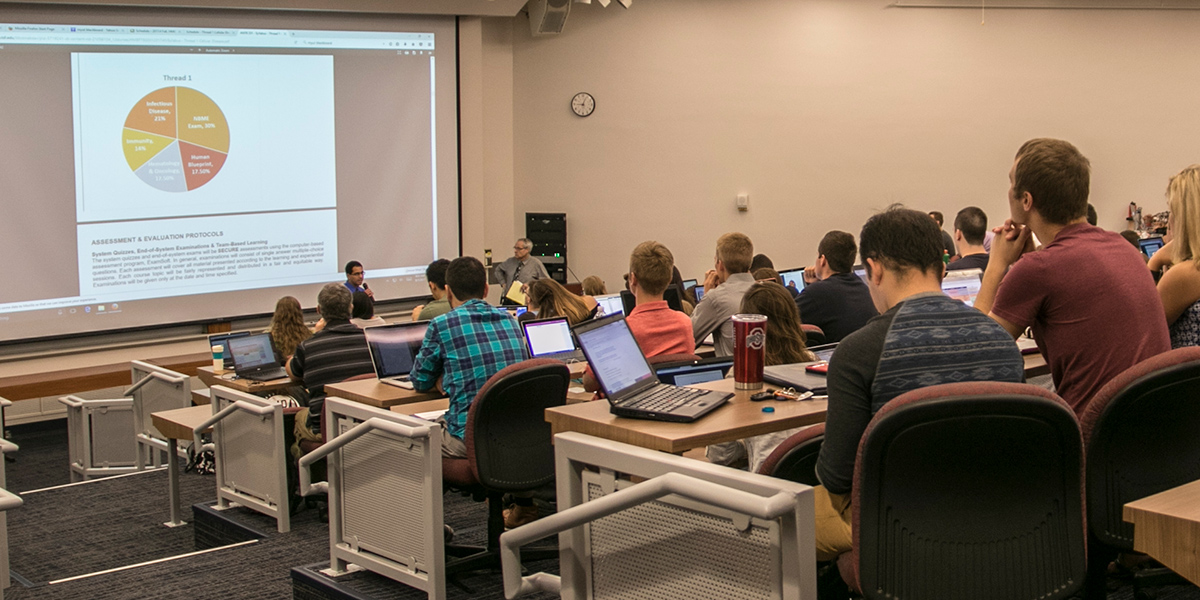 Clerkship
The Internal Medicine Clerkship includes an eight-week program with four two-week rotations. Orientation is followed by didactic sessions, faculty observed H&P sessions, simulation lab sessions, and Aquifer online cases.

Six weeks of the rotation will consist of inpatient/consult experiences at The University of Toledo Medical Center, ProMedica Toledo Hospital, Riverside Methodist in Columbus, Ohio, and/or St. Joseph's Mercy in Ann Arbor, Michigan. Two weeks of outpatient experiences take place in ambulatory clinics at the University of Toledo Medical Center, ProMedica clinics, or an Area Health Education Center (AHEC) site. Students will gain exposure to General Internal Medicine along with multiple subspecialties including Pulmonary, Cardiology, Nephrology, Endocrinology, Infectious Diseases, Hematology/ Oncology, Gastroenterology, and Rheumatology.

Near the end of each rotation, students will participate in an Internal Medicine OSCE where student skills are evaluated, and this evaluation is modeled on the Clinical Skills exam. The National Board of Examiners (NBME) Internal Medicine Subject Exam is provided at the end of this Clerkship.
electives
Internal Medicine offers numerous electives to our third and fourth-year medical students. Elective descriptions can be found as follows:
Documents 
The Clerkship office is located in the basement of the UTMC Hospital, Room 0245A
Office phone: 419.383.5022
Fax number: 419.383.6180
Chairman: Lance Dworkin, M.D.; Ruppert Health Center, Room 012
Clerkship Director: Christopher Lynn, M.D.; Ruppert Health Center, Room 0012
Clerkship Coordinator: Dawn Jagodzinski; Main Hospital Basement, Room 0245A
Clerkship Secretary: Mackenzie McNair; Main Hospital Basement, Room 0245A