Fellowship Highlights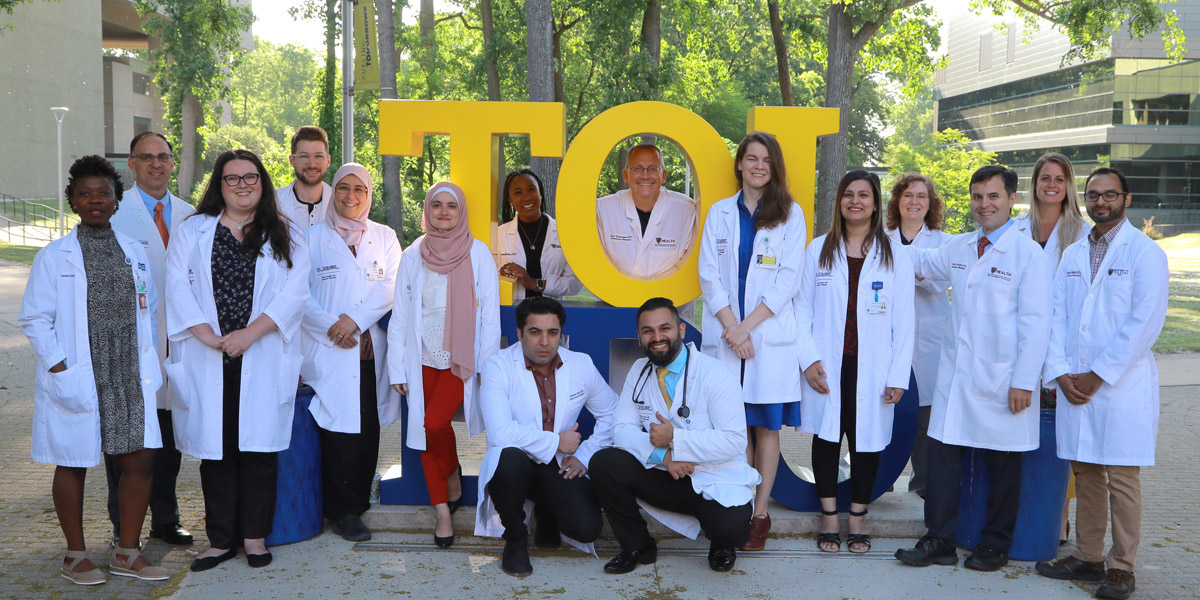 Infectious Diseases Program
Thank you for your interest in the infectious diseases fellowship training program at The University of Toledo.
We offer 2 positions each year in our two-year Infectious Diseases Fellowship, which primarily emphasizes clinical training. During the two-year fellowship, The University of Toledo provides a comprehensive educational program, that includes:
Inpatient consultation services - surgical/medical floor and intensive care setting.
Outpatient clinical experiences including longitudinal HIV clinic and general ID clinic at 2 locations.
Participation in teaching activities for residents and students as well as infection control and antimicrobial stewardship initiatives.
Elective months both at our facilities, as well as at an outside hospital specializing in an interest of the fellow.
We encourage and support scholarship activities and allow fellows to publish articles and participate in local/regional and national meetings.  Applications are accepted through ERAS.
opportunities
Rotations
Bone Marrow Transplant Rotation at Cleveland Clinic Hospital
Inpatient Infectious Disease Services
Microbiology
Research
Available Electives
Infection Control and Stewardship
Pediatric Infectious Disease
Radiology
Wound Care / Dermatology
---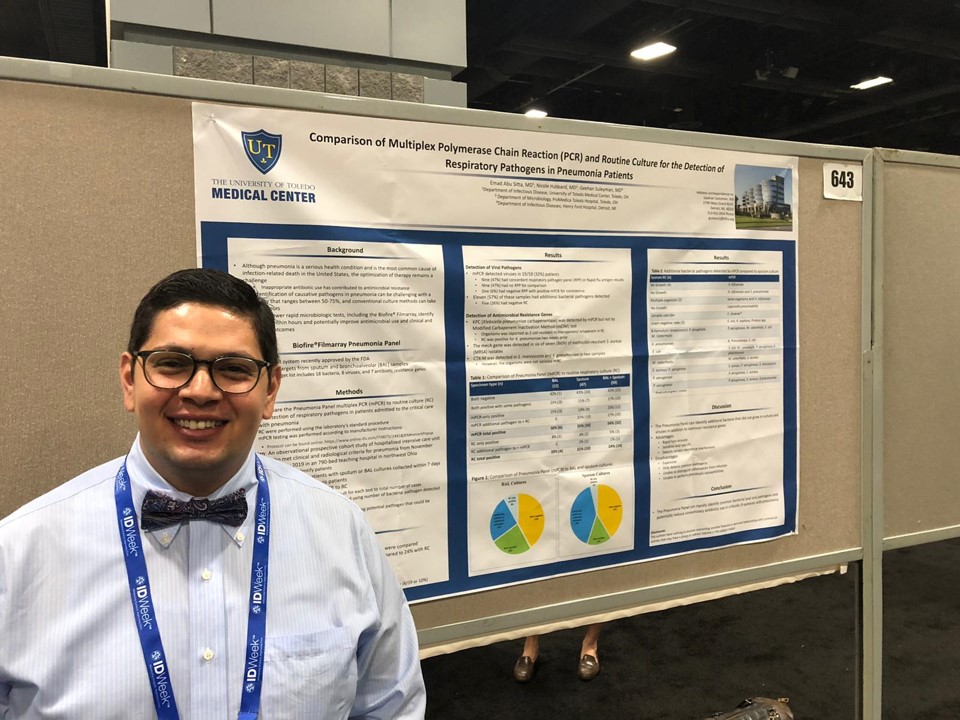 Educational Conferences


Weekly conferences: Microbiology, Pediatric infections, Pathology Meeting, Immunology Events
Monthly conferences: Journal Club, Case Conference, Parasitology Conferences, Bacterial Diseases 
Yearly conferences: Infectious Disease Week, Fellows Research Symposium, Annual Ohio Infectious Disease Meeting, Worldwide Conference on Infectious Diseases
Recent Publications
HHV-6: an unusual cause of cerebellar ataxia Abu Sitta E, Khazan A, Luttmann K, Hanrahan J. - BMJ Case Rep. 2020 Mar 17;13(3):e234303
PCP lung nodules. Abu Sitta E, Sha X, Masood K, Georgescu C. BMJ Case Rep. 2019 Mar 5;12(3):e228315
Gardener with primary lymphocutaneous nocardiosis. Abu Sitta E, Hollingshead C, Luttmann K, Elsaghir H. - BMJ Case Rep. 2019 Dec 15;12(12):e233586. doi: 10.1136/bcr-2019-233586.
Aspergillus niger fungemia secondary to chronic pulmonary aspergillosis in a patient with invasive squamous cell carcinoma. Hollingshead C, Luttmann K, Abu Sitta E, Elsaghir H. - BMJ Case Rep. 2020 Mar 17;13(3):e234843. doi: 10.1136/bcr-2020-234843.
Spontaneous Pneumothorax Following COVID-19 Pneumonia. Hollingshead C, Hanrahan J. - IDCases. 2020 Jun 17;21:e00868. doi: 10.1016/j.idcr.2020.e00868.
Efficacy of Tocilizumab in COVID-19: A Systematic review and Meta-Analysis. Aziz M, Haghbin H, Sitta EA, Nawras Y, Fatima R, Sharma S, Lee-Smith W, Duggan J, Kammeyer JA, Hanarahan J, Assaly R.  J Med Virol. 2020 Sep 12. doi: 10.1002/jmv.26509. Online ahead of print.
---
State-of-the-art Simulation
The University of Toledo's Interprofessional Immersive Simulation Center reflects today's reality of medicine. 
The three-story, 65,000-square-foot facility is the first in the nation to incorporate three integrated simulation centers: a progressive anatomy and surgical skills center, an advanced clinical simulation center, and a virtual immersive reality center.
---
Fellowship Home  Application Requirements Fellowship Benefits FAQs Clinical Sites About Toledo University of Toledo Faculty