Post-Doctoral Research Associates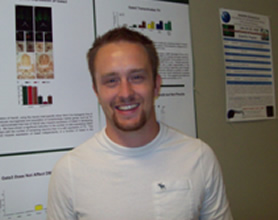 Stuart Collins, Ph.D.
Project: MDMA induced changes to GABAergic interneurons and serotonergic terminals in rat hippocampus and the resulting alterations in excitatory/inhibitory transmission.
Advisor: Dr. Bryan Yamamoto Hometown: Lima, Ohio Undergraduate University: Ohio Northern University
Email: Stuart.Collins@utoledo.edu
I enjoy listening to music, hanging out with friends and playing sports. My future goals are to have a successful career in academia researching neuroscience. Oh, and to win the nobel prize.