Facilities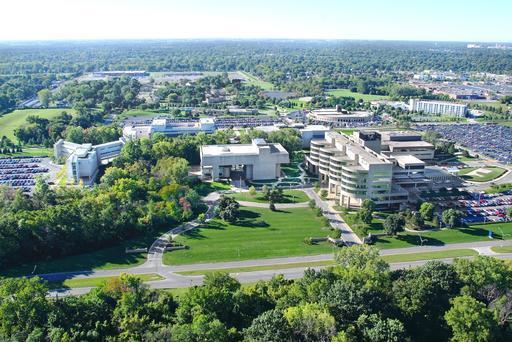 Teaching, research, and clinical facility resources are available for our students and residents on both Health Science and Main campuses.
Health Science Campus
The Radiation Oncology and Diagnostic Imaging Medical Physics Divisions have access to a variety of state of art facilities in training medical physicists. Various commercial packages of Treatment Planning Systems including Pinnacle, Eclipse, RayStation, a wide range of radiation measuring equipment including a full range of dosimetry and quality control test equipment, Wellhoffer computerized beam scanning system, an array of ionization chambers, packages for film dosimetry and analysis, oscilloscopes, and test phantoms are available. Also available are multichannel analyzer scintillation detectors, autogamma, and liquid scintillation counters, diode, thermoluminescent dosimetry (TLD) systems as well as OSLDs, RIT software package and scanners for regular film and chromic film dosimetry system.
The department of radiation oncology was moved into a new facility, the Dana Cancer Center in January of 2013. In this new location, all cancer related disciplines are gathered with the objective of having the focus on patient. A mini-radiology section, as well as clinics for medical and surgical oncology exists within the building and all physicians as well as medical staff and other health care providers in the group and within the UTMC system have access to patients' medical record, imaging studies, and treatment, etc., through a digital linked database.
All treatment and diagnostic equipment at the Dana Cancer Center building are state of the art and the latest available technology at the time the center was opened, in 2013. The department of radiation oncology offers a range of treatment options including external beam radiotherapy with image guidance capability and intensity modulation including VMAT, SRS and SBRT, as well as low and high dose rate brachytherapy. 
---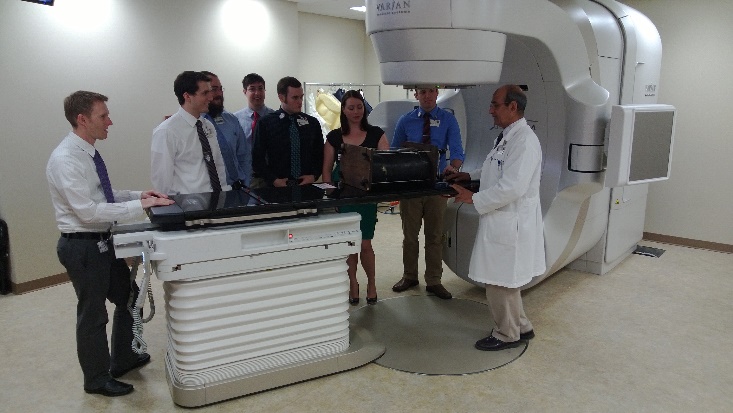 Radiation Oncology Equipment
Varian TrueBeam Linear Accelerator: This is our multipurpose machine used to treat the common treatment sites.  It has full IGRT and gating capabilities. Energies of 6x, 10x, 6xFFF. Maximum dose rate is 1400 MU/minute. A 120 leaf (5mm center, 10mm periphery) MLC. Electron energies of 6, 9, 12, 16 and 20MeV are available. 
Varian Edge Linear Accelerator: This is a dedicated SRS/SBRT machine. Energies of 6x, 6xFFF and 10FFF. Maximum dose rate is 2400 MU/minute. A 120 leaf (2.5mm center, 5mm periphery) MLC. The system has full IGRT and gating capabilities as well as a optic surface monitoring system. A 6 DOF couch top is also installed.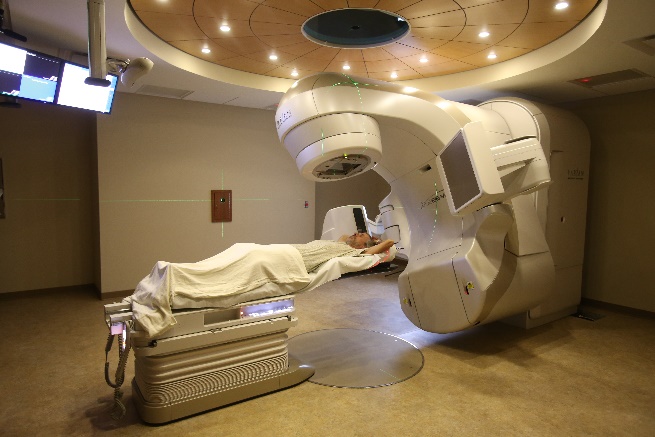 Treatment vaults:
Optical surface contour monitoring in the SRS/SBRT vault.
Unique port allowing for research on different vault construction materials in the SRS/SBRT vault.
Gating and treatment delivery in all rooms
Imaging:
Philips BigBore PET/CT simulatorwith respiratory gating
LAP laser system for full CT simulation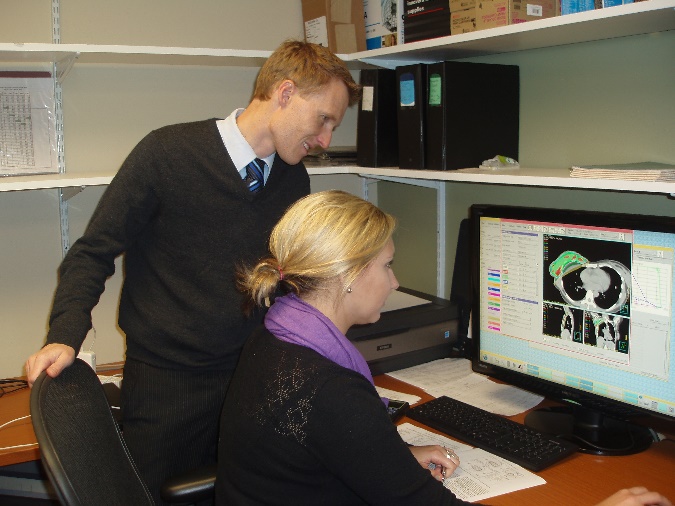 Treatment Planning:
RaySearch RayStation (primary planning system for Dana Cancer Center)
Philips Pinnacle with IMRT, DMPO and Syntegra Fusion (system no longer used clinically. Used for training purposes)
Varian Eclipse (used clinically for Bowling Green and Promedica sites)
BrachyVision HDR planning
BrachySeed prostate seed implant planning
Information Systems:
Aria electronic medical record and verify system
MIM used for multi-modality image fusion (deformable or rigid) and contouring
RIT software package used for dosimetric and  imaging analysis
---
Radiology Equipment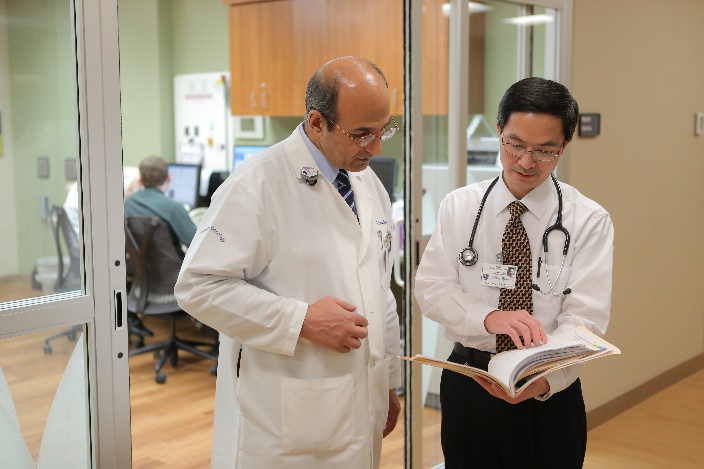 Multiple fixed and mobile radiographic and fluoroscopic systems
Image intensifier and flat panel solid state fluoroscopic detector systems
Computed radiography and digital radiography systems
Mammography and stereotactic mammography
Single, 64, 256, and 640 slice computed tomography systems
1.5 and 3.0 Tesla MRI imaging systems
In-house nuclear medicine department with 4 SPECT systems
PET/CT imaging systems located within the Dana Cancer Center
Multiple ultrasonic systems
Hospital-wide GE Centricity PACS system
Terarecon Aquarius Image Processing workstations and image servers
Multiple windows and Linux PC's for image processing and analysis
Various radiation meters and imaging and dosimetric test phantoms
---
 Main Campus:
The Department of Physics and Astronomy on the Main Campus of the University has a number of teaching labs, a computer lab, a 2000 square foot machine shop with various machining equipment, conference room, a number of class rooms, and several faculty laboratories available to the students who are interested in conducting research involving electronic and optical materials characterization, applied accelerator-based physics, or similar.
In addition, University of Toledo Instrumentation Center, specializing in x-ray crystallographic studies, and providing advice, technical assistance and access to advanced scientific equipment, is accessible for students.