Welcome to The Department of Physician Assistant Studies
The University of Toledo Physician Assistant Program is the proud recipient of the 2011 Physician Assistant Education Association (PAEA) Excellence Through Diversity Award in recognition of outstanding achievements in fostering diversity in PA education through outreach and advocacy. See the news report about this prestigious award.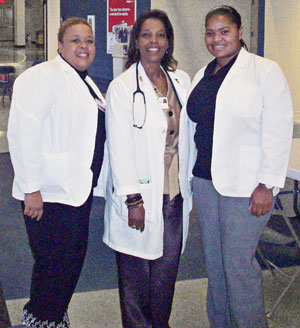 The University of Toledo Physician Assistant Program (UTPA) is a twenty-seven month graduate program leading to a Master of Science in Biomedical Sciences (MSBS) degree with a Physician Assistant concentration. It was the first graduate level PA Program in the State of Ohio. The UTPA Program, the Department of Public Health and Preventive Medicine, and the College of Nursing share the fine facilities of the Collier Building on the Health Science Campus. The Physician Assistant Program classrooms and laboratories are state-of-the-art and include modern educational technology such as the Interprofessional Immersion Skill Center, The Center for Creative Instruction and The Ruth M. Hillebrand Clinical Skills Center . The charter Physician Assistant class of twelve students was accepted in the Fall of 1996. There will be 45 applicants accepted for the next incoming class. The University of Toledo is located in Toledo, Ohio, which is in a scenic area of northwest Ohio and is within easy driving distance of three major metropolitan areas: Cleveland (110 miles), Detroit (60 miles), and Chicago (294 miles).

The Physician Assistant Program also enjoys the contributions of the expert faculty at UT and the greater Toledo area including basic scientists, physicians, physician assistants, and other health care practitioners.
Physician assistants are health care professionals, prepared and licensed to practice medicine with physician supervision. Within the physician/PA relationship, PAs exercise autonomy in decision-making and provide a wide range of diagnostic and therapeutic services. The role of the Physician Assistant includes provision of primary and specialty care in medical and surgical practices located in rural, urban or suburban areas. Physician Assistant practice is patient care centered but may include education, research and administration duties. The American Academy of Physician Assistants (AAPA) is the national organization that represents graduate PAs. The Student Academy of the American Academy of Physician Assistants (SAAAPA) serves the interests of PA students. The UT PA Program is a member of the Physician Assistant Education Association (PAEA), which is the national organization representing Physician Assistant education and is accredited under the high standards of the ARC-PA, Accreditation Review Commission on Education for Physician Assistant, Inc.
For more information regarding the PA Program and for details about applying to the UT PA Program, please view the UT PA Program Manual. For those individuals who wish to attend the comprehensive information sessions, the dates and times are listed under the Information Sessions tab.  Candidates are urged to carefully review the Manual before applying.  The deadline for receipt of all application materials is October 1 of the year prior to enrollment.