Ph.D. (Doctoral) Program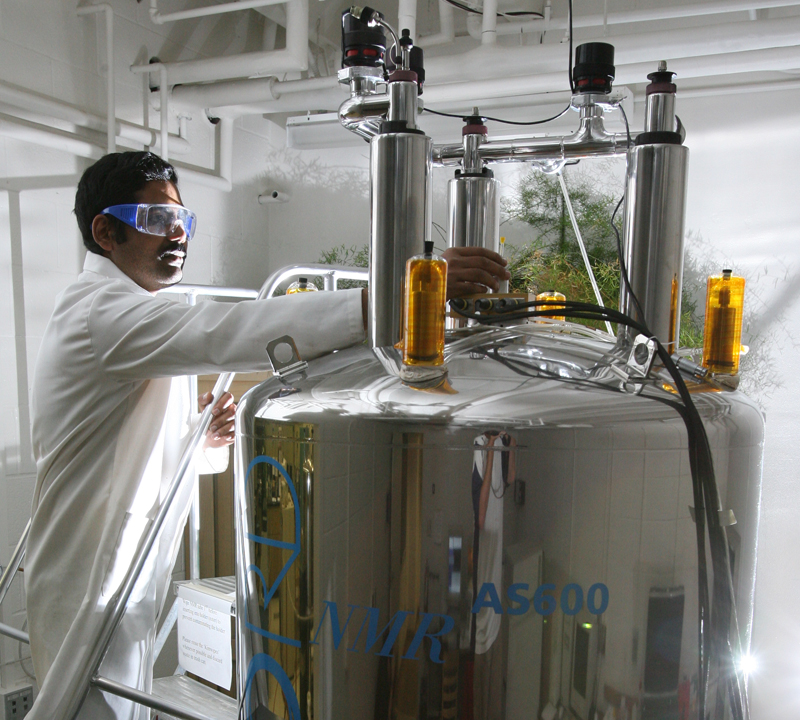 Goals and Objectives
The Ph.D. program in the Department of Chemistry and Biochemistry at The University of Toledo is a medium-sized program (currently 20 graduate faculty and approximately 75 graduate students) with research strengths in the areas of synthetic chemistry, biochemistry, bioanalytical chemistry and materials chemistry. Our program features small to medium-sized research groups (3 to 6 graduate students per group) with extensive interactions between research directors and students in an environment that stresses grant-supported research carried out with modern instrumentation. Our department is well equipped with major NMR, MS, SEM, and EPR instrumentation, and IR and Raman spectrometers, as well as with smaller spectroscopic, chromatographic, preparative, and analytical equipment and computers necessary for research in chemistry and biochemistry. In addition, UToledo is the home of the Ohio Crystallography Consortium with an internationally recognized program of small molecule and macromolecular crystallographic research based on three single crystal diffractometers and one powder machine.
Current research areas are in:
synthetic chemistry includes synthetic methods development, synthesis of potential new drugs and vaccines, chemical biology, and green synthetic chemistry.
biochemistry includes drug discovery, DNA replication, protein insertion into cellular membranes, circadian rhythms, mechanistic enzymology, protein chemistry, and biomolecular modeling.
X-ray crystallography spans the chemical sciences from materials chemistry to biological chemistry with studies of energetic materials, metal complexes, proteins, enzyme-substrate complexes and protein-nucleic acid replication proteins
materials chemistry includes synthesis of thin films and porous materials as well as the development sensors and extraction materials for analytical applications, and applications of thermal analysis and crystal engineering.
Our department's objectives in our research program are to strengthen established research foci in synthetic and biological chemistry as well as materials by addition of new faculty, continued acquisition of state-of-the-art research equipment, growth of the department's annual external grant budget, and an increase in faculty and graduate student publication rates.
ADMISSION
Admission requirements for the program are a bachelor's degree in chemistry or biochemistry from an accredited college or university with a GPA of at least 3.0 on a 4 point scale. Included among these indicators are strong grades in upper-level chemistry or biochemistry courses, and experience in academic or industrial research. Applicants are not required to have taken a curriculum accredited by the American Chemical Society, but their training in chemistry, physics and mathematics should be equivalent to that in an accredited curriculum.
PROGRAM DESCRIPTION
The doctoral program is designed to ensure you have the basic foundation of knowledge and are equipped with the tools necessary to do independent research. The emphasis on research recognizes the power of original research to arouse the scientific curiosity of the student, to develop and stimulate creativity and to encourage further discovery through independent study.
The doctoral program is divided into three stages for the typical student.
Stage 1

- includes correcting deficiencies as well as establishing through a set of prescribed courses the foundation for further training, a research director is chosen.

Stage 2

- the student pursues research toward the dissertation, undertakes comprehensive examinations, and prepares the required original research proposals.

Stage 3

- after meeting the comprehensive examination requirements the student is admitted to candidacy where the student focuses efforts on research and completion of the doctoral dissertation.
Departmental degree requirements are listed in the following section. Further details about examinations and admission to candidacy may be obtained from the department.
REQUIREMENTS
Candidates for the Doctor of Philosophy degree are required to meet the requirements of the University, the College of  Graduate Studies, and the College of Natural Sciences and Mathematics as stated in the "Requirements" section of the UToledo Graduate Catalog.
In addition, the following departmental requirements must be met:
Plan of Study approved by research committee, which includes six (6) 8000-level courses as part of the plan of study
Registration for Chemistry Colloquium is required each term.
Registration for Research Seminar is required each term.
Complete two semesters in supervised half-time teaching satisfactorily.
After admission to candidacy, each student is required to spend, consecutively, a minimum of two semesters and a summer term (i.e., one year) in full-time study at the University of Toledo.
All dissertation research must be carried out in laboratories of the University of Toledo.
graduate placement and impact
The Ph.D. program of the department serves the needs of Ohio in a number of ways. Many graduates are employed in the chemical, pharmaceutical and consumer products industries of the state, and other graduates are employed as faculty members at colleges and universities within the state, approximately 15-20% of graduates remaining in the state to pursue careers. The research carried out in the department has a direct impact on Ohio's economy. For example, research on thin films is being translated into new products in the glass industry and in the nascent solar energy industry. Hormone and replication protein structural studies are directed toward understanding breast cancer. The Instrumentation Center provides advanced analytical services to Ohio industries.
The department prepares Ph.D. recipients for careers in the industrial, academic, or government sectors. About 70% of our Ph.D. graduates are engaged in industrial careers, and about 20% are in academic careers as tenured or tenure-track faculty members at colleges and universities across the U.S. and around the world. The remaining 10% are in a variety of positions including government service, postdoctoral positions, as self-employed consultants, and other positions. Historically about 30% of our graduates pursue a postdoctoral position as their initial placement after completing their degree. The department recognizes that these positions are necessary for some career choices and desirable in many cases for the broadened training that results.
Graduate Placement
 Industrial careers into positions with leading chemical and pharmaceutical companies
Academic careers in four-year primarily undergraduate institutes as well as universities offering M.S. and Ph.D. degrees in chemistry and biochemistry.
For those students who choose a postdoctoral research position, our objective is to place these students in highly competitive laboratories at the leading academic or industrial research centers in the U.S. and abroad.
The Ph.D. program in the Department of Chemistry and Biochemistry, along with all other departmental degree programs, is reviewed regularly as part of the University's process of program review.