Gas Chromatography-Mass Spectrometer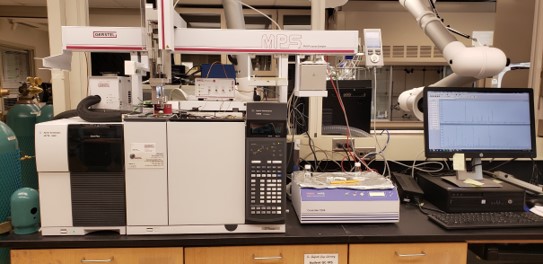 The Gas Chromatography-Mass Spectrometer allows researchers to separate and identify specific molecules starting from vaporized samples that travel through a chromatographic column for separation and reach the mass spectrometer for detection and identification.  Molecules are introduced into the GC-MS using a microprobe that captures molecules from the air, liquids and even solids, this probe is called Solid Phase Microextraction (SPME) fiber.
The SPME-GC-MS was added to the SCOPE Program in 2019 and expanded the program to be able to more easily work with Chemistry classes. With the GC-MS, users can:
identify several unknown components of a sample 

measure the amounts of specific molecules in a sample

detect contamination in certain types of samples

explore the composition of natural and artificial aromas
The GC-MS team consists of one Chemistry professor and her lab. Click here to learn more about Dr. Gionfriddo and her research.