ICenter NEWS & EVENTS
***NEWS***
Summer 2019:
Welcome, Dr. Jennifer Gadient,  Instrumentation Scientist to the ICenter team! We are looking forward to working with our new colleague!
Spring 2019:
A Super Resolution Microscope was acquired by the Instrumentation Center and the Biology departments. This amazing new instrument breaks the limitation of light in a microscope! It is now available to schedule for use in research.
Spring 2019:
The SCOPE Program reached the largest number of students since its inception! We worked with over 1,050 students this year alone! This is an increase of ~300 from last year! Thank you to all of the schools and teachers that work with us and help our program grow!
MLK Day 2019:
The I. Center suffered from a major flood after pipes above the center burst! Several instruments were down for a couple of weeks for minor repair.
Summer 2018:
Welcome, Dr. Darpan Aulakh, our new Scientific Instrumentation Specialist! Dr. Aulakh accepted the position left vacant when Dr. Burckel retired. We are all looking forward to working with our new colleague!
December 2017:
The Instrumentation Center wished Dr. Pannee Burckel a happy retirement. Although we were all very sad to see her go, we are all grateful for the time we got to spend working with Pannee. From fixing our instruments to training new students and staff how to use the instruments, Pannee was always a joy to be around. We wish her the best in her retirement!
Summer 2016:
Our SCOPE Program was recently featured as a story in the UT News! Thank you to the UT News writing staff for a lovely write-up about what we do! Read the article here!
Summer 2016:
The Women of Philanthropy at the University of Toledo selected the Instrumentation Center proposal for "Living Science - The Ever-Changing Periodic Table". The proposed project will be completed at the beginning of the 2016-2017 school year.We are very excited about this project, as it has the capability to combine art, science, and many other subjects into an eye-catching display.
The display will be a large wooden cabinet in the shape of the periodic table of elements with cubby holes for examples of each element. While similar displays do exist around the world, ours will be unique in that instead of filling each element itself, we will recruit community members from area schools, the UT campus, and other local groups to select an element of their choosing and fill the corresponding box.
The cubbies will be changed periodically, to reflect the ever-changing nature of the periodic table. For example, the lead cubby may be filled with samples of water from Flint, Michigan to represent the issue with the local water.
Each school year, community members will be invited to pick an element and update the display, making it a truly immersive work of art! In addition, two tablets will be incorporated with apps that allow users to explore the periodic table in more detail, including an app that combines elements to see if they react.
Check out our page here to read more or sign up for an element! 
Spring 2016:
The Instrumentation Center has just installed a Western Blot Imager Azure c500. Please come down and use it! From our tests, the sensitivity is just as good, if not better, than film.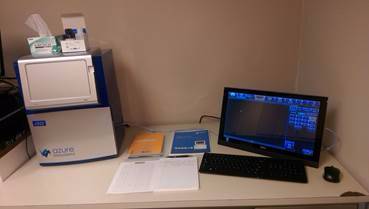 Check out the instrument page for specs and more information!
Winter 2016:
The Instrumentation Center, along with Jaime Navarrete of Crown Battery, welcomed students from Tiffin Middle School's eighth grade advanced science class! Below is the picture and update we received from Jaime:
Mr. Jim Mason, Tiffin Middle School Science Teacher, and six students from his advanced science class visited the Instrumentation Lab at University of Toledo on Saturday Jan. 16, 2016.  The students, assisted by Dr. Pannee Burckel, used an SEM (Scanning Electron Microscope) to view various samples at high magnification.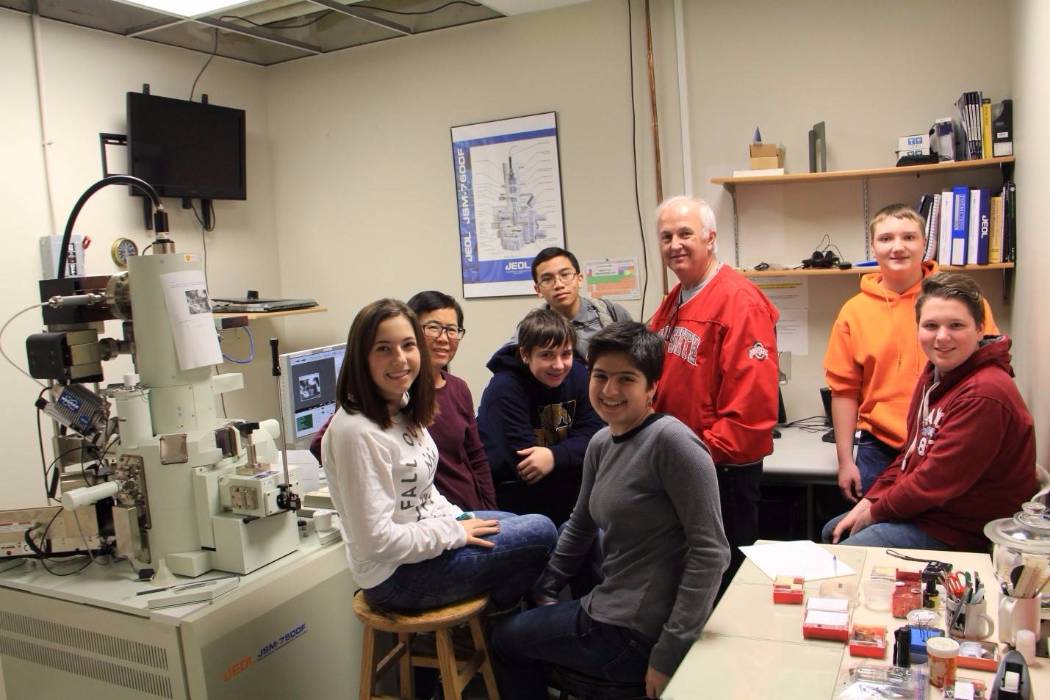 Tiffin Middle School 8th Graders at the Univ. Toledo Instrumentation Lab (lft-rt: Kirsten Egbert, Dr. Pannee Burckel, Jacob Brown, Raphael Confessor, Nina Navarrete, Mr. Jim Mason, Lane Irving, Nathan Grover).
Summer 2015:
Congratulations to Kristin Kirschbaum, the director of the Instrumentation Center, on winning the American Crystallographic Association's Oxford Cryosystems Low Temperature Poster Prize 2015 for her poster The Structural Beauty of Nanoparticles. The so far Largest Crystal Structure of a Gold Nanoparticle: Au133(SC6H4tBu)52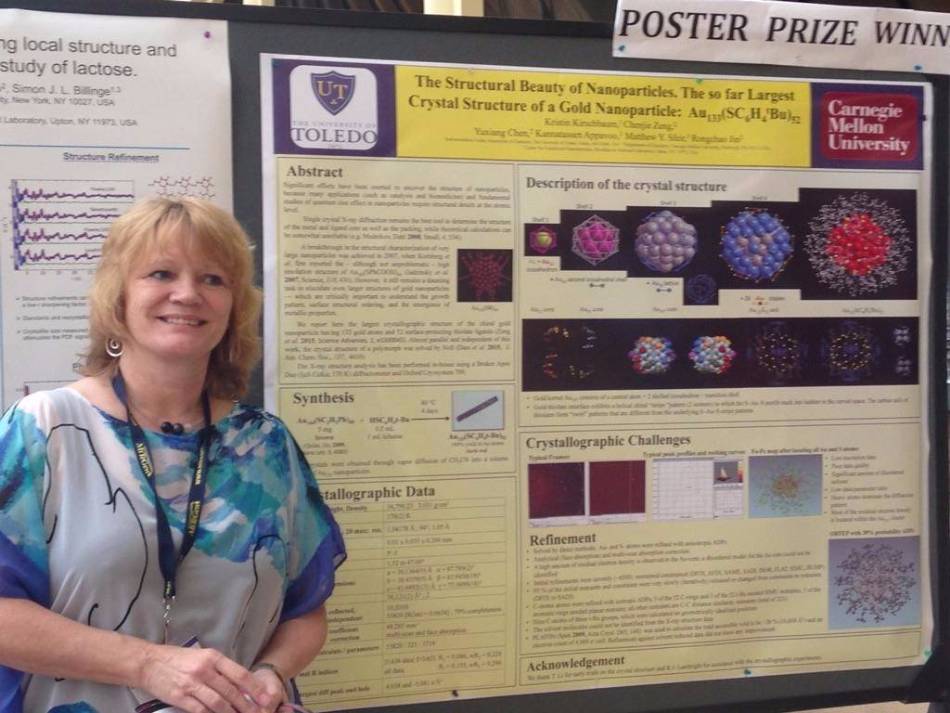 Summer 2013:
Thanks for helping us out, Mark-Robin Giolando! Repairing the chiller and installing a board.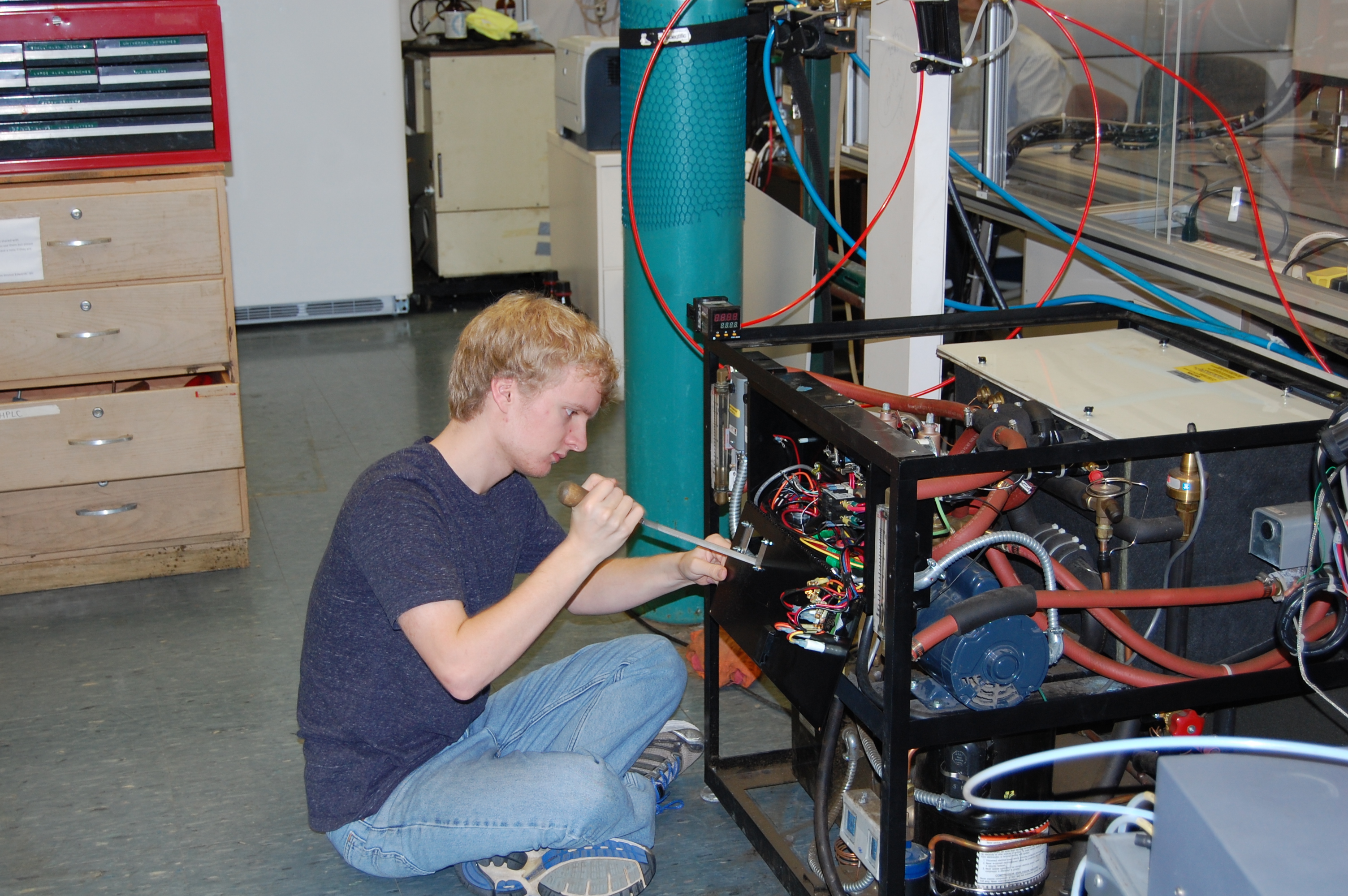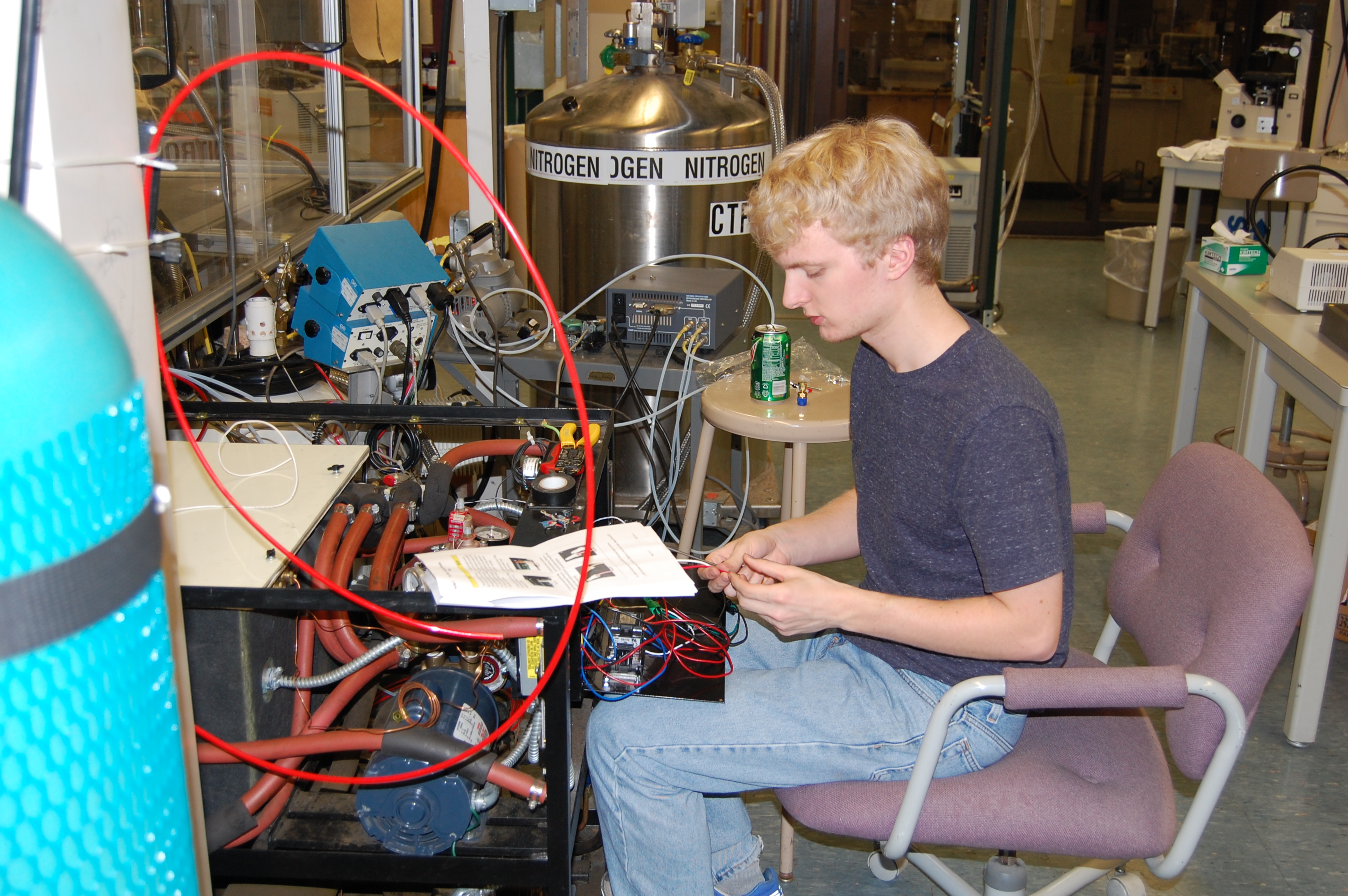 May 2013:
Welcome Cassandra! Cassandra is a sophmore in Chemistry and will work with the I. Center to coordinate and expand the SCOPE program!
January 2013:
Welcome Zina! Zina is a senior in Biology and will work with Biology and the ICenter to coordinate and expand the S.C.O.P.E. project.
Winter 2012:
In collaboration with Dr. Avidor-Reiss from the Biology department, we are now extending our S.C.O.P.E. project to include a confocal microscope.
Fall 2011:
We have added a Bruker dual wavelength Apex diffractometer for single crystal crystallography. It is equipped with a Cu-ImuS and a traditional Mo-sealed tube source.
Summer 2011:
Over the past year, the ICenter has been diligently working to provide an outreach program geared towards exposing pre-college students to advance scientific instrumentation. Recently, the outreach program -

S.C.O.P.E.

- was featured in a UTnews article showing some of the programs impact so far (

http://utnews.utoledo.edu/index.php/07_18_2011/ut-electron-microscope-advances-learning

). Dr. Stacy Gates has recruited, and so far trained 20 educators in the Northwest Ohio and Michigan areas for participation in this program, and was essential in designing and organizing this project, along with Dr. Kristin Kirschbaum (Director) and Dr. Pannee Burckel (Instrument Scientist).  This year, we are extending this program to middle schools and their students. We appreciate the ongoing enthusiasm and participation from educators in the Northwest Ohio and Michigan areas, and hope that together we can better prepare our students for advances in the world of

SCIENCE

!!