Honorary Degrees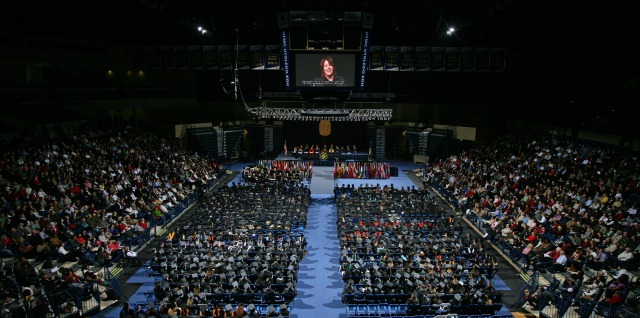 The awarding of honorary degrees is an extension of the University's goal of recognizing exceptional achievements.
The awarding of an honorary degree is among the highest honors the University confers, and brings distinction to both the recipient and the University. Honorary degrees should be awarded for extraordinary accomplishments and contributions that are aligned with the mission of the institution.
honorary degree recipients and process for guidelines and nomination
HONORARY DEGREE RECIPIENTS:  
A list of University Honorary Degree recipients is below.
View a list of College of Medicine & Life Sciences Honorary Degree Recipients
View a list of Pharmacy and Pharmaceutical Sciences Honorary Degree Recipients
View a list of College of Law Honorary Degree Recipients
Year

Degree

Name

 5/4/2019

 Dr. of Humane Letters

 Katie Holmes

Actor, Producer and Director

 12/15/2018

 Dr. of Science

Michael Witherell

Director, Lawrence Berkeley National Laboratory

 11/8/2018

 Dr. of Public Service

Calvin Lawshe

Posthumous Honorary Degree 

5/5/2018

 Dr. of Humane Letters

 Charles "Chuck" Ealey

Founder of the Chuck
Ealey Foundation, Pro football player inducted into the Mid-American Conference
Hall of Fame, 1988, Recipient of UT Alumni Association "Blue T
Award," 2007 

12/17/2017

Dr. of Humane Letters

Michael D. Sallah

Pulitzer Prize-winning reporter and editor, Reporter, national investigations team, USA TODAY, Gannett Network, Washington, D.C.

5/7/2017

former honorary degree recipient

Christine Brennan

Sports columnist, USA Today

12/17/2016

Dr. of Science

Dr. Timothy Law Synder

President, Loyola Marymount University

 5/7/2016

Dr. of Public Service

 Rush D. Holt

CEO, American Association 
of the Arts

5/7/2016

 Dr. of Humane Letters

Dr. Johnnetta Betsch Cole

Director, Smithsonian National Museum of African Art

12/19/2015 

Dr. of Humane Letters

Ms. Christi Paul

CNN Reporter

5/10/2015

Dr. of Business Administration

Mr. Roy Ames

CEO, President and 
Chairman of CooperTire 
and Rubber Company

5/10/2015

Dr. of Public Administration

Mr. Keith Faber

Represents the 12th State Senate District

12/20/2014

Dr. of Business Administration

Michael H. Thaman

Chairman of the Board and 
CEO-Owens Corning

5/3/2014

Dr. of Public Administration

Deborah L. Wince-Smith

President & CEO of the 
Council on Competitiveness

12/15/2013

Dr. of Business Administration

Michael G. Morris

Chairman of the Board, 
American Electric Power

5/5/2013

Dr. of Engineering

Dr. Jeffrey Wadsworth

President & CEO, 
Battelle Memorial Institute

5/5/2013

Dr. of Commercial Science

Robert C. Savage

CEO, Savage & Associates

5/5/2013

Dr. of Business Administration

Sandra Pianalto

President and CEO- Federal Reserve Bank of Cleveland

12/15/2012

Dr. of Public Service

Dr. Anwar Mohammed Gargash

Member- Federal Cabinet 
of the United Arab Emirates

5/5/2012

Dr. of Humane Letters

Lee Fisher

President and CEO of CEO's for Cities; former Ohio Lt. Gov. and Attorney

5/5/2012

Dr. of Humane Letters

Dr. Maurice Manning

Chancellor, National Univ. of Ireland; Pres., Irish Human Rights Commission

5/8/2011

Dr. of Business Administration

Sergio Marchionne

CEO, Chrysler Group LLC 
and CEO, Fiat S.p.A

12/18/2010

Dr. of Science

James Stanley, M.D

Handleman Prof. of Surgery, University of Michigan

7/22/2010

Dr. of Science

Dr. Sultan Ahmed AlJaber

CEO, Masdar Abu Dhabi 
Future Energy Co.

5/8/2010

Dr. of Business Administration

G. Rangaswamy

Administration PSG and Sons Charities Trust in Coimbatore, India

5/8/2010

Dr. of Humane Letters

Catherine Snow, Ph.D

Patricia Albjerg Graham Professor
of Education, Graduate School of Education, Harvard University

5/8/2010

Dr. of Science

Eugene Kranz

Former Nasa Director of Mission Operations; Famed Flight Director
of Apollo

5/10/2009

Dr. of Science

David Eaglesham

Vice-President of Technology, Chief Technology Officer, First Solar, Inc.

5/10/2009

Dr. of Letters

Sam Abell

Photographer, National Geographic Society

5/3/2008

Dr. of Music

Louis "Chip" Davis

Creator of Manhattan Steamroller
musical group; Founder/President 
of American Gramaphone 
Recording Co.

5/3/2008

Dr. of Science

Dr. Nancy Cantor

Chancellor and President, 
Syracuse University

5/6/2007

Dr. of Science

Dr. Mary Sue Coleman

President, University of Michigan

5/6/2007

Dr. of Music

Robert Bell

President and CEO of Toledo Symphony, celebrated 50 years
with symphony

12/16/2006

Dr. of Science

Glenn Geelhoed, M.D., Ph.D

Surgeon and Medical Missionary,
3rd World Countries

5/6/2006

Dr. of Business Administration

James A. Poure

Community Service

5/6/2006

Dr. of Education

Edrene Benson Cole

Toledo Public Schools Administrator
and Historian

5/8/2004

Dr. Public Service

Judith Heumann

Disability Advocate

5/8/2004

Honorary Juris Dr.

Ted Turner

Media (Turner Broadcast Serv), 
Law School speaker

5/10/2003

Dr. of Science

Nina McClelland

Chairman of the American Chemical Society, '51 UT grad.

5/10/2003

Dr. of Science

Helen L. Brooks

UT alumnus, transformed UT astronomy Dept. into one of top depts. in nation; Brooks Observatory named in her 
and her husband's honor

12/21/2002

Dr. of Business Administration

James Findlay

Founder, CEO, Impact Products

5/11/2002

Dr. of Business Administration

Mark Victor Hansen

Co-Author, Chicken Soup 
for the Soul, series

3/4/2002

Hon. Juris Doctorate

John J. Sweeney

President, AFL-CIO

12/16/2000

Dr. of Public Administration

James Petro

Auditor, State of Ohio

5/2000

Dr. of Laws

Betty Montgomery

Attorney General of Ohio

5/2000

Dr. of Laws

Yvonne Jennifer Mokgoro

Justice, Constitutional Court
of South Africa

5/2000

Dr. of Public Service

Tebogo Job Mokgoro

Director-General, South African Institute of Management Development

5/8/1999

Dr. of Science

Herbert A. Hauptman, Ph.D.

Nobel Prize recipient in Chemistry

5/8/1999

Dr. of Performing Arts

Mr. Jon Carl Hendricks

Jazz vocalist, composer and lyricist

5/8/1999

Dr. of Commercial Science

Mr. Richard P. Anderson

Chairman and CEO, The Andersons

5/9/1998

Dr. of Humane Letters

Mr. Baldemar Velasquez

Organizer, Farm Labor Organizing Committee (FLOC), AFL-CIO

5/9/1998

Dr. of Commercial Science

Mr. Charles Sullivan

CEO, Interstate Bakeries. Major         Donor, Sullivan Hall

5/9/1998

Dr. of Commercial Science

Mr. Robert Eaton

President & CEO, Chrysler Corporation

6/14/1997

Dr. of Science

Dr. Julius Jacobson, M.D

Distinguished Service Professor of Surgery, Mt. Sinai Hospital, NYC

6/15/1996

Dr. of Humane Letters

Dr. Franklin Smith

Supt., Washington DC Public Schools

6/15/1996

Dr. of Commercial Science

John Brown Neff

Wellington Management Co.

12/9/1995

Dr. of Commercial Science

Ivan W. Gorr

Former CEO, 
Cooper Tire & Rubber Co.

12/9/1995

Dr. of Humane Letters

Elaine L. Chao

President & CEO, United Way of America

6/17/1995

Dr. of Science

Dr. William M. Heller

Ex. Dir., US Pharmacopeial Convention

12/17/1994

Dr. of Humane Letters

Dr. Harlan Cleveand

Dir, Hubert Humphrey Institute

12/17/1994

Dr. of Public Administration

Crystal Ellis

Supt. Toledo Public Schools

6/11/1994

Dr. of Laws

Dr. Philip Burgess

President, Center for the New West

12/11/1993

Dr. of Laws

Marcy Kaptur

US House of Representatives

6/12/1993

Dr. of Humane Letters

Gloria Steinem

Feminist, Toledo native

6/13/1992

Dr. of Humane Letters

Clarence Page

Pulitzer Prize Columnist

12/14/1991

Dr. of Laws

Harris Wofford

US Senator

6/15/1991

Dr. of Laws

Terry Sanford

US Senator

6/16/1990

Dr. of Science

Dr. Aklilu Lemma

Head of UNICEF

6/17/1989

Dr. of Science

Dr. Junichi Nagasaki

Chairman of the Board, Nippon Electric Glass

3/19/1988

Dr. of Laws

Beverly White Miller

President, Western New England College

10/9/1987

Dr. of Humane Letters

Helen McMaster

 

10/9/1987 

(Dedication of McMaster Hall)

Dr. of Science

Harold McMaster

 

6/13/1987

Dr. of Humanities

Mrs. Doreen Canaday Spitzer

 

6/13/1987

Dr. of Science

M. K.R. Narayanan

Minister of Science & Technology, India

6/14/1986

Dr. of Laws

Mark 0. Hatfield

US Senator

10/16/1985

Dr. of Sciences

Dr. John B. Slaughter

Chancellor, Univ. of Maryland

10/16/1985 

(Inauguration of President McComas)

Dr. of Laws

Richard F. Celeste

Governor, State of Ohio

6/15/1985

Dr. of Commercial Science

John F. Savage

Savage & Associates

5/22/85

Dr. of Laws

Dr. Glen R. Driscoll

President Emeritus, UT

5/22/1985

Dr. of Public Administration

William Coulter

Chancellor, OBOR

3/23/1985

Dr. of Public Administration

Dr. Jesse Long

Retired Asst. to the President, UT

5/16/1984

Dr. of Science

Dr. Gerhard Herzberg

1971 Nobel Prize, Chemistry

4/13/1984

Dr. of Science

Dr. Howard A. Schneiderman

Sr. VP Research and Development, Monsanto

2/16/1984

Bachelor of Commercial Science

Robert W. Baum

Retired accountant, OI

6/11/1983

Dr. of Humanities

Dr. Lyun Joon Kim

President, Hanyang University, Korea

6/11/1983

Dr. of Fine Arts

Roger Mandie

Director, Toledo Museum of Art

6/11/1983

Dr. of Laws

Stephen Stranahan

Former board chairman, UT

5/18/1983

Dr. of Performing Arts

Jamie Farr

Entertainer; M*A*S*H

5/26/1982

Dr. of Science

Michael E. DeBakey, M.D.

Heart surgeon

5/1981

Dr. of Laws

Rev. Theodore M. Hesburgh

President, Notre Dame

4/9/1981

Dr. of Science

Nelson D: Goldberg, Ph.D.

 

6/16/1979

Dr. of Fine Arts

Dominick Labino

World-renowned glass artist
from Toledo

6/16/1979

Dr. of Civil Law

Wade H. McCree

Solicitor General

6/16/1979

Dr. of Commercial Science

Rene C. McPherson

Chairman, Dana Corporation

6/17/1978

Dr. of Laws

James R. Schlesinger

US Secretary of Energy

6/17/1978

Dr. of Science

Gilbert H. Siegel

VP for Professional Relations,
Lane Drug Co.

6/10/1977

Dr. of Humanities

Dr. James Thorpe

Dir. Of Huntington Library & Art Gallery, California

6/10/1977

Dr. of Science

Raymond C. Reese

World authority on reinforced concrete design

6/10/1977

Dr. of Humanities

Dr. John Hope Franklin

Distinguished Professor, 
University of Chicago

6/11/1976

Dr. of Public Service

Philip C. Skeldon

Director, Toledo Zoo

6/11/1976

Dr. of Commercial Science

Henry L. Morse

Chairman, MCO

6/11/1976

Dr. of Humane Letters

Sara Dunlap Jackson

National Archives

6/13/1975

Dr. of Humane Letters

Janina M. Adamczak

Prof. Emeritus, Sociology

3/21/1975

Dr. of Engineering

Bruce T. Lundin

Dir. Lewis Research Center, NASA

12/13/1974

Dr. of Commercial Science

John D. Anderson

The Andersons

12/13/1974

Dr. of Fine Arts

Serge Fournier

Conductor, Toledo Symphony

6/14/1974

Dr. of Humane Letters

Ella P. Stewart

National and Toledo 
civic leader

6/14/1974

Dr. of Laws

Randolph C. Downes

UT Prof. Emeritus, History

6/15/1973

Dr. of Humane Letters

John G. Gilligan

Governor, State of Ohio

4/26/1973

Dr. of Humane Letters

Leonard Woodcock

President of UAW

3/23/1973

Dr. of Humane Letters

Edward C. Ames

Former President of
both Toledo and 
State Board of Education

2/25/1973

Dr. of Science

Delos M. Palmer

Former Dean, UT 
College of Engineering

2/25/1973 

(Centennial Convocation 
of the College of Engineering)

Dr. of Science

John J. McKetta

Professor of Engineering, 
University of Texas

1/31/1973

Dr. of Commercial Science

Richard C. Gerstenberg

Chairman, General Motors

10/12/1972

(Centennial Convocation and Inauguration of Dr. Driscoll)

Dr. of Arts & Letters

William S. Carlson

President Emeritus, UT

6/13/1972

Dr. of Laws

J. Preston Levis

Former chairman, UT Board; Chairman, Owens-Illinois

6/13/1972

Dr. of Laws

Geoffrey R. Bennett

Retired Toledo Scale Executive

6/13/1972

Dr. of Laws

John D. Willey

President, The Blade

12/10/1971

Dr. of Humane Letters

Waldemar Argow

Minister, First 
Unitarian Church

12/10/1971

Dr. of Laws

Dan H. McCullough

Toledo attorney

8/25/1970

Master of Journalism

Paul A. Schrader

The Blade, journalist

6/12/1970

Dr. of Laws

Ray Allen Billington

Sr. Research Assoc., Huntington Library, San. Marino, CA

6/12/1970

Dr. of Laws

Edwin D. Dodd

President, Owens-Illinois

6/12/1970

Dr. of Laws

Willard I. Webb, Jr.

Chairman, Ohio 
Citizens Bank

4/24/70 

(Dedication 
of Scott Park Campus)

Dr. of Laws

Howard I. Collier

Director of Finance, 
State of Ohio

3/20/1970

Dr. of Laws

Wilhelm Eitel

Professor Emeritus, UT

3/20/1970

Dr. of Laws

John Goerlich

Toledo industrialist

6/13/1969

Dr. of Humane Letters

Isabelle K. Walters

Director, Florence 
Crittenton Home

6/13/1969

Dr. of Humane Letters

Elizabeth A. Zepf

Former member, UT Board

6/13/1969

Dr. of Humane Letters

Lauris Norstad

Chairman, Owens 
Corning Fiberglass

12/20/1968

Dr. of Humane Letters

William Travers Jerome, Ill

President, BGSU

12/20/1968

Dr. of Humane Letters

Glidden L. Brooks

President, MCO

6/5/1968

Dr. of Laws

John E. Martin

Chairman, Dana Corporation

6/5/1968

Dr. of Laws

Raymond H. Mulford

Chairman, Owens-Illinois

4/25/1968 

(Dedication of Bowman-Oddy Laboratories)

Dr. of Science

Wendell M. Stanley

Director of Virus Lab, 
University of California-Berkeley

1/24/1968

Dr. of Laws

W.W. Knight

Toledo, OH

1/24/1968

Dr. of Commercial Science

Jules D. Lippman

Toledo, OH

10/13/1967

Dr. of Science

W.A. Hiltner

Yerkes Observatory

10/13/1967

(Dedication
 of the Planetarium)

Dr. of Science

James E. Webb

National Aeronautics & Space Administration

1/26/1967

Dr. of Laws

Lawrence N. Steinberg

President, Teamsters 
Local, Toledo

1/26/1967

Dr. of Laws

James A. Rhodes

Governor, State of Ohio

3/10/1966

Dr. of Laws

Ralph J. Bunche

Under Secretary, United Nations

6/9/1966

Dr. of Laws

Harold W. Oyster

VP for Development, 
University of Akron

6/9/1966

Dr. of Laws

John D. Millett

Chancellor, OBOR

6/9/1966

Dr. of Laws

John Marshall Briley

Owens Corning Fiberglass, Toledo,OH

1/26/1966

Dr. of Science

James W. Hackett

Owens Illinois, Toledo, OH

6/10/1965

Dr. of Humanities

Virginia S. Stranahan

Toledo, OH

6/4/1964

Dr.of Laws

Foy David Kohler

Ambassador to the USSR

6/4/1964

Dr. of Laws

Harry R. Winkle

Vice Chairman, Owens Corning Fiberglass,
Toledo, OH

4/22/1964

Dr. of Laws

Philo C. Dunsmore

Toledo Supt. of Schools

4/18/1964

Dr. of Laws

Amos L. Conn

Toledo, OH

1964

Dr. of Commercial Science

Charles E. Beard

President, Braniff Airways

1963

Dr. of Laws

Lyman Spitzer, Jr.

Princeton Observatory

1963

Dr. of Laws

Thomas S. Gates

New York City

1962

Dr. of Performing Arts

Danny Thomas

Hollywood, CA

1962

Dr. of Laws

George W. Ritter

Toledo, OH

1962

Dr. of Laws

C. Ernst Giesecke

N.C. Assoc. Consultant

1962

Dr. of Laws

Lev Flournoy Sr.

Toledo, OH

1962

Dr. of Laws

Harry E. Collin

Toledo, OH

1961

Dr. of Science

T. Keith Glennan

President, Case Institute of Technology, Cleveland, OH

1961

Dr. of    Laws

Michael J. Kirwan

US House of Representatives, 
Youngstown, OH

1961

Dr. of Fine Arts

Molly Ohl Godwin

Art Educator, Sylvania, OH

10/7/1960

Dr. of Laws

Walter A. Eversman

Former Chairman, UT Board of Trustees (awarded posthumously)

10/7/1960

Dr. of Laws

Asa Smallridge Knowles

President, Northeastern University; 
Former UT President

10/7/1960

Dr. of Engineering

Edwin D. Harrison

President, Georgia 
Institute of Technology

10/7/1960

Dr. of Engineering

Roy Alfred Nyquist

Dir. of Engineering, 
Libbey-Owens- Ford

10/7/1960

Dr. of Engineering

John Christian Warner

President, Carnegie 
Institute of Technology

10/7/1960 

(Dedication of Engineering 
Science Bldg)

Dr. of Science

Detley W. Bronk

President, 
Rockefeller Institute

6/6/1960

Dr. of Laws

Michael V. DiSalle

Governor, State of Ohio

6/6/1960

Dr. of Science

Sister Mary John, R.S.M.

Dir. Of Pharmacy Service, 
Mercy Hospital, Toledo

6/6/1960

Dr. of Science

Donald: G. Sullivan

 

6/14/1958

Dr. of Laws

George Pope MacNichol, Jr.

President, 
Libbey-Owens-Ford

6/14/1958

Dr. of Humane Letters

Harold Boescbenstein

President, 
Owens-Corning Fiberglass

6/14/1958

Dr. of Science

Walker L. Cisler

President, Detroit Edison Co.

6/14/1958

Dr. of Commercial Science

Frank J. Korgler

Gen. Mgr., Doehler Jarvis

6/8/1957

Dr. of Civil Law

Jan Herman van Roijen

Ambassador, Netherlands

6/8/1957

Dr. of Laws

Charles F. Dowd

Toledo, OH

6/8/57

Dr. of Science

Eugene N. Beesley

President, Eli Lilly & Co.

6/8/1957

Dr. of Science

Lewis L. Strauss

Admiral, Atomic Energy Commission

6/6/1956

Dr. of Engineering

Charles Edward Ide

Toledo Edison Company

6/6/1956

Dr. of Civil Law

William Orville Douglas

US Supreme Count

6/9/1956

Dr. of Laws

Charles Anderson Dana

New York City

6/10/1955

Dr. of Science

John Schoff Millis

President, Western 
Reserve University

6/10/1955

Dr. of Laws

William Edward Levis

Owens-Illinois Glass Co.

6/11/1954

Master of Arts

William A. Smith

Pineville, PA

6/11/1954

Dr. of Laws

Arthur T. Vanderbilt

Supreme Court of NJ

5/15/1954

Dr. of Science

Robert B. Sosman

Rutgers University

5/15/1954

Dr. of Science

Frederick H. Norton

Cambridge, MA

2/12/1954

Dr. of Civil Law

Edward James McCormick

Toledo, OH

10/2/1953

Dr. of Jurisprudence

Harold H. Burton

US Supreme Court

10/2/1953 

(Dedication of
Library)

Dr. of Humane Letters

Robert B. Downs

 

6/9/1953

Dr. of Commercial Science

John Calhoun Baker

President, Ohio University

5/1953 

(The Armory 
dedicated 
May of 1953)

Dr. of Civil Laws

General Hugh M. Milton, II

Asst. Secretary of the Army

6/12/1952

Dr. of Laws

Robert A. Stranahan

Toledo, OH

6/12/1952

Dr. of Civil Law

Most. Rev. George J. Rehring

Toledo, OH

6/12/1952

Master of Education

Lucille E. Mack

Secretary to UT 
Presidents from 
11/6/13 - 6/30/52

6/12/1952

Dr. of Letters

Harlan H. Hatcher

President, Univ. of Michigan

6/12/1952

Dr. of Fine Arts

Blake-More Godwin

Toledo Museum of Art

6/12/1952

Dr. of Laws

Walter F. Brown

Toledo, OH

6/14/1951

Dr. of Laws

Frank L. Kloeb

Toledo, OH

5/9/1951

Dr. of Civil Law

Robert I. Gannon, S.J.

New York City

5/9/1951

(Inauguration 
of President Knowles)

Dr. of Literature

Benjamin Fine

New York Times

6/15/1950

Dr. of Laws

Earl J. McGrath

Columbia University

6/13/1949

Dr. of Laws

George Dinsmore Stoddard

Dean, School of Education, NY University

6/12/1948

Dr. of Laws

Thomas Vernor Smith

School of Citizenship, Syracuse University

6/7/1947

Master of Social Science

Jane M. Cartwright

Luella Cummings Home, Toledo, OH

6/8/1946

Dr. of Laws

Manley Ottmer Hudson

Harvard Law School

2/4/1946

Dr. of Laws

David Dodds Henry

President, Univ. of Illinois

12/1945

Master of Arts

Joe E. Brown

Los Angeles, CA

6/2/1945

Dr. of Laws

Ward Murphey Canaday

Toledo, OH

1/1945

Dr. of Laws

Leverett Saltonstall

Dover, MA

6/3/1944

Dr. of Laws

Stephen Keith Mahon

New York, NY

6/9/1942

Masters of Science

Emma Elizabeth Roberts

Toledo District Nurse Assn.

6/9/1942

Dr. of Laws

Hu Shih

Chinese Embassy, Washington DC

6/16/1941

Dr. of Laws

John David Biggers

Toledo, OH

6/10/1940

Dr. of Laws

William Elgin Wickenden

President, Case School 
of Applied Science, Cleveland, OH

6/12/1939

Dr. of Laws

Grove Patterson

Toledo, OH

6/13/1938

Dr. of Science

Harry Bertine Meller

Pittsburgh, PA

6/1419/37

Dr. of Laws

William Windus Knight

Perrysburg, OH

6/14/1937

Dr. of Laws

Hazzelton Erastus Simmons

President, 
University of Akron

6/9/1936

Dr. of Laws

Raymond Walters

President Emeritus, 
University of Cincinnati

6/9/1936

Dr. of Science

Halvor O. Hem

Toledo, OH

6/9/1936

Dr. of Laws

Elizabeth Lamson Chamberlin

Toledo, OH

6/11/1935

Dr. of Laws

George Philip Hahn

Toledo, OH

6/11/1935

Dr. of Laws

Florence Ellinwood Allen

Cleveland, OH

6/11/1935

Dr. of Laws

Charles Phelps Taft

Cincinnati, OH

6/13/1934

Dr. of Science

Charles Franklin Kettering

Dayton, OH

6/8/1922

Dr. of Laws

Cornell Schreiber

Former Toledo Mayor

1918

Dr. of Laws

Charles Scott Rowley

Des Moines, IA

6/14/1917

Dr. of Laws

Solon T. Klotz

UT Law Faculty

6/14/1917

Dr. of Laws

Robert Gates Gosline

Toledo City Court Judge, 
UT Law Faculty

  Health Science Campus/College of Medicine and Life Sciences
Honorary Degree Recipients

YEAR

DEGREE

NAME

Spring 2017

Honorary Dr. of Science

Dr. Mehran Anvari

Scientific Director and CEO of the Centre for Surgical
Invention and Innovation, McMaster University

Spring 2016

Honorary Doctor of Public Service

Susan Y. Desjardins

Major General, United States Air Force

 5/29/2015

Honorary Doctor of Science Degree

Yvette Roubideaux, MD, MPH 

Senior Advisor to the Secretary for American Indians, Alaska Natives, IHS, U.S. Department of Health and Human Services

2014

Honorary Doctor of Science Degree

James L. Madara, M.D.

CEO, American Medical Association

2014

Honorary Doctor of Humane Letters Degree

Rob Portman

Senator

2013

Honorary Doctor of Science Degree

Thomas J. Nasca, M.D.

CEO, Accreditation Council for Graduate Medical Education

2012

Honorary Doctor of Humane Letters

Chancellor James Petro

Ohio Board of Regents

2012

Honorary Doctor of Science Degree

Jo Ivey Boufford, M.D

President
New York Academy
of Medicine

2011

Honorary Doctor of Science Degree

Risa Lavizzo-Mourey, M.D., MBA

President and CEO
Robert Wood Johnson Foundation

2010

Honorary Doctor of Science Degree

Herbert Pardes, M.D.

President and CEO
New York-Presbyterian Hospital

2010

Honorary Doctor of Science Degree

Kevin B. Weiss, M.D.

American Board of 
Medical Specialties

2009

Honorary Doctor of Science Degree

Sir Bruce E. Keogh, KBE, MD

Claremont House

2008

Honorary Doctor of Science Degree

David Leach, M.D.

Executive Director/CEO, ACGME

2007

Honorary Doctor of Science Degree

Darrell G. Kirch, M.D., President

Association of American Medical Colleges

2006

Honorary Doctor of Science Degree

Tim Porter-O'Grady, Ed.D., A.P.R.N.,F.A.A.N.

Senior Partner, 
Tim Porter-O'Grady

2006

Honorary Doctor of Science Degree

Raymond R. Sackler, Hon KBE, M.D.

Philanthropist, 
co-founder/president 
of a multinational pharmaceutical company

2006

Honorary Doctor of Science Degree

Walter B.Shelley, M.D., Ph.D:, M.A.C.P.

World famous dermatologist

2006

 

Kenneth I. Shine, M.D.

 

2004

Claude H. Organ, Jr.,M.S.,  F.A.C.S.,F.R.C.S.S.A., F.R.A.C.S., F.R.C.S. 
Daniel K.Inouye

2003

Marcy Kaptur
Robert W. Schrier, M.D. 
Ara Parseghian

2002

Claude Lenfant, M.D.
Leah Curtin,M.A., M.S., R.N. 
Jamie Farr

2001

John M.Howard,M.D. 
Bernard Lown,M.D.
Beverly L. Malone, Ph.D., R.N., FAAN 
David Satcher, M.D.,Ph.D.

2000

Elsa L. Brown, Ph.D.,R.N. 
Richard F.Leighton, M.D. 
Robert G.Page, M.D.

1999

Dorothy Brooten,Ph.D., R.N.,FAAN 
George Isaac
Holmes Morton,M.D.

1998

Jerome P.Kassirer,M.D. 
John M. Fredrickson, M.D. 
George O. Ojemann,M.D. 
Richard D.Ruppert, M.D.

1997

Geraldene Felton,Ed.D., R.N.,FAAN 
Robert Furchgott,Ph.D.
William B.Kannel, M.D.

1996

Donald W. Seldin,M.D. 
J. Warren Perry,Ph.D. 
Ashel G. Bryan

1995

William F. Ganong, M.D. 
George D.Lundberg, M.D.
Angela McBride, Ph.D., M.S.N.,B.S.N. 
Stephen Abrahamson,Ph.D.

1994

Mary McKinney Edmonds, Ph.D., P.T. 
Lucien E.Morris, M.D.
Wilbur H. Sawyer, M.D.,Ph.D. 
Willis C. Maddrey, M.D.

1993

Edmond H.Fischer, Ph.D. 
Edwin G.Krebs,M.D.
John Glenn

1992

James P. Comer,M.D.
OraL. Strickland,Ph.D., R.N.
 David P.Rail,M.D., Ph.D. 
Bernadine P.Healy, M.D.

1991

Harold A. McMaster 
George W. Thorn,M.D. 
Elwood V.Jensen, M.D. 
Rosalyn S.Yalow, Ph.D.

1990

Lewis L. Judd, M.D. 
Robert C.Gallo,M.D. 
Arnold S.Reiman,M.D.
Antonia Coello Novello, M.D.,M.P.H.

1989

Hans Neurath, Ph.D. 
Ann Landers
Danny Thomas
Louis W.Sullivan, M.D.

1988

Ada Sue Hinshaw,Ph.D.,R.N. 
Bernard B.Brodie,Ph.D.
Victor A.McKusick, M.D.

1987

T.Franklin Williams, M.D. 
Lloyd H. Smith,M.D. 
Robert G.Petersdorf, M.D. 
Delbert Latta

1986

George Libman Engel, M.D. 
James V. Warren, M.D.
Ruth L. Kirschstein, M.D.

1985

Maclyn McCarty, M.D. 
Jonathan Evans Rhoads, M.D. 
Edmund D. Pellegrino, M.D.

1984

Harold F.Falls,M.D. 
F.Story Musgrave,M.D. 
James B. Wyngaarden, M.D.

1883

Frank J. Dixon,M.D. 
Charlotte Friend, Ph.D. 
Frederick C. Robbins,M.D. 

1982

Edward Vaughn Evarts,M.D. 
Loretta C.Ford, Ed.D.,R.N. 
James A.Rhodes

1981

Michael J.Damas
Richard M. Krause
James V.Neel,M.D.Ph.D.
Thomas L. Stem,M.D. 
Bernard Lachner, M.B.A. 

1980

MichaelE. DeBakey,M.D. 
Henry L. Morse
Charles H. Rammelkamp,Jr.,M.D. 
Walter F. Riker, Jr., M.D. 

1979

Paul R. Gross,Ph.D. 
Frank F.A. Rawling, M.D. 
Paul B. Beeson, M.D. 

1978

Walter H.Seegers,Ph.D. 
John P.Hubbard, M.D. 
Eugene A. Stead,Jr., M.D. 

1977

Lawrence E.Young,M.D. 
Sir Robert Macintosh, D.M. D. 
Carleton Gajudsek,M.D. 

1976

Rear Admiral Alene B.Duerk 
William A.Sodeman, Sr.,M.D. 
A.M.Harvey,M.D. 

Dedication of Health Education Building

Robert W.Leader,D.V.M. 
Walsh McDermott, M.D. 
Lewis Thomas,M.D. 

1975

W.R. Willard,M.D. Keith R.Porter,Ph.D.
Norman Kretchmer, M.D.,Ph.D. 

Dedication of Raymon H.Mulford Library Building 
Frank B.Rogers,M.D. 
OwseiTemkin, M.D. 

1974

Britton Chance,Ph.D. 
Rubin H. Flocks,M.D. 
John A.D.Cooper,M.D.

 Dedication of Health Science Building
Robert M. Berne,M.D. 
Elizabeth S.Russell,Ph.D. 
George Palade,M.D. 
Charles Huggins,M.D. 

1973

Irvine H. Page, M.D. 
RobertA. Good, M.D.,Ph.D. 

1972

Robert Bruce Merrifield,Ph.D. 
Robert M. Zollinger,M.D.
John Rusten Hogness,M.D.

 Pharmacy and Pharmaceutical Sciences 
Honorary Degree Recipients

YEAR

DEGREE

NAME

2015

Dr. of Science

RADM Helena Mishoe, PhD, MPH

Associate Director, Research Training and Diversity, NHI, National Heart, Lung and Blood Institute
Former Assistant Surgen General for the US Public Health Service

2013

Dr. of Science

Paul Abramowitz

American Society of Health-System Pharmacists, CEO

2013

Dr. of Humane Letters

Suzanne Epstein

Office of Cellular, Tissue, and Gene Therapies in the Center for Biologics Evaluation and Research at the Food and Drug Administration, Associate Director for Research

2011

Dr. of Science

Howard Ansel

University of Georgia School of Pharmacy, retired dean

2009

Dr. of Humane Letters

Frederic Wolfe

Health Care REIT and HCR ManorCare, Founder

2008

Dr. of Science

Parviz Boodjeh

Discount Drug Mart, 
CEO and Founder

YEAR

DEGREE

NAME 

May 8, 2004


Juris Doctor

R.E. "Ted" Turner"

 

 May 9, 1981

 

 Rev. Theodore M. Hesburgh, C.S.C.

President, University of Notre Dame