COLLEGE OF PHARMACY AND PHARMACEUTICAL SCIENCES SCHOLARSHIPS
The University of Toledo offers a variety of scholarships for direct from high school, transfer and continuing students.
Scholarships for students applying directly from high school
The priority deadline for general admission scholarships is December 1st of the student's senior year in high school.  Students are automatically considered for UToledo scholarships simply by submitting a completed admissions application to The University of Toledo. 
Scholarships for Transfer Students
Scholarships available to transfer students 
Scholarships for Continuing Pharmacy Students
Continuing pharmacy students are eligible to apply for scholarships awarded by the College of Pharmacy and Pharmaceutical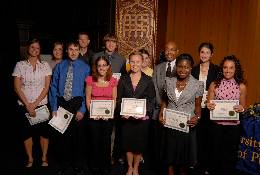 Sciences after completing the first semester at The University of Toledo.  The College of Pharmacy and Pharmaceutical Sciences does not award scholarships to incoming freshmen.  Students must submit one application to be considered for all pharmacy scholarships, and the application is announced to the students when available. 
Pharmacy General Scholarship
In addition to the above scholarships, we have a Pharmacy General Scholarship Application open to all College of Pharmacy and Pharmaceutical Sciences students. Any eligible student who submits qualifying test scores, transcripts and an undergraduate application listing Pharmacy as their major will be mailed a link to the supplemental application. Students need to submit the supplemental application before they can be considered for Direct Admission. 
You must be enrolled in the College of Pharmacy and Pharmaceutical Sciences in order to apply for these scholarships. Awarding of scholarships is contingent on continuing in the College of Pharmacy and Pharmaceutical Sciences.
---
---
Questions
Questions regarding scholarships may be directed to the scholarship coordinator, Suzanne Lee, or Varun Vaidya, scholarship chair.
---
Explanation of Fees
Laboratory Fees
Laboratory fees cover the costs associated with running a laboratory course, including the purchase of laboratory supplies and consumables. Examples include cell culture media, buffers and other reagents, pipette tips, culture plates, pharmaceuticals (e.g., antibiotics), and sterile saline solutions, among other items.
Clerkship Fee
The clerkship fee is used to pay for experiential rotations in the P4 year. In addition, the fee funds the infrastructure of the experiential program, allowing UT to provide the largest number of experiences through our own faculty, medical center, clinics, and other outreach programs.
Seminar III Fee
The Seminar III fee provides support for the two annual programs that constitute the capstone experience for the course. The costs that occur in conjunction with those presentations are funded through the fee.
---
Tuition