How much does UToledo cost?
You're already well aware that college is an investment. A big one. But we believe a University of Toledo education is worth it.
We also believe in transparency and that you need to know all the facts before you invest. A student's cost to attend UToledo varies by college, program and a host of other options. This is the average amount full-time students pay per year.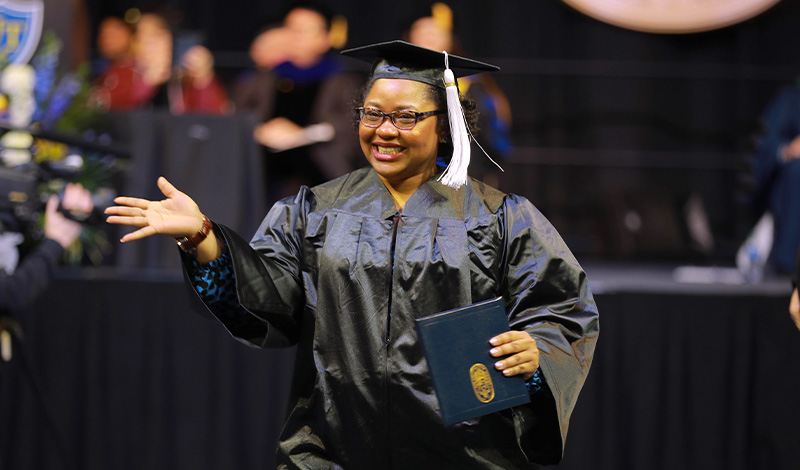 Our Tuition Guarantee helps you budget
Your tuition, housing and meal plan rates are fixed for four years. Guaranteed.
*If you previously attended UToledo and are transferring back, you are not included in the Tuition Guarantee.
Can I lower the cost?
Absolutely. Adult and transfer students can qualify for scholarships.
You are automatically considered for a merit scholarships based on your GPA when you apply to UToledo. No other application necessary! If you qualify, you get the scholarship.
If you're an international student, visit our international scholarship page.
2 out of 3 transfer students receive state or federal aid.
More than half of transfer students receive a scholarship to offset UToledo's out-of-state surcharge.
Two renewable transfer merit scholarships are available for transfer students and can be combined ― the UToledo Achievement Award and the transfer out-of-state award. Merit scholarships are based on your cumulative transfer GPA ― your cumulative GPA from all the higher education institutions you've attended.
Requirements
Completed 12 or more hours at any regionally accredited institution after high school graduation prior to attending UToledo
Must live outside of Ohio or Monroe County, Mich., to qualify for the out-of-state scholarship
Transfer awards
| | | |
| --- | --- | --- |
| Cumulative Transfer GPA | Achievement Award | Out-of-state Awards (if applicable) |
| 3.75+ | $4,000 | $8,000 |
| 3.40-3.74 | $3,000 | $7,000 |
| 3.00-3.39 | $1,000 | $5,000 |
How long am I eligible for the merit scholarships?
The maximum length of time that you can receive your transfer admission scholarship is based on your cumulative transfer GPA credit hours. It cannot exceed the completion of an undergraduate degree.
| | |
| --- | --- |
| Number of Transfer Credits | Length of scholarship at UToledo |
| 12-74 | 4 semesters |
| 75-89 | 3 semesters |
| 90+ | 2 semesters |
General Transfer Scholarship Policies
All admission scholarships are based on your cumulative transfer GPA and credit hours from all regionally accredited institutions that you previously attended.
Transfer students who previously attended UToledo must have a minimum 2.0 UToledo GPA to be eligible for admission scholarships.
Undergraduates with baccalaureate degrees are not eligible to receive admission scholarships.
Only U.S. citizens or eligible non-citizens are eligible for the admission scholarships listed here. International transfer and adult students are eligible for other admission scholarships.
Students who are in a 100% online degree program are not eligible for the transfer out-of-state award.
Are there other types of financial aid?
Yep. If you file a FAFSA (Free Application for Federal Student Aid) and can demonstrate financial need, you may qualify for need-based aid such as loans, grants and work study. Many of our transfer and adult students qualify for need-based aid.
What other scholarships are available at UToledo?
Many UToledo academic colleges, departments, and organizations offer scholarships. We encourage you to search our scholarship database.
Phi Theta Kappa Scholarship
Prior to each fall semester, we award five $1,000 scholarships to Phi Theta Kappa members transferring to UToledo.
Requirements
3.5 cumulative transfer GPA
Proof of Phi Theta Kappa membership submitted to financialaidscholarship@utoledo.edu
A completed application for UToledo admission, official high school transcripts or GED scores, and official transcripts from all previous institutions attended
Scholarship Deadline: April 1, 2024
How Do I Apply for Scholarships and Financial Aid?
You'll find the scholarship applications you need through the Scholarship Search link. But your first step should be to fill out the FAFSA (Free Application for Federal Student Aid).
The FAFSA is required to determine your financial aid eligibility and whether you qualify for loans and grants. Many scholarships also require you to fill out the FAFSA.
If you are a transfer student and already submitted your FAFSA for the academic year, make sure you add UToledo's code to your application — 003131.
Log in to FAFSA → "Make FAFSA Corrections" → "School Selection" page → add UToledo code
Rocket Solution Central is UToledo's one-stop shop for financial aid questions.
File My FAFSA UToledo Financial Aid
We realize some families' financial circumstances may change. You may be eligible for an adjustment to your financial aid. Contact Rocket Solution Central for assistance.
UToledo's
school code
003131
Priority application deadlines
Spring 2022 admission: Dec. 1, 2021
Summer 2022 admission: April 1, 2022
Fall 2022 admission: June 1, 2022
Applications received by the priority application deadline receive priority consideration for merit aid. We will still accept applications beyond these deadlines.
How Will My Investment in UToledo Pay Off?
Meet Andrew Kleopfer
Class of 2020, theatre
Transferred from Owens Community College
"I worked hard at Owens, so at UToledo, I was able to earn scholarships when I transferred. My decision came down to cost and opportunity. I could get more for my money at UToledo. The admissions process was extremely easy. I was a little anxious about how my credits would transfer. I wanted to finish my degree in two years. But I was able to transfer 62 of my 66 credits."