Meet with advisors
To make your transfer as smooth as possible, be prepared and start early. Make an academic plan and work with:
An advisor at your current institution
A UToledo transfer admission counselor
---
Learn how many credits will transfer
It's the No. 1 question we get. Check out our step-by-step guide to transferring credits.
---
Priority Application Deadlines
UToledo applications received by the priority application deadline receive priority consideration for merit scholarships. We will still accept applications beyond these deadlines.
Spring admission: Dec. 1
Summer admission: April 1
(Registration for summer courses opens to all students in early February. The earlier you apply and are admitted, the earlier you can complete orientation and meet with an academic advisor for optimal course selections.)
Fall admission: June 1
Explore academic programs
How quickly can I earn my degree? It's another common question. And the answer depends on your major's requirements and how many credits you're bringing with you.
Our transfer specialists can help you plan degree pathways and how to complete your degree.
Research programs and majors
130+ undergraduate degrees
Flexible programs — online, part time and night classes
Degree completion options
Admission requirements
Review University requirements as well as requirements for your major. You can find requirements for your major in the UToledo undergraduate catalog. Click on your college → Degrees/programs → your degree.

Other types of credits you may qualify for
Advanced Placement (AP)
International Baccalaureate (IB)
Prior learning assessment. Receive credit for relevant work and life experiences that may fulfill course requirements. You can earn credit through:

Standardized tests such as CLEP and departmental exams
A portfolio showcasing your experience and knowledge
Military experience and training

Are you an Owens Community College Student?
You can transfer seamlessly to UToledo through the Rocket Express program. This program is designed for you to earn your associate's degree at Owens and a bachelor's degree at UToledo. Other benefits include:
No UToledo application fee
The ability to set up your UToledo student portal while at Owens. This allows you to keep an eye on your degree audit and your coursework.
You are not eligible for the Rocket Express program if you attended UToledo in the past.
---
Research tuition and transfer scholarships
Most UToledo transfer students receive financial aid. Be sure to submit a FAFSA and to include the UToledo school code — 003131 — if you want to apply for financial aid.
Learn more about costs and how much scholarship aid you may qualify for.
Transfer Tuition and Scholarships
---
Consider your living arrangements
It's a good time to think about the costs of living on or off campus. Transfer students are not required to live on campus.
On-campus residence halls On-campus housing rates Off-campus housing and commuter services Campus Safety
---
Schedule a visit
Students tell us that campus visits often cinch their decisions to come here. In-person and virtual tours allow you to explore our beautiful campus and meet faculty, staff and students.
Important Transfer Tip: Be sure to schedule a meeting with faculty or staff in the academic college that houses your degree program. They can offer the best information about your major and advice on degree pathways.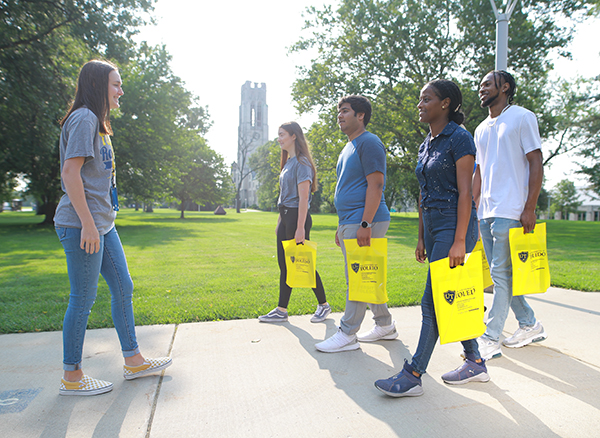 ---
Meet Lydia Marentette
Class of 2021, political science; current master's student in Public Administration
Transferred from Rutgers University midway through her junior year
"I was unhappy academically and with my new coach for crew. I was home for Christmas break and didn't want to go back. Robyn in the transfer office was a lifesaver. She worked a miracle for me. Everyone was so patient with me. At UToledo, I built more than a surface relationships with professors. Dr. Jami Taylor was one of my favorites and introduced me to the M.P.A. program. I ended up doing an additional year of undergrad because I switched majors, but I was admitted early to the M.P.A. program and was able to take 12 graduate credit hours for the undergrad price."
Lydia works as a mayor's assistant for the City of Toledo's Dept. Of Neighborhoods.
Meet Giovanni Baiocco
Class of 2022, professional sales
Transferred from Henry Ford Community College, Dearborn
"I wasn't sure what I wanted to do after high school. So I decided to go to community college, take my general education classes, save money and transfer to a four-year college. I visited UToledo and found out the business college was highly ranked. I talked to a transfer specialist who was super helpful. Most of my credits transferred, and I was admitted to the Exploratory Studies program in University College. I had a year's worth of general ed classes to do. I will be here for three years instead of two, but I probably wouldn't have found the sales program without that extra year. My business classes integrate real-world experiences and gave me the skills to get my internship. I was the top summer intern at Northwestern Mutual in Toledo and one of the top interns in the country. I have no doubt the skills I learned at UToledo contributed to my internship success."