KROGER-UTOLEDO PGY-1 Community-based residency program Purpose 
To build upon the Doctor of Pharmacy (PharmD) education and outcomes to develop community-based pharmacist practitioners with diverse patient care, leadership, and education skills who are eligible to pursue advanced training opportunities including postgraduate year two (PGY2) residencies and professional certifications.
If you have any questions please contact the Residency Program Director, Mitchell Howard, at Mitchell.Howard@utoledo.edu. 
Why Complete a Community-based Residency?
The Kroger-UToledo Community-based Pharmacy Residency Program is committed to developing pharmacists who possess the necessary skills to create, develop, and provide clinical pharmacy services in a variety of community-based settings. The program will equip residents to: 
Provide direct patient care services in community and ambulatory settings
Identify and overcome barriers to providing direct patient care services in 

community-based settings

Collaborate with other health care providers
Develop and provide innovative services in community-based settings
Teach and mentor pharmacy students
The community-based pharmacy resident has a variety of opportunities to deliver pharmaceutical care with an emphasis on direct patient interaction. Facilities include The Kroger Company and The University of Toledo College of Pharmacy & Pharmaceutical Sciences. The College partners with Kroger Health to develop and implement advanced pharmaceutical care services in the community practice setting. Initiatives are primarily focused on medication therapy management, chronic disease state coaching, collaborative drug therapy, immunizations, and health screenings.  The College is also partnered with the Comprehensive Care Center through the University of Toledo Medical Center.  This General Internal Medicine clinic integrates pharmacy services with primary care allowing pharmacists to work collaboratively to manage chronic disease states and improve patients' quality of care.
The resident will have opportunities for teaching within the College, and a teaching certificate program for residents is offered within The University of Toledo College of Pharmacy & Pharmaceutical Sciences. Residents will participate in the development of pharmacy care initiatives in each of our community practice facilities.
Research in the areas of medication therapy management, transitions of care, advancing clinical services, and reimbursement for the delivery of patient care services are encouraged. State-of-the-art laboratory and research facilities at The University of Toledo are among the finest in the region.
In addition to patient care and research opportunities, a variety of other professional and educational activities are available to the resident. These include resident leadership development, laboratory and didactic instruction to PharmD students, IPPE and APPE student precepting, attendance at institution-sponsored seminars and workshops, presentation of continuing education seminars at the College of Pharmacy & Pharmaceutical Sciences, and attendance at state and national conferences.
More about the Community-based Pharmacy Residency Program
Contact Information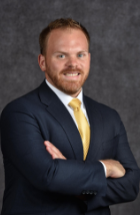 Mitchell S Howard, PharmD, MBA, BCACP
  Residency Program Director
  Phone: 419.383.1508
  E-mail: Mitchell.Howard@utoledo.edu