UToledo's B.A. program in Data Analytics teaches a blend of communication and analytical skills that will make you highly marketable in the field of data analytics.
CareerCast calls data scientist the best job of 2019. Demand far exceeds supply as more and more companies use data to drive business decisions and seek experts who can understand and manage the data.
Employers want data analysts who know how to analyze the data but who also understand the data in context and can explain it in understandable terms. This balance of skills and knowledge is the crux of our bachelor's degree program in Data Analytics.
Our B.A. students combine data analytics with a subject area or concentration in the social sciences. You will:
Learn an industry and speak its language.
Gain communication skills that allow you to pitch data and make it understandable.
Gather and organize data from appropriate sources.
Be able to analyze data and do basic coding and programming.
OTHER UTOLEDO OPTIONS IN THE FIELD OF DATA SCIENCE
UToledo has expanded its offerings in data analytics. We also offer a B.S. in Data Science. The B.S. program is more focused on the front end of data science — collecting and structuring data as well as analysis. There's more emphasis on coding and programming (science and math), along with science and health data.
Additional options:
Minors in

 

Data Analytics

 

and

 

Data Science

 

— if you want a basic knowledge of the field but data isn't the main focus of your major
B.S. in Mathematics

 

with a concentration in data science
Master of Applied Business Analytics

 

— a graduate degree that allows you to pair data science with a business discipline, such as accounting, finance or marketing
Top Reasons to Study Data Analytics at UToledo
Learning in context.

Learn about data in the context of social science — public policy, economics or another concentration of your choosing. The courses you take in these areas allow you to do more appropriate and better analysis within the context of that field.

Experiential learning.

You won't just sit and listen to lectures. Our classes focus on problem solving, too.

Unique courses.

Data visualization — Learning to present data in a visual, understandable way will make you more marketable.
Data ethics —  Our philosophy faculty members help you explore ethical issues commonly faced by data analysts.

Interdisciplinary program.

Faculty from mathematicians and computer scientists to philosophers and artists teach courses. Although our B.A. program is more social science-oriented, you also will get exposure to health and natural science data as well. This broader focus gives you a greater perspective.

Flexibility.

UToledo is a comprehensive university with more than 230 degree programs.

Concentrations. Choose an area of interest from a wide array of subjects, with the help of your advisor.
Dual majors. Consider combining your B.A. in Data Analytics with another major; political science, communication or another field. This is great preparation for graduate school.

Academic support.

We want you to succeed. We offer tutors specific to the program.
What jobs can I get with a Data Analytics degree?
The Bureau of Labor Statistics reports that demand for qualified data scientists is growing much faster than the average for all professions.
LinkedIn called data scientists the most promising job in the U.S. in 2019. It was the no. 1 Best Job in America for the past three years, according to Glassdoor.
Median annual salaries range from $114,000 to $130,000.
A B.A. in Data Analytics will make you a good candidate to work for small businesses, local governments or grant-funded agencies who rely on data to receive and keep grants.
Some of the top industries hiring data analysts include:
Automotive
Biotechnology
Consulting
Energy
Finance
Financial
Healthcare
Marketing
Media
Pharmaceuticals
Telecommunications
Hands-On Learning Opportunities
At UToledo, we take you beyond the textbooks and the four walls of a classroom. These real-world experiences are what help our graduates gain professional skills and land jobs.
Internships
Finding an internship is easy thanks to UToledo's robust community partnerships with companies and organizations around the region. Dive into unique opportunities that prepare you to launch your career.
Internships help you:
Gain practical experience
Build your resume
Refine your skills
Cultivate contacts
Internships often lead to full-time jobs after graduation!
Career Services can help you track down job opportunities. You also might be able to receive academic credit for your internship or job.
Research
UToledo is known for its undergraduate research opportunities. Start as early as your freshman year. Work with faculty who enjoy collaborating with students.
99
undergraduates received research funding (2022)
21,000+
hours spent by undergraduates on research
Our faculty in the data analytics bachelor's degree program comes from many disciplines. Many have expertise in data science, including our professors in economics and geography.
Study Abroad
Travel, experience new cultures and meet new people — all while earning college credit.
UToledo's Education Abroad Office can help you find the perfect opportunity. You can apply for grants, scholarships and financial aid to help fund study abroad.
Semester at Sea
Short-term, summer and faculty-led trips
Direct exchange programs with other universities
Teach English abroad
Global health program (med student clerkships)
Rocket Kids (work with youth around the world)
Rocket Kids Semester
The Rocket Kids program offers University students a fall, spring or summer semester internship providing recreational programming to U.S. military youth while experiencing the world in locations such as Germany, Italy, Belgium and The Netherlands.
Rocket Kids interns will gain practical experience in programming, leadership, health and wellness, creative arts, performing arts, cultural and literary arts, team and individual sports, adventure and outdoor recreation and STEM education.
On-campus and Part-time Jobs
Learn skills that prepare you for a career after graduation.
Build your resume.
Earn money.
If you want to work, there are plenty of opportunities on campus and at businesses near campus. If you demonstrate financial need, you may qualify for the federal work-study program.
Student Organizations
Our most successful students get involved.
UToledo has 400+ student organizations that will help you:
Make friends.
Build your resume.
Network.
Be a leader.
Serve your community.
Have fun!
Tuition and Scholarships
Most new students don't pay full price. 94% of new UToledo students receive scholarships or other state and federal aid.
Keep in mind: Your cost will vary by college, program and a host of other options. This is the average amount full-time students pay per year.
---
How to pay for collegeInternational Student - How to Pay for College
Choose Ohio First scholarship
Ohio residents who have been accepted into this STEM program are eligible for the Choose Ohio First scholarship — a four-year, renewable scholarship.

Honors College
The Jesup Scott Honors College at The University of Toledo offer our best and brightest the resources and opportunities needed to unlock your fullest potential. Whether you aspire following graduation to cure disease, innovate technology, advance statecraft, redefine markets, or express creatively, together we can fuel vibrant and promising tomorrows.
Honors students come from a variety of countries, backgrounds and cultures. While we may bond over a tough class, our differences make us blossom.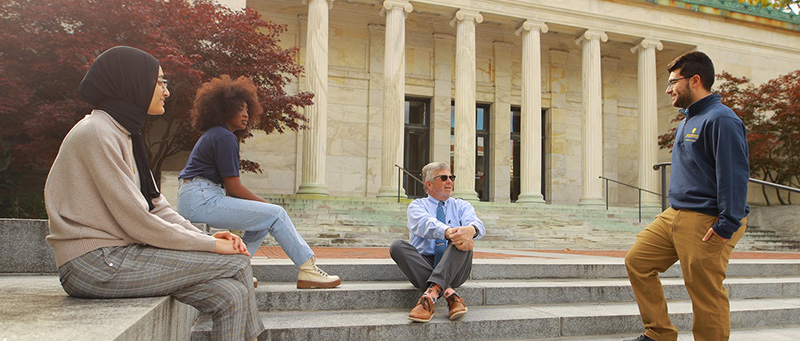 Benefits of Honors
The Honors College is a community of academically gifted students from all majors on campus. Students take unique Honors classes taught by dedicated Honors faculty and complete an Honors thesis or capstone project in their major, earning the Honors medallion at graduation within their normal program of study. Honors students are challenged to think more deeply and broadly about what they learn. With special academic, cultural, and professional development opportunities, their education extends beyond the classroom.
Honors students can also choose exclusive housing in the Honors Academic Village or the historic McKinnon, Scott and Tucker Halls.
Explore more about what the Honors College can offer you as a budding professional, inquisitive scholar, and engaged person.
Visit Campus
A campus visit is the best way to figure out if UToledo is a great fit for you.
Learn More and Register