/studentaffairs/reslife/
Welcome
/studentaffairs/
Resources
Get Connected
Welcome to Parks Tower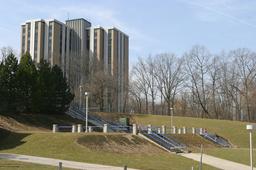 Parks Tower
3025 South Glass Bowl Dr.
Toledo, OH 43606
Front Desk: 419.530.4381
Layout
Virtual Tour: Room (Requires Flash)
Virtual Tour: Recreation Room (Requires Flash)
Highlights
Parks Tower offers traditional corridor living and houses first-year students. Traditional style bedrooms include two-person rooms with community bathrooms. Parks Tower is an all first-year student residence hall and hosts our  Business and Politics, Law, and Society Living Learning Communities as well as the Scholastically Enriched Environment Special Interest Community.
Learn more about our Specialized Living Communities here
.
Lofts
Students in Parks Tower must rent a loft from the building for $50 per semester. If you are interested, please contact the Office of Residence Life at 419.530.2941 prior to July 31st. Limited quantities are available.
Location
Parks Tower is conveniently located near the Glass Bowl football stadium and Student Recreation Center. This building has limited single room availability.
Fun Fact
Parks Tower was the University's first large-scale dormitory and although sometimes it appears that Parks Tower is taller than the Bell Tower, it is not. While the Bell Tower  is 191'5/8" tall and Parks Tower measures 198'7", the Bell Tower is on a elevation of 621' while Parks Tower is on an elevation of 594'6". What all this means is the Bell Tower does in fact clear Parks Tower by 34'6".
Room Features

2-Person Rooms

yes

Single Rooms (limited)
yes

3-Person Rooms

no

Co-ed by Floor
yes

Community Bathrooms

yes

Alcohol Free
yes

Air-Conditioning

yes

Laundry Facilities
yes

24-Hour Info. Desk

yes

Elevators
yes

Dining Service (24 hour)

yes

First-Year Focus
yes

Computer Lap

yes

Telephone and Voicemail Service
yes

Data Hook-Up (in room)

yes

Cable Service
yes

Floor Lounge

yes

Wheelchair Accessible Rooms
yes

Convenience Store

no

Living Learning Communities
yes

Game Room

yes
Pricing
(Per Semester)
Double Room: $3,238
Single Room: $3,885

Grad. Hall Director
Lisa Persico
419.530.7062
lisa.persico@rockets.utoledo.edu
Grad. Hall Director
Quintin Veasley
419.530.7685
quintin.veasley@rockets.utoledo.edu