TRIO Student Support Services
Staff are accessible via email, phone, and through virtual meetings using Blackboard Collaborate and MS Teams. Applications are currently only available online.
88% of TRIO students returned in Fall 2019 or graduated
Navigate the academic and non-academic parts of college life
71% of TRIO students are first generation college students
Find a place to belong in the TRIO community
+75% of TRIO students are in good academic standing
Build career competencies valued by employers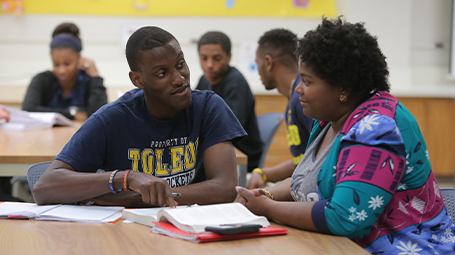 "TRIO has given me a sense of support that I would have never had before. Being a first generation college student there is a lot I would have never known if it wasn't for TRIO. There has been a lot of people who have come into my life because of TRIO"
— TRIO Student, 2019
Purpose
We promote independence and provide opportunities to develop leadership skills. TRIO SSS is how you get involved on campus and be your own person. Support IS our middle name.
TRIO SSS is a community, a place where friends gather to support each other on their shared journey towards a college degree.
Apply Online
Submit Income Statement
Schedule Appointment
About TRIO
Commonly known as the TRIO program, TRIO Student Support Services (TRIO SSS) has a 20 year history of keeping students in college to graduate from The University of Toledo. We specialize in working with students who will reach their goals by partnering with an office dedicated to their unique strengths and needs.
We promote independence and provide opportunities to develop leadership skills. TRIO SSS is a way to get involved on campus and be your own person. Being in TRIO SSS means you want to have the easiest and most fun college experience that you can.
Our students choose TRIO SSS. In turn, we select motivated UToledo students enrolled full-time in a bachelor degree program who received full Pell grant, whose parents do not have a four-year degree, and/or have an identified disability.
For more information, call 419.530.3848 or email triosss@utoledo.edu. To learn more about eligibility and the application process, visit our application process page.
Nearly 66% of undergraduate UToledo students are the first in their families to pursue a 4-year degree. Our students and their siblings are figuring out college as they attend without the traditional advice and prepping from their parents. Knowing how college works, understanding deadlines and how to adapt learning styles are just a few of the skills needed to become a successful student.
Any student who has been approved by the Rocket Solution Central/Financial Aid as homeless or aged out of foster care are considered first-generation students regardless of parental education. Balancing school work and other responsibilities, identifying support systems and managing goals are challenges for independent students.